Politics
Biden acknowledges Tyre Nichols' parents during State of the Union: "Something good must come from this"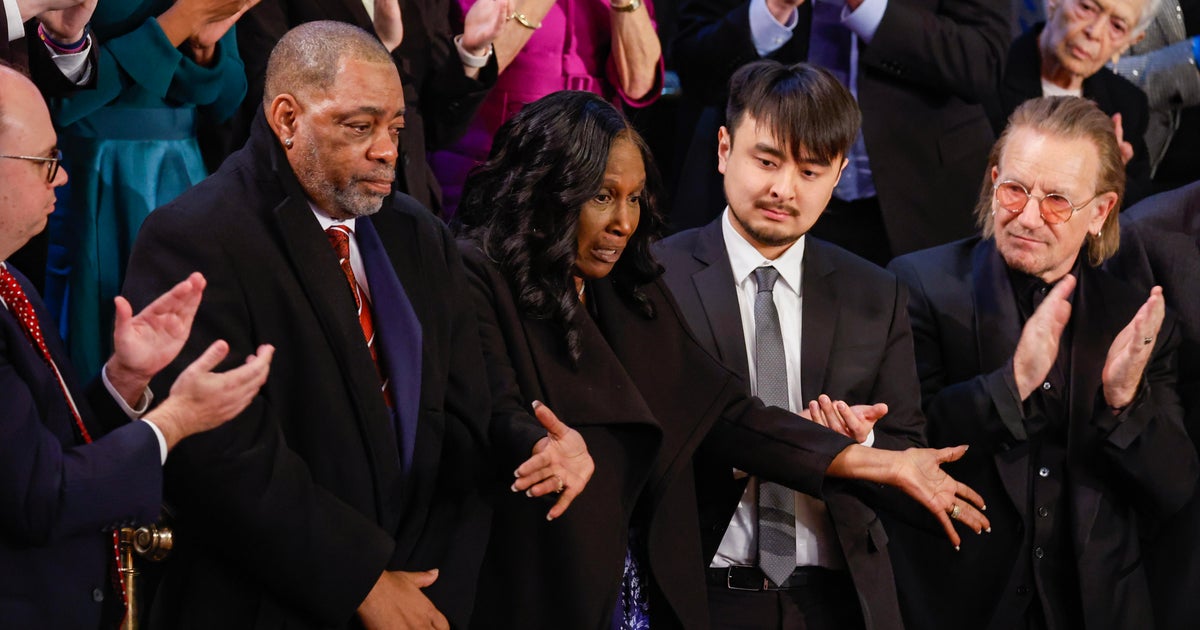 The parents of Tyre Nichols were guests of President Biden during the State of the Union on Tuesday, about one week after Nichols' funeral. The president spoke about his conversation with Nichols' mother – and vowed to make her wish for her son's legacy come true. He also urged police departments to hold officers accountable.
Nichols, a Black man killed by Memphis police officers during a traffic stop on January 7, was a 29-year-old father of a 4-year-old boy. 
His mother, RowVaughn Wells, and stepfather, Rodney Wells, stood as Mr. Biden mentioned them during his address.
"As many of you personally know, there are no words to describe the heartache of losing a child, but imagine, imagine if you lost that child at the hands of the law," Mr. Biden said.
"Here is what Tyre's mother shared with me when I asked her how she finds the courage to carry on and speak out: She said her son was a beautiful soul, and something good will come of this," Mr. Biden said. "Imagine how much courage that takes. It's up to us, to all of us."
Mr. Biden spoke about the importance of community trust in law enforcement officers, who are often overworked and must play the role of "social workers, psychologists responding to drug overdoses, mental health crises, and so much more."
"But what happened to Tyre in Memphis happens too often," he said. "We have to do better. Give law enforcement the real training they need. Hold them to higher standards. Help them succeed in keeping us safe."
Mr. Biden said the country needs more first responders and professionals to address the growing mental health and substance abuse challenges, more resources to reduce violent crime and gun violence, community intervention programs and more investment in housing, education, and job training – all of which "can help prevent violence in the first place."
He also called on police departments to hold officers accountable when they violate the public's trust. 
While there were several partisan moments during the State of the Union – with Republicans showing displeasure with Mr. Biden's address – House Speaker Kevin McCarthy, a California Republican, notably stood for Mr. Biden's line about holding police accountable when they violate the public trust. 
"Let's commit ourselves to make the words of Tyre's mom true: Something good must come from this," Mr. Biden said. 
Last year, on the anniversary of the death of George Floyd, a Black man who died at the hands of police officers in Minneapolis, Mr. Biden signed an executive order that banned chokeholds, restricting no knock warrants, and other tenants of the "George Floyd Act," which aimed to restrict certain policing polices.
Footage of Nichols' violent arrest that resulted in his death was released by the Memphis Police Department last month. Mr. Biden said he spoke with Nichols' parents on the phone and in a statement, he said he was "outraged and deeply pained," and joined Nichols' family in calling for peaceful protest. 
Five officers involved in Nichols' death were fired and are facing charges of second-degree murder, aggravated assault, aggravated kidnapping, official misconduct and official oppression. Two other officers have been relieved of duty, three members of the Memphis Fire Department who responded to the scene were fired and two deputies with the Shelby County Sheriff's Department have also been relieved of duty.
On Tuesday, officials said eight more officers with the Memphis Police Department will likely face charges in the aftermath of Nichols' death.
Checkout latest world news below links :
World News
||
Latest News
||
U.S. News
Source link