Politics
Analysis: The GOP's toxic squabble demonstrates the challenges for a party still controlled by Trump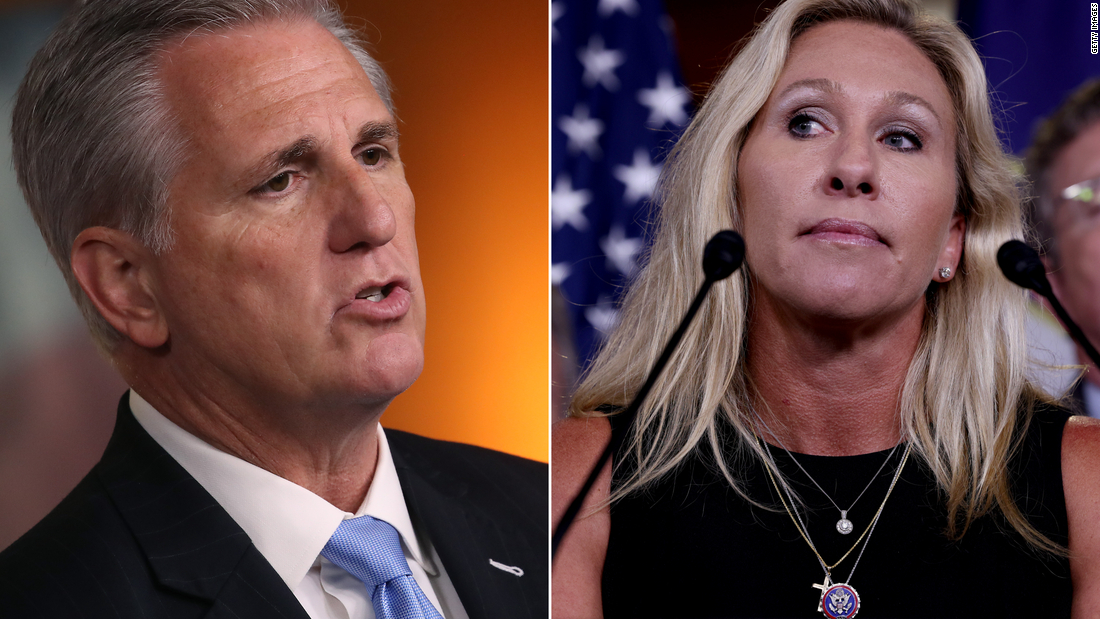 Infighting between moderates and loyalists to former President Donald Trump erupted into the open on Tuesday, while Trump continued his attempts to obscure the truth about the January 6 attack on the Capitol through the courts. While President Joe Biden's approval ratings have tumbled to new lows in recent months as Americans stress over the Covid-19 pandemic and a host of kitchen table issues, restive voters looking for different leadership may not take much heart as they
watched the debacle
unfolding in the Republican Party and the leadership's inability to handle it.
As Trump hovers on the sidelines egging on GOP antagonists who have adopted his chaos-sowing tactics and vile rhetoric, House Minority Leader Kevin McCarthy tried unsuccessfully Tuesday to turn down the temperature in a roiling feud between freshman Republican Reps. Nancy Mace of South Carolina and Marjorie Taylor Greene of Georgia.
Greene had started off the sniping by calling Mace "trash" on Twitter for condemning the Islamophobic comments of her ally, Colorado GOP Rep. Lauren Boebert. Mace was one of the few Republicans to speak up after video emerged of Boebert delivering remarks at a November 20 event in Colorado, at which the firebrand Coloradoan told a story about a supposed elevator ride with Democratic Rep. Ilhan Omar of Minnesota, who is Muslim and wears a hijab. The punchline of the story ended with Boebert suggesting Omar is a terrorist.
The spat spilled out to other members when Greene took issue with Mace's condemnation of Boebert's anti-Muslim remarks. The South Carolinian told CNN on Sunday that Boebert's statements were "disgusting." Greene, always eager for a public spat to burnish her credentials among her donors, attacked Mace's conservative credentials on Twitter and warned her to "back up off" Boebert.
The back-and-forth between the two Republicans continued all day Tuesday with Greene taunting in one tweet that she'd "just had a great conversation with President Trump about @NancyMace." The South Carolina Republican replied: "I like my freshman colleagues who don't think 9/11 was a hoax…" — a reference to Greene's past embrace of conspiracy theories — "This one on the other hand… totally (nuts)." Mace added that Greene's conversation with Trump amounted to running to the principal's office "because she can't stand on her own two feet."
GOP's gutter politics
In its totality, the embarrassing inter-party schism — and the lack of immediate consequences for Boebert's inflammatory comments — underscored that the gutter politics that Trump ushered into Washington have only gotten worse following his retreat from the White House.
Republican leaders like McCarthy, whose chances of becoming speaker of the House hinge on maintaining the support of Trump and his hard-right acolytes, have not shown that they have any effectual way of dealing with the increasingly angry and toxic culture within the House of Representatives that has led to frightening threats against members, including Omar. No matter how outrageous or reckless the comments of Trump acolytes like Boebert and Greene get, they always seem to find protection in their closeness to the former President, whose tight grip on the party never seems to abate.
In the absence of consequences, the behavior only seems to grow more abhorrent — and that could cost Republicans at the ballot box next year as they try to win back moderate and suburban voters who were alienated by Trump.
At a news conference Tuesday evening, Omar called on Republican leaders to take action against Boebert stating that their "silence speaks for itself." She played a voicemail she received hours after her call with Boebert on Monday in which a man told her there are plenty "who would love the opportunity to take you off the face of the earth."
"You are a f—ing Muslim piece of s—. You Jihadist. We know what you are. You're a f—ing traitor, you will not live much longer, b—-," the voicemail said.
Omar said condemning remarks that lead to that kind of rhetoric "should not be a partisan issue" and added that "when a sitting member of Congress calls a colleague, a member of 'the Jihad Squad'" — as both Boebert and Greene have done — "and falsifies a story to suggest that I will blow up the Capitol, it is not just attack on me, but on millions of American Muslims across this country." She noted that anti-Muslim rhetoric used by Trump during his 2016 campaign served as a pre-cursor to the more recent taunts from his supporters.
"To date, the Republican Party leadership has done nothing to hold their members accountable. It is time for the Republican Party to actually do something to confront anti Muslim hatred in its ranks," Omar said.
McCarthy's caucus ignores his admonishments
The South Carolinian made no apologies for her criticisms of Greene, suggesting that the Georgia congresswoman is stoking the feud to raise money: "She takes advantage of vulnerable Americans and vulnerable conservatives, and makes promises she cannot keep."
Mace also argued that it was important to challenge Greene's lies.
"It's incumbent upon members like myself to step up," she said, waiving off Greene's threat to support a primary challenge against her. "I don't fear retribution, I don't fear the consequences."
Charlie Dent, the former Pennsylvania Republican congressman who is a CNN contributor, said Tuesday night that the debacle demonstrated just how coarse American politics has become and called on GOP leaders to rein it in.
"It's really incumbent upon leaders in Congress to try to set a better tone and tenor," Dent told CNN's Wolf Blitzer on "The Situation Room." "There used to be a time when members would debate policies and ideas and not lob insults at each other, or smears as in the case of Lauren Boebert on Representative Omar."
"I think it's now important for Kevin McCarthy to stand up and deal with these issues internally," Dent said. "Some members have to be taught how to engage in a debate with their colleagues, and when they're at home, not to go out and say these kinds of reckless, insulting, inflammatory comments."
Trump continues his battle to stonewall the January 6 committee
While Trump's political sway over the Republican Party remains largely unchallenged, his attempts to control the flow of information to the House committee investigating the January 6 attacks faced two new key setbacks on Tuesday.
While his tactics may still be setting the tone for the noxious political debate in Washington, the former President is not proving as effective in the courts as he tries to control what the country learns about what he knew in the leadup to the January 6 attack by his supporters on the Capitol.
For months Trump has tried to thwart the work of the House select committee investigating the January 6 insurrection both by trying to block the release of documents they have requested from his administration through the courts — claiming they should be protected by executive privilege — and by steering former staffers to use that same line of defense to avoid questioning as by committee members.
But the House committee shifted the power narrative in this battle of wills with the former President when they made it clear that there would be serious legal consequences for stonewalling them.
Like Bannon, Clark had also refused to cooperate with the committee under the pretense that he could not testify until a court declares his communications with the former President are not shielded by attorney-client privilege or executive privilege.
Democratic Rep. Bennie Thompson, who chairs select committee, told CNN that the panel has received "probably about 6,000 emails" from Meadows via his lawyer.
The judges showed little interest in doing the document-by-document review that Trump has proposed and questioned why the former President's claim of executive privilege should carry more weight than Biden's administration's viewpoint that they should be released, in the interests of transparency about a day in which Trump supporters attempted a coup that almost upended America's democracy.
Checkout latest world news below links :
World News
||
Latest News
||
U.S. News
Source link