Politics
Analysis: Biden era beckons after Trump's lies and insurrection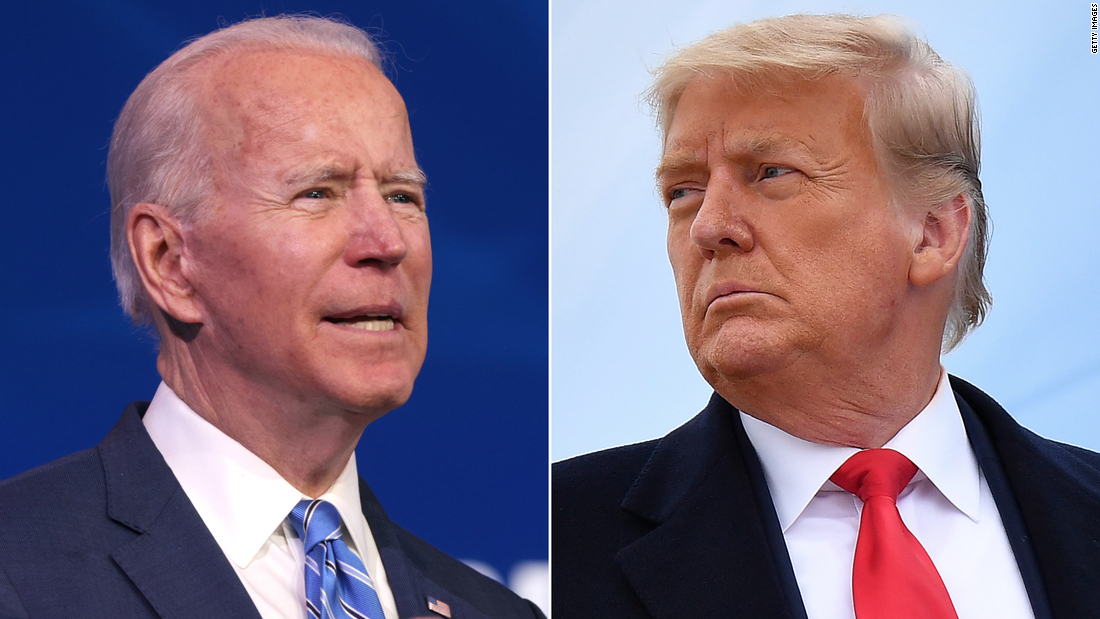 Biden plans assertive start to his presidency
Biden's team, which has been hampered by Trump's refusal to allow a peaceful, cooperative transition, is gearing up a multi-front federal government effort to battle Covid-19, which a disinterested Trump always failed to initiate.
The President-elect warns that the dire public health situation will get worse before it gets better but is preaching unity and seeking to inspire Americans beaten down by a gruesome 10 months to muster for a final assault on the virus.
"Out of all the peril of this moment, I want you to know, I give you my word, I see the promise," Biden said on Friday. "Now we're being so optimistic about America, as optimistic as I've ever been. We have everything we need, but the will must be demonstrated. So come Wednesday, we begin a new chapter"
Trump stayed hidden during his last White House weekend, with comings and goings of family members, officials and his legal team hinting at the pardon spree that sources said Sunday could cover around 100 people but is not expected to include a highly contentious self-pardon.
Scary scenes in Capitol assault video
Claims by rioters wearing "Make America Great Again" hats that they were acting on behalf of Trump are likely to take center stage in Trump's Senate impeachment trial, which threatens to slow Biden's hopes of a fast start to his own presidency.
And if recent history is any guide, the last two days of Trump's presidency will bring more chaos and challenges to the rule of law, before he leaves Washington Wednesday morning for a luxurious post-presidency in Florida.
'We are inheriting a mess'
The Biden administration's most important priority will be to rescue the faltering rollout of new vaccines that carry the promise of finally ending a pandemic that has never been more deadly.
Rochelle Walensky, Biden's incoming director of the Centers for Disease Control and Prevention, warned on Sunday that the already horrific toll of the virus would get worse in setting initial expectations for the new White House.
"By the middle of February, we expect half a million deaths in this country," Walensky told CBS' "Face the Nation."
Medical experts had hoped that the pandemic would peak in its latest, most dangerous wave in the coming weeks and that cases and deaths would ease in the spring. But former Food and Drug Commissioner Dr. Scott Gottlieb warned that a more transmissible variant of the virus would begin to dominate new cases in the coming weeks and maintain high infection rates.
"The only backstop against this new variant is the fact that we will have a lot of infection by then, so there'll be a lot of immunity in the population and we will be vaccinating more people, but this really changes the equation," Gottlieb said, also on "Face the Nation."
Biden plans to sign an executive order requiring masks on federal property and during interstate travel and is urging all Americans to wear face coverings for 100 days. But this is one area where Trump's efforts to shatter Biden's legitimacy could have a deadly consequence since it will be a challenge for the new President to convince Americans who falsely believe he stole the election.
America's 'damaged' soul
Klain also told CNN he was confident that the Secret Service and the National Guard would keep the inauguration safe on Wednesday but expressed concern about potential violence across the country.
"I think the events of the past few weeks have proven out just how damaged the soul of America has been and how important is to restore it. That work starts on Wednesday," Klain told Tapper.
"I don't think anybody would seriously argue that we should establish a precedent, where every president on the way out the door has two weeks or three weeks or four weeks to try to incite an armed insurrection against the union or organize a coup against the union, and if it succeeds, he becomes a dictator, and if it fails, he's not subject to impeachment or conviction because we just want to let bygones be bygones," Raskin said on "State of the Union."
"I have faith that the day will come when we put these challenging times in the past and emerge stronger and better than ever," Pence said.
"We will heal our land. We will renew our strength," he added, without noting Trump's denial and mismanagement of the pandemic and refusal to preside over a peaceful transfer of power that immeasurably worsened those challenging times.
Checkout latest world news below links :
World News
||
Latest News
||
U.S. News
Help us to become independent in PANDEMIC COVID-19. Contribute to diligent Authors.