Politics
Analysis: As Trump flails and shows no ability to reset, some in GOP voice concerns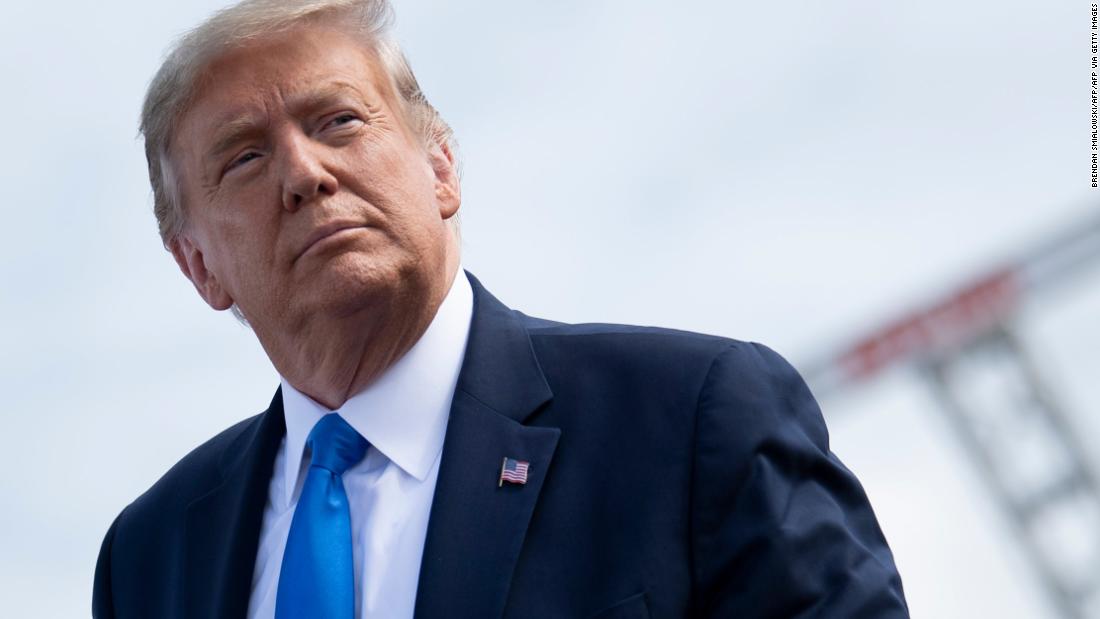 "My heart breaks for every grieving family that has lost a precious loved one," Trump said in Fort Myers, Florida, where he also promised the crowd that he would dedicate his life to seniors. "I feel their anguish and I mourn their loss. I feel their pain. I know that the terrible pain that they have gone through, and you lose someone, and it's nothing to describe what you have to bear. There's nothing to describe it."
There were more than 68,000 new coronavirus cases in the US on Friday — the highest one-day total since late July. But Trump spent the afternoon pushing the fantasy that the virus is receding. "The light at the end of the tunnel is here," he told the Fort Myers audience, adding that the US is "rounding the turn," even though all the evidence says otherwise.
"Don't listen to the cynics and angry partisans and professional pessimists," the President said, with no hint of irony about his own angry rhetoric and partisanship. "We are Americans and we will prevail. We are prevailing. We are."
While minimizing the impact of the pandemic, Trump issued slashing, evidence-free attacks on the Biden family, accusing them of corruption.
"The Biden family is a criminal enterprise," he claimed in Macon, Georgia, where the crowd chanted "Lock him up!" "Frankly it makes Crooked Hillary Clinton look like an amateur," Trump added.
Trump does little to address deficit with female voters
"You watch last night," the President told his Georgia supporters on Friday, referring to the NBC town hall, "and you see the anger and the hatred. And I'm saying (to Guthrie) 'Look, let's just do this thing. Take it easy. Relax.' … You see that thing where she's screaming?"
"With Savannah," Trump continued, "it was like — her face — the anger, the craziness," he said, making motions with his hands to suggest a cloud of anger exploding around her head. "I mean, the craziness last night."
"We got very high marks last night, but they thought it was very unfair," he added, not specifying who "they" was, but accusing ABC News of taking a much softer approach questioning Biden during their policy-focused town hall — even though Trump claimed earlier in the day that he hadn't bothered to watch Biden's simultaneous event.
Predicting that there will be a "red wave" on Election Day — in contradiction with all the current polling — Trump dismissed his own problems with "suburban women" at another point during the Georgia rally.
"I heard they like my policies, but they don't like my personality," Trump said. "They don't care about my personality. They want to be safe, and they want to keep their American dream."
Some Republicans create distance from Trump
The President's weakened position as he heads into the final stretch of the campaign is giving prominent members of the GOP greater latitude to express their concerns about the direction that Trump has steered the Republican Party as they look to protect their own ambitions and futures.
During a sharp denunciation of Trump on a call with constituents that leaked this week, Nebraska Sen. Ben Sasse described the risks to his party in stark terms: "We are staring down the barrel of a blue tsunami," he said.
"I could raise more money, I'd be the world's greatest fundraiser, but I just don't want to do it," Trump said Friday night in Georgia, claiming that donors would expect him to grant favors in return.
But after tiptoeing around Trump for three-and-a-half years, some prominent Republicans, including Sasse, have distanced themselves from the President as his support continues to erode nationally.
"The way he treats women and spends like a drunken sailor. The ways I criticized President (Barack) Obama for that kind of spending I've criticized President Trump for as well," Sasse said in comments on the call, which were confirmed by CNN with his office. "He mocks evangelicals behind closed doors. His family has treated the presidency like a business opportunity. He's flirted with White supremacists."
Sasse also said that the President's "stupid political obsessions" and his tactics are hurting Republicans with women and young people.
"If young people become permanent Democrats because they've just been repulsed by the obsessive nature of our politics, or if women who were willing to still vote with the Republican Party in 2016 decide that they need to turn away from this party permanently in the future, the debate is not going to be, you know, 'Ben Sasse, why were you so mean to Donald Trump?'" Sasse said on the call. "It's going to be 'What the heck were any of us thinking that selling a TV-obsessed narcissistic individual to the American people was a good idea?' It is not a good idea."
The 2012 GOP presidential nominee said Trump was part of a pattern where politicians and parties "refuse to forcefully and convincingly repudiate groups like antifa, White supremacists and conspiracy peddlers."
"Rather than expel the rabid fringes and extremes, they have coddled or adopted them, eagerly trading their principles for the hope of electoral victories," Romney said. "As the parties rush down a rabbit hole, they may be opening a door to a political movement that could eventually eclipse them both."

Checkout latest world news below links :
World News || Latest News || U.S. News

Help us to become independent in PANDEMIC COVID-19. Contribute to diligent Authors.
Registered before? Log in to use your saved details.
If you registered an account, please enter your details below to login. If this is your first time, proceed to the donation form.