Stock Market
Jack Del Rio apologizes for 'irresponsible' wording of Jan. 6 'dust-up'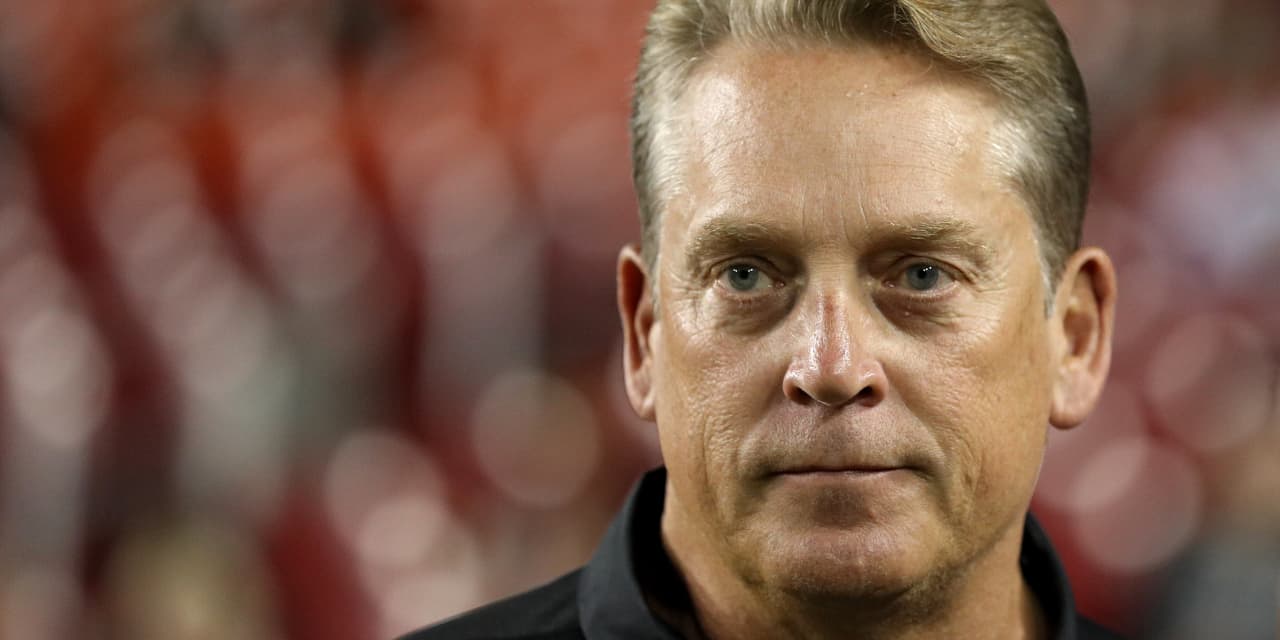 "'People's livelihoods are being destroyed, businesses are being burned down, no problem. And then we have a dust-up at the Capitol, nothing burned down, and we're going to make that a major deal. I just think it's kind of two standards.'"
That was Washington Commanders assistant coach Jack Del Rio defending his recent tweet, which compared the protests following George Floyd's murder in 2020 to the insurrection at the U.S. Capitol on Jan. 6, 2021.
His Wednesday comments followed a Twitter post Monday night in which he said, "Would love to understand 'the whole story' about why the summer of riots, looting, burning and the destruction of personal property is never discussed but this is ???" Del Rio was responding to a tweet about the Congressional hearings into the Jan. 6 attack on the Capitol that will be aired prime-time on Thursday.
Later on Wednesday, Del Rio apologized for his phrasing about the events of Jan. 6, 2021, but did not walk back other aspects of his original comments.
"I made comments earlier today in referencing the attack that took place on the United States Capitol on January 6, 2021. Referencing that situation as a dust-up was irresponsible and negligent and I am sorry," Del Rio said in a statement posted on Twitter. "I stand by my comments condemning violence in communities across the country. I say that while also expressing my support as an American citizen for peaceful protest in our country. I have fully supported all peaceful protests in America."
The Commanders play their home games in Washington, D.C.
His post drew more than 2,100 comments and led his name to trend on Twitter on Wednesday afternoon. Critics noted that the difference is that most of the protests against police brutality following Floyd's murder were peaceful and bringing attention to racial inequality, while the violent storming of the Capitol was intended to obstruct Congress from certifying President Joe Biden's 2020 electoral victory.
Several elected Democrats and and Republicans in leadership have also lamented the events of Jan. 6. President Joe Biden called the attack "unprecedented assault" on democracy. Republican Senate Minority Leader Mitch McConnell called the event a "dark day for Congress and our country" on the one-year anniversary of the mob storming the Capitol. And around the same time, fellow Republican Ted Cruz referred to Jan. 6, 2021 as "a violent terrorist attack on the Capitol." 
Read more: Mitch McConnell says the U.S. Capitol was 'stormed by criminals' on Jan. 6, 2021
The U.S. Department of Justice has called the Jan. 6, 2021 incident an "attack on the Capitol," and more than 840 defendants have been arrested in nearly all 50 states and the District of Columbia related to the obstruction of Congress. The attack caused approximately $1.5 million worth of damage, according to a May 2021 estimate from the Architect of the Capitol. But the DOJ puts the approximate losses suffered as a result of the Capitol siege at $2,734,783 as of April 5, 2022.
A list of defendants charged in federal court in Washington D.C. related to crimes committed at the Capitol on Jan. 6, 2021 can be found here.
Jan. 6 hearing: What time it starts, where to stream and what you should know
Washington Commanders cornerback Kendall Fuller said he was not aware of Del Rio's tweet. After a reporter read it to him, Fuller said: "I don't have a reaction right now. If I have a reaction, a feeling, towards something, I'll express that with him."
The comments come ahead of the bipartisan Jan. 6 select committee holding a prime-time hearing on Thursday.
The Associated Press contributed to this report.
Also on MarketWatch:
PGA Tour suspends Phil Mickelson, Dustin Johnson and other players who joined LIV golf
Walmart heir Rob Walton to buy Denver Broncos for a record-setting $4.6 billion

Checkout latest world news below links :
World News || Latest News || U.S. News

Source link