Stock Market
East Palestine derailment: Norfolk Southern sued by Justice Department and EPA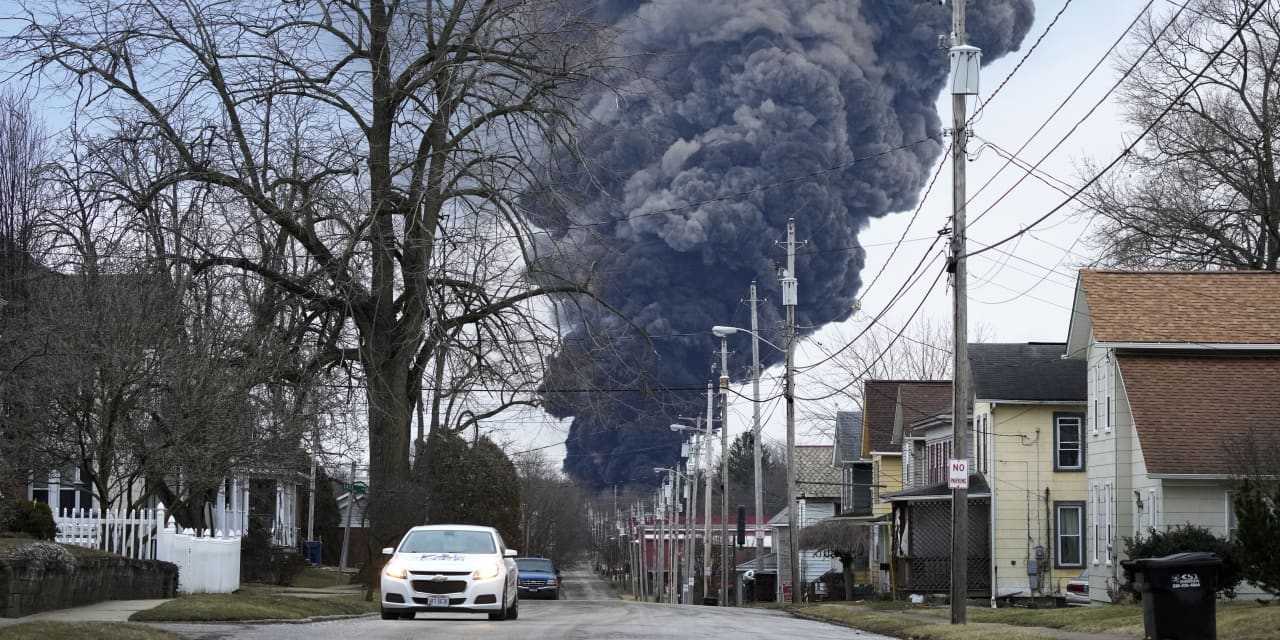 The Justice Department and the Environmental Protection Agency have filed a complaint against Norfolk Southern Corp. for unlawful discharge of pollutants and hazardous substances in the Feb. 3 train derailment in East Palestine, Ohio.
The complaint seeks penalties and injunctive relief for the unlawful discharge of pollutants, oil and hazardous substances under the Clean Water Act, according to statements released by the Justice Department and the EPA. The Justice Department and EPA are also seeking a declaratory judgment on liability for past and future costs under the Comprehensive Environmental Response, Compensation, and Liability Act (CERCLA).
Norfolk Southern's
NSC,
+1.51%
stock has fallen 16.8% since the derailment near the Ohio-Pennsylvania border. The stock is up 0.3% Friday.
Related: Norfolk Southern will do 'everything it takes' for East Palestine, CEO tells senators
"When a Norfolk Southern train derailed last month in East Palestine, Ohio, it released toxins into the air, soil, and water, endangering the health and safety of people in surrounding communities," Attorney General Merrick Garland said in a statement. "With this complaint, the Justice Department and the EPA are acting to pursue justice for the residents of East Palestine and ensure that Norfolk Southern carries the financial burden for the harm it has caused and continues to inflict on the community." 
In a separate statement, EPA Administrator Michael Regan said: "No community should have to go through what East Palestine residents have faced. With today's action, we are once more delivering on our commitment to ensure Norfolk Southern cleans up the mess they made and pays for the damage they have inflicted as we work to ensure this community can feel safe at home again."
Norfolk Southern has created a website, nsmakingitright.com, to track its progress in cleaning up the site.
"Our job right now is to make progress every day cleaning up the site, assisting residents whose lives were impacted by the derailment, and investing in the future of East Palestine and the surrounding areas," a spokesperson for Norfolk Southern told MarketWatch. "We are working with urgency, at the direction of the U.S. EPA, and making daily progress. That remains our focus and we'll keep working until we make it right."
Related: Norfolk Southern sued by Ohio over 'entirely avoidable' East Palestine derailment
More than 9.4 million gallons of affected water have been recovered and transported off-site for final disposal, according to Norfolk Southern, along with 12,904 tons of waste soil that has been removed for proper disposal.
The company has also flushed 5,200 feet of affected waterways and sampled more than 275 private drinking water wells, according to nsmakingitright.com.
The suit from the Justice Department and the EPA comes just two weeks after Ohio Attorney General Dave Yost filed a 58-count civil lawsuit against Norfolk Southern over the derailment in East Palestine.
Now read: Here are the chemicals spilled near Philly as U.S. drinking-water safety is top of mind
No one was killed or injured in the Ohio derailment, but the incident has been described as a "PR nightmare" for Norfolk Southern and the rail industry. The derailed cars included 11 tank cars carrying hazardous materials that subsequently ignited, damaging an additional 12 railcars, according to the National Transportation Safety Board, and setting off concerns about the impact on air and water quality and dangers to health in the region.
Earlier this month, Norfolk Southern CEO Alan Shaw was grilled by senators when he provided testimony on the disaster before the Senate Committee on Environment and Public Works.
While safety was the primary focus of the hearing, Shaw was also pressed on Norfolk Southern's stock buybacks and the company's use of precision scheduled railroading, which focuses on the movement of individual train cars rather than whole trains.
Related: Train derailment in Minnesota thrusts rail safety back into the spotlight
In his testimony, Shaw vowed to do "everything it takes" for the community affected by the derailment.
Rail safety was thrust into the spotlight again this week with the derailment of a BNSF train carrying ethanol and corn syrup in Minnesota early Thursday. 
Everstream Analytics, a supply-chain analytics company, has been researching train derailments involving Class I rail carriers between 2018 and 2023. A Class I carrier is defined as any carrier earning annual revenue greater than $943.9 million, according to the U.S. government's Surface Transportation Board. Data show that derailments across rail companies increased considerably in the U.S. between 2021 and 2022, according to Everstream Analytics.
Checkout latest world news below links :
World News
||
Latest News
||
U.S. News
Source link