Stock Market
Could Big Tech layoffs keep growing? Apple, Amazon, Facebook and Google may give hints in biggest week of earnings.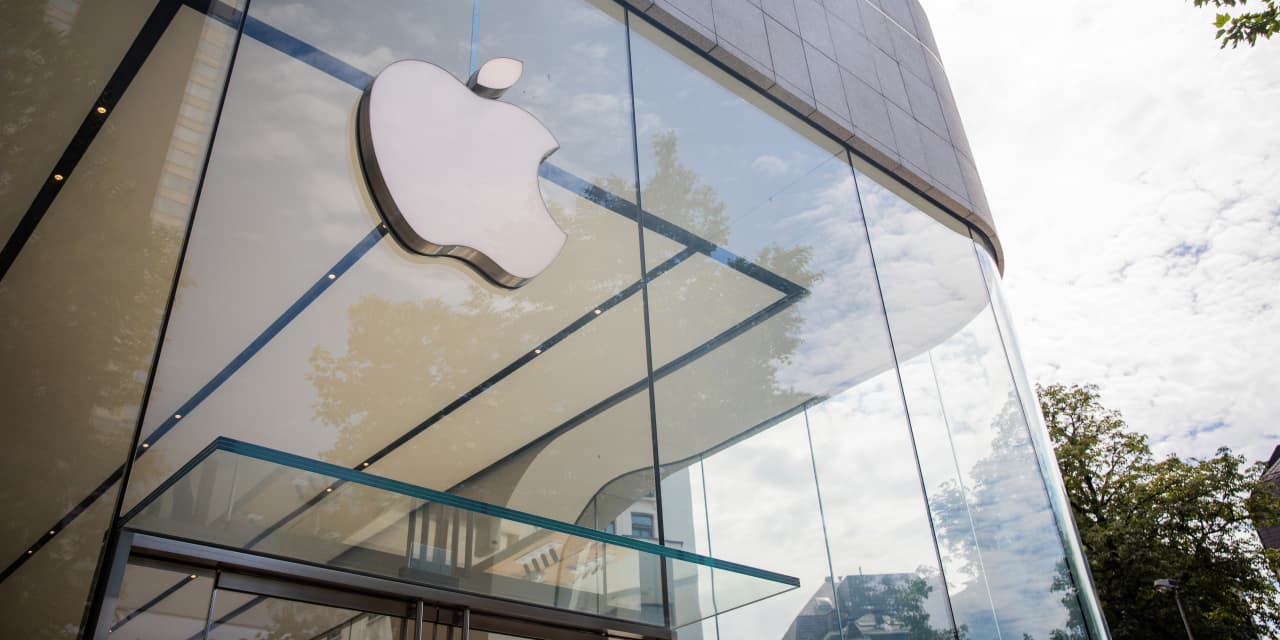 In the biggest week of the holiday-earnings season, Big Tech results will receive the spotlight amid thousands of layoffs that could only be the beginning.
After tech stocks were decimated in 2022, investors will be looking for signs of a turnaround in holiday reports and potential forecasts for the year ahead from three of 2022's top five market-value losers: Amazon.com Inc.
AMZN,
+3.04%,
Apple Inc.
AAPL,
+1.37%
and Meta Platforms Inc.
META,
+3.01%.
The other two stocks on that list — Microsoft Corp.
MSFT,
+0.06%
and Tesla Inc.
TSLA,
+11.00%
— reported last week, and Microsoft's results in the wake of a mass-layoffs announcement did not bode well for its Big Tech brethren.
See also: Microsoft could be the cloud sector's 'canary in the coal mine'
Those companies — along with Google parent Alphabet Inc.
GOOGL,
+1.90%
GOOG,
+1.56%
— will deliver results after finding themselves in unfamiliar territory: A backdrop of layoffs amid slowing demand for core products like digital ads, electronics and e-commerce, after a two-year pandemic surge and a two-decade-plus honeymoon with investors. Some analysts say the bottom hasn't arrived, for either their finances or their workforces.
The one Big Tech company that hasn't taken a sword to its payroll is Apple, which also increased its staff the least among the group during the COVID-19 pandemic. Apple shed $846 billion from its market cap last year, and now reports after its core product was part of the smartphone industry's worst year since 2013 and worst holiday-season decline on record. The iPhone maker could also face questions from Wall Street about changing up its product sourcing, which has relied heavily on China, a nation whose COVID-19 restrictions have constrained production of some phones.
While the tech-industry layoffs have yet to hit Apple, some analysts say the company is unlikely to be spared, despite Chief Executive Tim Cook requesting and receiving a healthy cut to his compensation.
"Similar to other big technology companies, we expect Apple to adjust its head count to reflect an increasingly challenging global macroeconomic environment," D.A. Davidson analyst Tom Forte said in a research note Tuesday.
Rivals that have already cut could face more if profit continues to fall along with revenue growth. Alphabet, for instance, is cutting 12,000 employees, but an activist investor has already said that is not enough considering how much the company grew during the pandemic, and the difficulties it now faces in the online-ad sector.
Opinion: Microsoft's big move in AI does not mean it will challenge Google in search
Analysts have said Meta's "darkest days" are still ahead, as it navigates a round of more than 11,000 layoffs, competition from TikTok and its early stumbles in the metaverse. While cutting, Chief Executive Mark Zuckerberg has promised to keep spending on metaverse development, even as the efforts slash the Facebook parent company's previously healthy bottom line.
"In 2023, we expect Meta to remain engulfed in arduous battles inside the Octagon," Monness Crespi Hardt analyst Brian White said in a research note on Thursday. "In the long run, we believe Meta will benefit from the secular digital ad trend and innovate in the metaverse; however, regulatory scrutiny persists, internal headwinds remain, and we believe the darkest days of this downturn are ahead of us."
Full Facebook earnings preview: Meta's 'darkest days' are ahead, but some analysts say ad sales are still on track
Online retailer Amazon
AMZN,
+3.04%
was the first Big Tech company to publicly declare cost-cutting was in order a year ago, and still coughed up $834 billion in market value in 2022. It kicked off 2023 with plans to lay off more than 18,000 workers as struggles continued throughout last year, when inflation siphoned away more consumer dollars toward essentials.
Amazon's own AWS cloud-infrastructure unit has helped to drive sales in years past, as businesses built out their tech infrastructures. But remarks and the outlook from Microsoft executives — the third-biggest market-cap loser of 2022, and a big barometer for tech spending overall — weren't exactly encouraging for cloud growth: Executives there last week warned of "moderating consumption growth" for its own cloud business.
For more: One company could determine whether U.S. corporate profits rise to a record in 2023
"Sentiment was already bearish on AWS, with investors looking for slowing revenue over the next three quarters, largely confirmed after Microsoft earnings and conversations with industry checks," Oppenheimer analyst Jason Helfstein said in a note on Wednesday. "Positively, we believe e-commerce revenue has stabilized, and margins should improve from organic scale and announced head-count reductions."
Layoffs are also starting to spread beyond Big Tech companies that grew fast during the pandemic in response to massive demand spikes. International Business Machines Corp.
IBM,
-0.04%
confirmed plans for 3,900 layoffs as it reported earnings, despite already reducing its workforce by at least 20% during the pandemic.
One sector to watch is semiconductors, where a chip shortage has turned into a glut: Chip-equipment maker Lam Research Corp.
LRCX,
-2.99%
announced layoffs in the past week as Silicon Valley semiconductor giant Intel Corp.
INTC,
-6.41%
displayed "astonishingly bad" results while laying off workers. When Intel rival Advanced Micro Devices Inc.
AMD,
+0.32%
reports this week, it could determine whether there is any silver lining in the semiconductor storm.
Earnings preview: AMD faces even more scrutiny after 'astonishingly bad' Intel outlook
Wedbush analyst Daniel Ives said in a Sunday note that a common theme of this week's Big Tech earnings will be that "tech layoffs will accelerate with more pain ahead to curb expenses," though he added that "Apple will likely cut some costs around the edges, but we do not expect mass layoffs from Cupertino this week."
Big Tech earnings were a salve to other problems in the market for the past decade-plus, but with layoffs already under way and doubts about the path forward, don't expect salvation from their results this week.
This week in earnings
For the week ahead, 107 S&P 500
SPX,
+0.25%
companies, including six members of the Dow Jones Industrial Average
DJIA,
+0.08%,
will report results, according to FactSet. While more Dow components reported last week, this will be the busiest week for S&P 500 holiday earnings of the season, FactSet senior earnings analyst John Butters confirmed to MarketWatch.
Appliance-maker Whirlpool Corp.
WHR,
+2.69%
reports on Monday, after it forecast fourth-quarter sales that were below expectations, following what it called a "one-off supply-chain disruption" and the pandemic home-renovation boom.
On Tuesday, package-deliverer United Parcel Service Inc.
UPS,
+1.33%
reports, amid questions about holiday-season demand. So does streaming service Spotify Technology,
SPOT,
+0.93%
following its own layoffs and suggestions of possible price hikes, as well as McDonald's Corp.
MCD,
-0.82%,
amid concerns that rising prices are keeping people from dining out. Exxon Mobil Corp.
XOM,
-1.83%,
Caterpillar Inc.
CAT,
+0.92%,
Snap Inc.
SNAP,
+7.07%
and Pfizer Inc.
PFE,
-1.04%
also report Tuesday.
Earnings outlook: McDonald's earnings haven't been hit by higher prices
On Wednesday, T-Mobile US Inc.
TMUS,
-1.32%
reports, in the wake of a data breach and wobbling cellphone demand. Coffee chain Starbucks Corp.
SBUX,
+0.24%
reports on Thursday, with analysts likely to be zeroed in on U.S. demand and China's reopening, after executives said they were confident that higher prices, along with enthusiasm from younger customers and for customizable drinks, could help them navigate any potholes in the economy.
For the Big Tech companies, Thursday is also the big day: Apple, Amazon and Alphabet will report that afternoon, after Meta reports the prior day.
The calls to put on your calendar
WWE upheaval: World Wrestling Entertainment Inc.
WWE,
-1.35%
reports earnings on Thursday, as Vince McMahon — who returned to the professional-wrestling organization this month following allegations of sexual misconduct — seeks a buyer or some other so-called "strategic alternative" for the company.
Analysts have speculated how the company's wrestling events and backlog of media content might be repurposed, with some entertaining the possibility of interest from Amazon or Netflix Inc.
NFLX,
-1.12%.
But WWE has struggled to develop story lines that stick with viewers, and has thinned its ranks of wrestlers.
The Wall Street Journal this month reported that McMahon would pay a multimillion-dollar settlement to a former referee who accused him of raping her. Among the changes since McMahon returned was the departure of his daughter, who had been promoted to co-CEO after he stepped down from the role last year.
There isn't much clarity on whether Vince McMahon will be on Thursday's earnings call, which was moved from the morning to the afternoon due to a scheduling conflict. But it should offer drama no matter who attends.
The numbers to watch
GM and Ford auto sales: Auto makers General Motors Co.
GM,
+4.03%
and Ford Motor Co.
F,
+2.71%
will issue results on Tuesday and Thursday respectively, amid signs of waning demand and rising interest rates that have made car loans more expensive. Despite falling new-vehicle sales in the third quarter, GM managed to keep its own sales higher, the AP noted.
Mary Barry, GM's chief executive, called out the popularity of vehicles like the Escalade, the Chevrolet Bolt EV and some pickups and SUVs during the auto maker's third-quarter earnings call in October. During that quarter, GM said it completed and shipped nearly 75% of the unfinished vehicles held in its inventory in June. She said supply-chains were opening up again, but added that "short-term disruptions will continue to happen."
The auto makers report as they try to put a chip shortage and other production constraints behind them. But some forecasts call for 2022 auto sales, or sales volumes, to be the weakest in roughly a decade. Electric vehicle maker Tesla's recent price cuts could also cut into GM's and Ford's own EV sales.

Checkout latest world news below links :
World News || Latest News || U.S. News

Source link