Stock Market
Bed Bath & Beyond stock plunges more than 20% after filing shows default on loans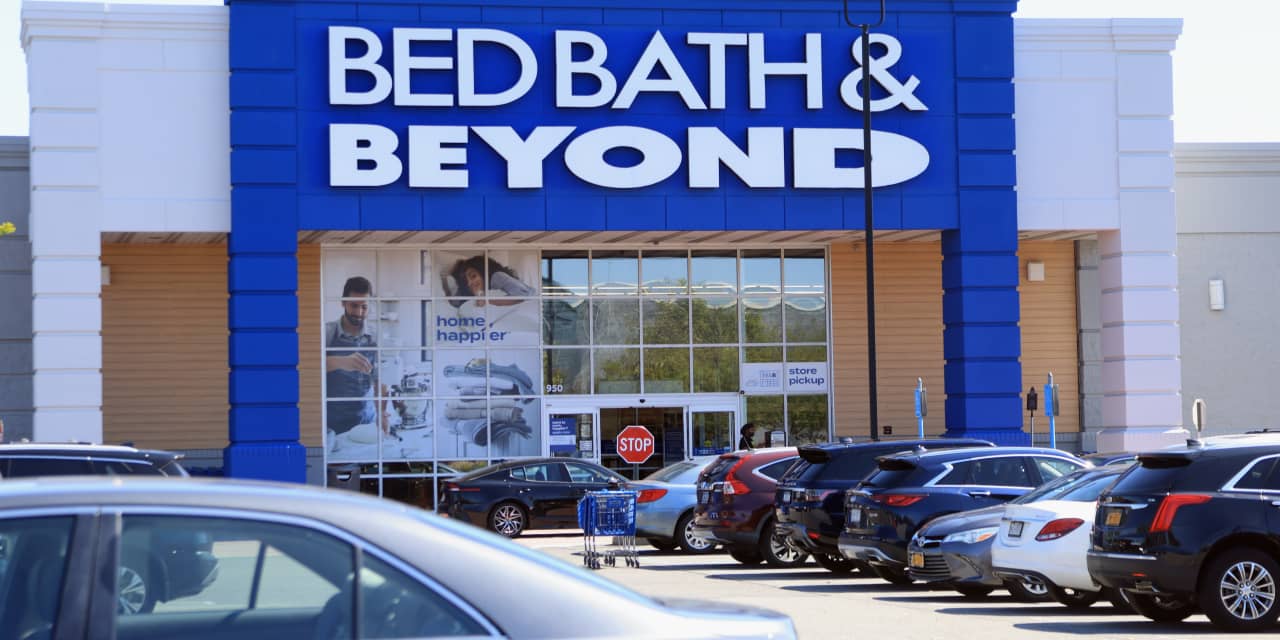 Bed Bath & Beyond Inc. shares plunged more than 20% and were halted Thursday afternoon, after the retailer disclosed in a filing that it was in default on loans that have been called in.
The struggling retailer finally filed its quarterly report with the U.S. Securities and Exchange Commission on Thursday at roughly 2:30 p.m. Eastern time, after being threatened with having its stock delisted for being late with the required report.
Included in the filing is news that Bed Bath & Beyond
BBBY,
-22.22%
had defaulted on loans earlier this month, and executives were informed on Wednesday by banker JP Morgan Chase & Co.
JPM,
+0.62%
that the debt was due immediately.
"On or around January 13, 2023, certain events of default were triggered under the Company's Credit Facilities as a result of the Company's failure to prepay an overadvance and satisfy a financial covenant, among other things," the filing reads.
"As a result of the continuance of such events of default, on January 25, 2023, the administrative agent under the Amended Credit Agreement notified the Company that (i) the principal amount of all outstanding loans under the Credit Facilities, together with accrued interest thereon, the FILO Applicable Premium and all fees (including, for the avoidance of doubt, any break funding payments) and other obligations of the Company accrued under the Amended Credit Agreement, are due and payable immediately."
See also: Bed Bath & Beyond bankruptcy warning marks latest chapter in troubled retailer's downward spiral
Shares had traded between $3.25 and $3.47 on the day until about 5 minutes after the filing was released, when shares suddenly dove, triggering a halt. The stock fell as low as $2.10 and was halted three times between 2:46 p.m. and 3:14 p.m. before closing at $2.52, a 22.2% daily decline.
The struggling retailer admitted earlier this year that it has "substantial doubt" about its "ability to continue as a going concern" and may need to declare bankruptcy. The home goods retailer also said that it expects to record lower sales for the latest quarter than analysts were anticipating.
"As we consider all paths and strategic alternatives, we continue to work with our advisors and implement actions to manage our business as efficiently as possible," a Bed Bath & Beyond spokesperson said in an email Thursday. "As is our practice, we do not comment on speculation. We will update all stakeholders on our plans as they develop and finalize."
Bed Bath & Beyond stock has become popular with "meme" traders and short sellers, who have been betting on opposite sides of the trade as the retailer reported a poor holiday season and plans to shut down stores. Shares have traded as high as $30.06 and as low as $1.27 in the past 12 months, while declining 81.8% overall in that time. The S&P 500 index
SPX,
+1.10%
has declined 7.7% in the past 12 months.
See also: Why naked short selling has suddenly become a hot topic
Checkout latest world news below links :
World News
||
Latest News
||
U.S. News
Source link