Finance
Ousted OpenAI CEO Sam Altman joins Microsoft to lead advanced AI team (NASDAQ:MSFT)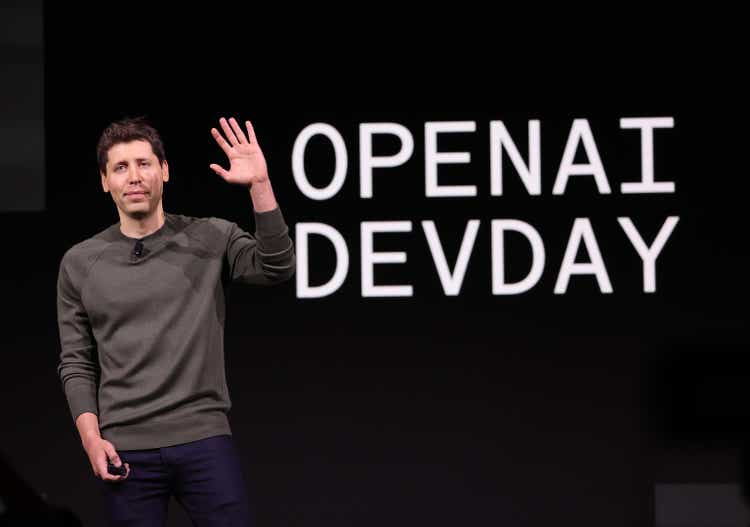 It's a classic tale in Silicon Valley, but the reverberations are still being heard across the investing world. Sam Altman's bid to return to OpenAI after being ousted late on Friday has failed, with the board not agreeing to the proposed terms of his reinstatement in a drama-filled weekend. Instead, Emmett Shear, the former CEO of Twitch and a prior partner to Sam Altman's startup accelerator Y Combinator, has been named interim CEO, while Altman – as well as OpenAI president and co-founder Greg Brockman – have found a new home at Microsoft (NASDAQ:MSFT). More on that below, but expect more OpenAIers to also jump ship.
What happened? Since its founding in 2015, OpenAI's mission has been to develop cutting-edge AI technologies that would "benefit humanity as a whole, unconstrained by a need to generate financial return." Only a few years later, the non-profit formed a "capped profit" subsidiary, which eventually helped it attract the billions of dollars in investment that were needed to develop its large language models, ChatGPT, and other expensive generative AI offerings. Top talent was secured, equity was distributed to employees and it was now able to commercially license its technologies, but a schism was growing between Altman and the board skeptical of corporate expansion.
During talks over the weekend, reports suggested that Altman – with the backing of Microsoft (MSFT) – proposed a series of notable tech executives to lead a new board more aligned with their business vision. Names included Bret Taylor, former co-CEO of Salesforce, Airbnb CEO Brian Chesky, and Sheryl Sandberg, the former COO of Meta Platforms. However, if OpenAI's board was concerned about Altman's lack of "candor in communications" and "commitment to ethical AI development," the pitch only reinforced their position. Sources also say that Altman had recently devised plans for two new business endeavors, including a Jony Ive-led consumer hardware unit and a low-cost chip venture that would be used to train AI models, as well as publicized projects like the GPT App Store and crypto scheme Worldcoin.
After the negotiations failed, Microsoft (MSFT) stepped in to secure much of the talent behind its reported $13B investment in OpenAI, which some say gave it a 49% stake in a company that was recently valued at $86B. Microsoft (MSFT) brought both Altman and Brockman into its ranks to lead a new advanced AI research team, a step seen as necessary to preserve generative AI secrets and keep the technology in-house. "We look forward to moving quickly to provide them with the resources needed for their success," Microsoft (MSFT) CEO Satya Nadella wrote on X, as it looks to lead the AI revolution and cash in on its promise.
Thought bubble: Altman is sure to remain a force within AI markets and many are likening the situation to the 1985 ouster of Steve Jobs, who eventually returned and paved the way for Apple to become the most valuable company in the U.S. Microsoft intends to level up by integrating emerging AI technology within all of its products, such as its Bing search engine, Microsoft 365, GitHub coding tools and the Azure cloud. It remains to be seen what will be achieved, but what is clear for now is that incentives must be properly aligned, or they can create far-reaching governance and agency problems.
Checkout latest world news below links :
World News
||
Latest News
||
U.S. News
Source link