Finance
Microsoft hits all-time high as Satya Nadella's star shines amid OpenAI brouhaha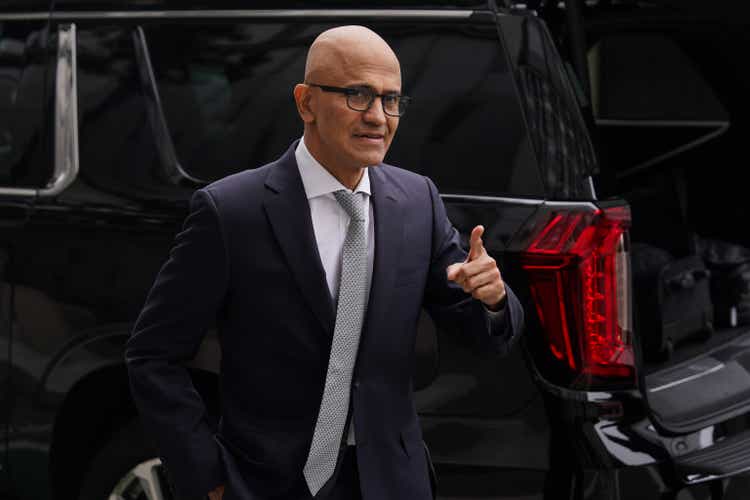 Microsoft (NASDAQ:MSFT) Chief Executive Satya Nadella is the new it boy of Silicon Valley.
Shares of the tech giant hit an all-time high on Monday as Nadella received considerable credit from industry leaders for bringing in OpenAI co-founders Sam Altman and Greg Brockman after last week's surreal occurrences surrounding the ChatGPT creator.
"If you told me 10 years ago that a group of the smartest engineers in the land would evoke the threat, 'Do what I say or I will go to work at Microsoft,' I would not have believed you," venture capitalist Bill Gurley posted to X, formerly known as Twitter. "Amazing shift in corporate reputation (and much credit to Satya)." Gurley has backed companies such as Uber, Zillow and Grubhub, among others.
Shopify (SHOP) CEO Tobi Lutke also gave kudos to Microsoft (MSFT), noting that Altman, Brockman and other "key staffers" who join Microsoft will be working on new projects and advanced artificial intelligence research at the Nadella-led tech giant.
Conversely, he said that OpenAI's board is playing "stupid games to "win stupid prizes."
Ilya Sutskever, chief scientist of OpenAI, posted on Monday that he "deeply" regrets his participation in the actions of OpenAI's board of directors.
"I never intended to harm OpenAI," Sutskever wrote. "I love everything we've built together and I will do everything I can to reunite the company."
Following Sutskever's tweet, it was reported that more than 500 OpenAI employees, including Sutskever and Mira Murati who spent a few hours as interim CEO, wrote a letter to the company's board of directors threatening to quit unless the board steps down and reinstates Sam Altman as CEO.
Other Silicon Valley heavyweights also weighed in on the events and praised Nadella's handling of the event.
"An unbelievable turn of events for MSFT," venture capitalist Jessica Verrilli wrote. "Satya is the best non-founder CEO of all time. Bravo." Verilli previously worked at Google Ventures and Twitter.
Box (BOX) CEO Aaron Levie said Nadella demonstrated "incredible execution" during "one of the most dynamic situations in tech history."
This is the latest bold move by the Microsoft CEO who has fundamentally changed the company known mainly for its Windows programs into a behemoth based on subscription fees and cloud services.
In an early Monday morning post on X, Satya Nadella said the company was "extremely excited" to have Altman and Brockman join the company, leading advanced AI research.
"We look forward to moving quickly to provide them with the resources needed for their success," Nadella wrote.
Nadella also said Microsoft (MSFT) is committed to its partnership with OpenAI, everything that was announced at its Ignite conference and looks forward to "getting to know [new CEO] Emmett Shear and OAI's new leadership team and working with them."
Earlier this year, Microsoft (MSFT) made a "multibillion" dollar investment into OpenAI, the maker of popular ChatGPT, that has reportedly given them a 49% stake in the company.

Checkout latest world news below links :
World News || Latest News || U.S. News

Source link