Banking
Sanford DeLand's Free Spirit manager Eric Burns on the UK as a 'dirty word'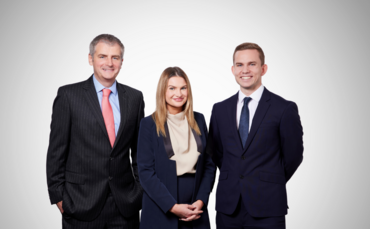 Burns noted the UK had been a "difficult place to be", noting that in recent months the fund's price-to-earnings ratio had dropped from 30x to 20x, while its free cash flow yield surged from 3% to 5%.
CCLA launches modern slavery benchmark for UK listed company investors
However, he was keen to stress that the UK's woes did not necessarily translate to poor performance for the fund: "Just because a company is small, that does not mean it is UK focused."
A majority of the fund's revenues comes from overseas, and Beggs stressed that many of their holdings were "global leaders in their markets".
The Free Spirit fund is much smaller than the firm's flagship Buffetology fund, with assets under management of just £65m, compared to £500m for the latter.
While the funds looked similar at Free Spirit's inception, the managers have made a concerted effort to focus on small caps, and now only share two positions: Games Workshop and LSEG.
As the fund has avoided investing in oil giants and mining firms, the fund's performance has suffered, falling 6.2% over the last three years, compared to a growth of 13.2% in the IA UK All Companies sector, according to data from FE fundinfo.
However, Burns was steadfast that the fund would not be deviating from its previous approach, arguing that "the real sale signal to our investors would be if we changed our process".
He compared the UK small cap market to "coiled springs", arguing they had been "compressed so much, but with a little change in sentiment" could surge.
As an example, he pointed to a recent occasion in which the fund rose 10% in a month, an event he attributed entirely to "sentiment turning".
Meanwhile, as the sector has sunk lower, he argued that recent sales were "consistent to us with capitulation", as big fund managers have been forced to sell out of the sector under pressure from investors.
In contrast, he argued that SDL was committed to the UK small cap sector, and the lack of "short term drivers" meant that the fund would benefit in the long term.
JP Morgan proposes merger of UK Smaller Companies and Mid Cap trusts
Looking to key examples that could benefit in the future, Burns pointed to Bytes Technology, which has been the largest contributor to the fund's performance year-to-date (1.1% return).
The firm is an IT reseller of Microsoft products, and Burns said there was "no better way of getting exposure to AI in the UK markets", describing it as "Microsoft UK".
New holdings for the fund over the last year include Auction Technology Group and Keystone Law Group, the latter of which now stands as the fifth largest holding in the fund, at 4.9%.
ATG represented a key example of the potential for international reach in UK small-caps, as the firm conducts the majority of its business in North America, having grown to include some of the largest auction sites in the continent.
Meanwhile, Keystone Law Group allowed self-employed lawyers, a growing business following the pandemic, to have services provided to them.
The firm's stock price has risen 14.4% throughout 2023, according to data from Morningstar Direct.
Checkout latest world news below links :
World News
||
Latest News
||
U.S. News
Source link