Banking
Powell stokes bullish market sentiment with disinflation comments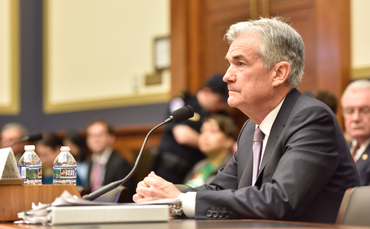 Speaking at the Economic Club of Washington last night (7 February) alongside Carlyle Group co-founder David Rubenstein, Powell said: "The disinflationary process, the process of getting inflation down, has begun and it has begun in the goods sector".
The chair clarified that this did not mean a total end to the current inflationary environment, which has dominated markets for the the past 12 months.
US unemployment falls to 3.4% as surprise 517,000 jobs added in January
He said it "has a long way to go", and that "these are the very early stages of disinflation."
"There has been an expectation that inflation will go away quickly and painlessly and I do not think that is at all guaranteed," Powell added.
"We expect 2023 to be a year of significant declines in inflation. It is actually our job to make sure that is the case," he added.
According to him, inflation would not hit the central bank's 2% target until next year still.
The remarks were made after the market close in London, but US markets reacted very positively with the S&P 500 closing up 1.3% at 4164 and the Nasdaq 100 up 2.1% to 12,728 at the close, according to data from MarketWatch.
As Powell continued to walk the tightrope between too upbeat or overly negative as he further clarified: "The reality is we are going to react to the data."
The chair added: "So if we continue to get strong labour market reports or higher inflation reports, it may well be the case that we have do more and raise rates more than is priced in."
The Federal Reserve reduced the pace of its interest rate hikes last week, opting for a 25bps hike, rather than the 50bps or 75bps increases it had been rolling out.
Fed continues to shrink rate rises with 25 basis points move
Powell at the time also said further hikes are still on the cards, with the current target range of 4.5% to 4.75% not necessarily being the peak.
Commenting on Powell's recent remarks, Toby Sturgeon global head of fiduciary investment services at ZEDRA said: "Today's discussion had the attention of the majority of market investors."
He said: "Following the phenomenal reports on employment last week which exceeded all expectations and the FOMC's modest 25bp rate rise earlier in the week, the insights from chair Powell were under intense scrutiny."
Sturgeon added that despite the Fed's "best efforts" to slow the economy in order to reduce inflation the employment market was still tight, with unemployment is now at levels not seen since 1969.
"The disinflation process has started according to chair Powell but the process has a long way to go and further interest rate increases will probably be needed."
Checkout latest world news below links :
World News
||
Latest News
||
U.S. News
Source link