Banking
'Lasting legacy': Industry pays tribute to 'trailblazer' Anne-Marie McConnon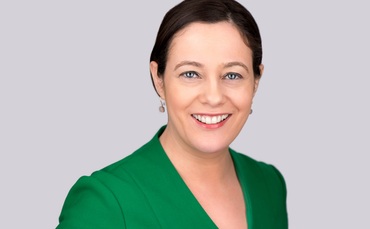 During her career, Anne-Marie held a number of senior marketing and board positions at groups including M&G Investments, BNY Mellon Investment Management and Rathbones, winning a number of awards for her work. She was also hugely respected as a leader in championing diversity & inclusion within the investment industry and beyond, making a lasting impact on those around her.  
Anne-Marie's husband Aminul shared the news of her death in a statement on LinkedIn, saying she "passed away suddenly and unexpectedly after collapsing at home" on 20 May.
He said: "This has come as a huge shock and the devastation of her loss has had a massive impact on those who knew and loved her.
"Anne-Marie was a beloved wife to me and leaves two young daughters Mya-Rose and Leila, whom she adored with all her heart, her brothers and their families in Ireland and her in-laws, with whom she was incredibly close.
"It is incredibly difficult and deeply sad to imagine a world without Anne-Marie's huge presence in it. She was a beautiful soul and truly one of a kind.
"Anne-Marie touched the lives of those who knew her quite profoundly. She was a force of nature, brave and accountable and not afraid to challenge things that were not right.
"RIP Anne-Marie, we will miss you so much and there will not be a day we will not remember you."
Within hours of the post being made, hundreds of tributes to Anne-Marie were posted on LinkedIn from across the investment industry. Many people shared their personal memories of the impact Anne-Marie made on their lives as a friend and mentor, remembering her kindness, warmth and good humour. Meanwhile, others praised her as a role model and champion for diversity and inclusion, describing her as a "true leader", "inspirational" and "a trailblazer".
Asmita Kapadia, close friend and communications specialist, said: "Anne-Marie was a force of nature, inspirational, fearless, intelligent and a true trailblazer in an industry she loved and served.
"Having met her at M&G, we became the best of friends for more than 20 years and I will miss her beautiful smile, her kindness and support.  I have nothing but respect, admiration and love for her. My heart goes out to Amino, Mya-Rose, Leila and the family and I am there to support them in any way I can.
"I know Anne-Marie would be touched, humbled and be full of pride receiving all the comments on LinkedIn. Good bye 'my dear friend' and rest in peace." 
Isla Mackenzie, CMO of UBS Asset Management and long term friend of Anne-Marie, said: "Anne-Marie was my cherished friend from our days in Edinburgh, when we first started out in the industry, through our journey together as we met our partners and had our children and as peers as our careers in AM marketing evolved.
"I was so proud to watch her develop into the industry powerhouse she became while always being the same Anne-Marie she always was at age 22 – kind, humble, funny, generous, principled – a little bundle of energy and light.
"My teams knew who I would always point them to in terms of the standards to strive for with our marketing. Anne-Marie drove so much impactful change for the industry but always from within and quietly.
"I loved and admired Anne-Marie in equal measure for her courage, class and sheer brilliance but also because she made our lives immeasurably better with her presence.
"Right now, my focus is on Aminul and her girls who have suffered a devastating loss, but we are all so grateful for the kind comments from her friends in the industry which mean so much to her family.  She would hardly believe these were about her which exactly sums her up. We will miss her immeasurably. She is irreplaceable."
Career achievements
Anne-Marie accomplished so much in the investment industry during a career spanning 25 years, working her way up from junior executive to CMO and finally to board level.
Her first longer-term role was at M&G Investments where she worked for over eight years, rising up the ranks of marketing roles to become head of pan-European marketing. She then moved to BNY Mellon Investment Management in October 2012 where she worked for just over a decade in a number of senior marketing roles including global chief marketing officer – investment and wealth management for four years and finally global chief client experience officer – investment management. She was a member of the Global Distribution Executive and an executive director on the IM EMEA board and UK fund board at BNY Mellon IM.
A spokesperson for BNY Mellon Investment Management said: "We were incredibly saddened to learn of the passing of our friend, and former colleague, Anne-Marie McConnon. Our thoughts and deepest sympathies are with her husband, daughters, and extended family at this tragic time.
"Anne-Marie worked at BNY Mellon Investment Management for just over a decade. Through her years with us she held a number of roles, and she left us as global chief marketing officer and global client experience officer.
"For those who worked with her, she was known for creating a warm, collegiate culture. She had a real passion for the industry and was an innovative marketer; she thrived on challenges, supported her team and pushed others to meet their potential, using their strengths to enable them to create their own solutions.
"She was passionate about diversity and for encouraging greater investment participation by women. She always said she was thinking of her two daughters as she strove to promote women in our industry.
"Alongside her senior leadership roles, she supported many industry initiatives including i2020 and was co-founder of CASCAID, which brings together colleagues from the asset management industry to raise money for charity.
"The tributes that have flowed in following the announcement on LinkedIn highlight how many people Anne-Marie touched and inspired. Her tenacious spirit and commitment to helping and supporting others are a testament to her incredible legacy.
"Anne-Marie's kindness, warmth and talent will be greatly missed by us all. We hold her family in our hearts at this time alongside her colleagues who loved her."
Commenting on LinkedIn, Hanneke Smits, CEO of BNY Mellon Investment Management and global chair of the 30% Club, said: "Aminul, I am deeply sorry for your devastating loss. On behalf of all her friends and former colleagues at BNY Mellon Investment Management, our thoughts and sympathies are with you, your daughters and your family.
"Anne-Marie was a pleasure to work with and we all admired her courage, tenacity and above all, her dedication and commitment to her teams. On a personal note, I'm incredibly proud of her work in the development of our Pathway to Inclusive Investment report and have so many fond memories from this period that I will treasure. She is gone too soon and will be dearly missed."
Anne-Marie left BNY Mellon IM earlier this year to take on a fresh challenge at Rathbones in a newly created role as chief client officer.
Rathbones CEO Paul Stockton commented: "Anne-Marie joined Rathbones very recently but had already begun to build some strong relationships across the business. She was vibrant, driven, positive and knowledgeable and all of the Rathbones team were looking forward to working with her. We are deeply saddened by this news, and our thoughts are with her family and friends at this difficult time."
Notable achievements during Anne-Marie's marketing career included launching the industry's first successful blog with the M&G fixed income team (Bond Vigilantes) and leading a number of high profile re-brand projects.
Jim Leaviss, CIO public fixed income at M&G Investments, commented on LinkedIn: "She was one of the best and nicest people I ever worked with. I'm so sorry for your loss and I send you and your family all my love."
Linda Russheim, Diversity Project board member and head of marketing, said: "Anne-Marie was a force of nature within the investment industry, a marketing and DEI powerhouse who I greatly admired and respected. She had such energy, passion and commitment and made a massive impact on so many. She will be sorely missed and my thoughts are with her family and all who knew her."  
Award winner
During her career, Anne-Marie won a number of awards for her marketing skills at Investment Week's Investment Marketing and Innovation Awards, including Marketer of the Year in 2015 and 2016, as well as awards with her team.
Tom Wright, executive director of Incisive Works and chair of the awards, said: "Anne-Marie was a fellow judge on the Investment Marketing and Innovation Awards for several years. Despite the demands of a hugely successful career, she gave freely and generously of her time, delighting in the achievements of others. She was a passionate advocate for diversity and inclusion and championed the careers of many talented marketers. Anne-Marie leaves a lasting legacy in the careers and outstanding work of the many people for whom she was a mentor."
Champion for diversity & inclusion
Importantly, Anne-Marie was also a role model and mentor to many people in the industry and used her senior position to be a vocal champion for diversity & inclusion within the sector and beyond.
She was a founding member of Investment 20/20 and sat on the advisory committee, demonstrating her passion for helping young people build careers in the industry.
Karis Stander, managing director of Investment 20/20, posted on LinkedIn: "Truly devastating news and I can't quite believe that Anne-Marie isn't with us anymore. A magnificent person and in a league of her own. I had the privilege of working with her over the last 10 years and what a driving force she was behind shaping and building the Investment20/20 brand. I am so grateful for her energy, passion and unwavering commitment. Aminul, my heart goes out to you, Mya, Leila and your whole family."
Investment 20/20 said: "We have lost a friend, colleague and one of our founding board members. Anne-Marie's passion for diversity and giving everyone the same opportunity to be the best that they can, permeated through all that she did. We will miss you Anne-Marie. Your legacy lives on in every person who joins the Investment20/20 programme. You have made a difference to the industry and to people's lives and we are forever grateful for your dedication, wisdom and kindness."
Anne-Marie was recognised as one of the Global Top 100 Executive Allies for inclusive leadership by LGBT Great. She was also a long-standing supporter of the Investment Week Women in Investment Awards and won a Diversity & Inclusion Champion of the Year accolade at last year's ceremony. The judges wanted to recognise her work launching the Pathway to Inclusive Investing initiative as part of her global mission to encourage more women to invest.
Katrina Lloyd, editor-in-chief of Investment Week, said: "The whole team at Incisive Media and Investment Week were extremely sad to hear the news about Anne-Marie and our thoughts are with her family and friends.
"Anne-Marie was a truly inspirational person who used her platform to support others and push for change across the industry, including at a time when diversity & inclusion was not as high on the agenda as it is today. She personally touched the lives of so many people and had a huge impact on making this industry a better place and helping everyone succeed. She was a very worthy winner at last year's Women in Investment Awards."  
Anne-Marie was very proud of her work at BNY Mellon IM to use business as a force for good. This included creating equality for women on the tideway through the group's sponsorship of the Oxford and Cambridge boat race, giving its global sponsorship rights to a charity in 2016. 
She also played a key role as a co-founder of the industry-wide initiative CASCAID, which has now raised nearly £5m for a number of charities.
Helen Wagstaff, co-founder of CASCAID, said: "My dear friend Anne-Marie co-founded CASCAID with me in 2017 and was heavily involved throughout, whether that was doing her own challenges like rowing the Irish Sea or encouraging others to get involved. She was with me every step of our journey to raising nearly £5m for CRUK, GOSH and the NSPCC and cared passionately about these charities. She is desperately missed and my thoughts are with her wonderful family."
Friends of Anne-Marie and colleagues across the investment industry have been sharing their tributes and reflecting on her enormous contribution to the development of a more diverse and inclusive sector. We have asked for their permission to use LinkedIn posts. If you would like to share your tribute, please email: [email protected].
Checkout latest world news below links :
World News
||
Latest News
||
U.S. News
Source link