Banking
Industry Voice: Three sustainability themes set to dominate Europe's AGM season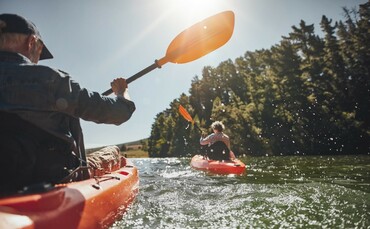 At Fidelity, we believe that active ownership can help drive sustainable business practices at the companies we invest in. Voting at shareholder meetings is a key part of this and, as we look ahead to the AGM season in Europe, we see three key areas of focus emerging – cost of living, climate change, and DE&I.
A continued push for net-zero action
It is more important than ever that companies take action on climate change. As part of our broader climate and nature strategy, we have released our Deforestation Framework, which formalises our stance on this issue and outlines how we plan to use our vote to hold boards accountable. This framework is in line with our 2023 sustainable investing priority to support natural capital, enabling the transition to a circular and more sustainable economy.
Under our voting guidelines, we will vote against management that fail to meet minimum expectations on climate change governance, policies, and disclosures. In addition, following continued deforestation-related engagement with companies in 2023, we will vote against members of the board at companies in high-risk sectors that do not adequately meet our deforestation-related expectations, effective as of 2024. We will continue to use our votes to advocate for companies to adopt climate and nature strategies that support a societal transition to net zero, recognising that getting real on climate means getting real on nature too. We place focus on those companies with credible backing and implementation plans.
We are also working closely with companies to discover how the energy crisis may have impacted their net zero strategy to inform our voting and engagements. Furthermore, in certain sectors where excess profits are materialising due to energy price dislocation, we will look to encourage an appropriate share of that profit towards the build-out and maintenance of renewable infrastructure to help accelerate the transition.
Responding to the cost-of-living crisis
With many places experiencing general inflation of over 10%, and food inflation of over 40% on some key items, workers are finding their wallets squeezed. However, it is not only individuals that have been affected: price increases have affected many sectors and will impact individuals and companies differently.
We recognise that solutions are not always straightforward and that for many companies inflationary pressures are already acutely evident, often in both energy and labour costs. Across the globe, we are seeing that these pressures are having significant social impacts on employees and communities, and that should be managed in a responsible manner.
In this broader context, we will approach the AGM season with an expectation that remuneration committees will consider the broader workforce experience when setting executive pay, including avoiding base salary increases for executive directors that outpace the wider workforce. Deviation from this approach will likely warrant voting action.
Further advocating for diversity and inclusion
The final key area we are watching closely is DEI. While we have seen improvements in terms of gender and racial equity in senior positions and greater levels of transparency around pay, there are still areas where significant progress is needed.
We are strong advocates for gender and racial diversity. From a business perspective, we believe it can have a positive impact on long-term value creation and risk mitigation – this should increasingly encourage boards to seek candidates with different skills and backgrounds. Where we feel this is not being achieved, we will actively engage and consider voting against company management in most developed markets that do not have at least 30% female board representation.
Bringing about a more sustainable and inclusive future is not going to happen overnight; it is at these AGM meetings that investors can have their voices heard and influence change. Last year, we voted against management at over 400 meetings globally (including abstentions) due to board diversity concerns. We hope that the 2023 AGM season will accelerate the move towards a more sustainable approach, and we are committed to working closely with companies to drive positive change on these critical issues.
This post is funded by Fidelity International
Important information
This content is for investment professionals only and should not be relied upon by private investors.
The value of investments can go down as well as up and clients may not get back the amount invested. Investors should note that the views expressed may no longer be current and may have already been acted upon. Reference to specific securities should not be interpreted as a recommendation to buy or sell these securities, but is included for the purposes of illustration only. Changes in currency exchange rates may affect the value of an investment in overseas markets. Investments in emerging markets can be more volatile than other more developed markets. A focus on securities of companies which maintain strong environmental, social and governance ("ESG") credentials may result in a return that at times compares unfavourably to similar products without such focus. No representation nor warranty is made with respect to the fairness, accuracy or completeness of such credentials. The status of a security's ESG credentials can change over time. Issued by Financial Administration Services Limited and FIL Pensions Management, authorised and regulated by the Financial Conduct Authority. Fidelity, Fidelity International, the Fidelity International logo and F symbol are trademarks of FIL Limited. UKM0323/381366/SSO/NA
Checkout latest world news below links :
World News
||
Latest News
||
U.S. News
Source link