Banking
FCA clamps down on marketing of cryptoassets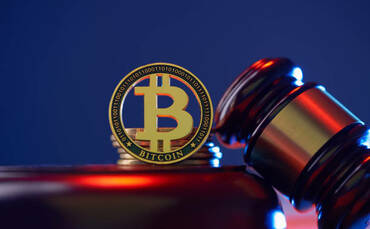 From 8 October 2023, firms marketing cryptoassets to UK consumers will need to introduce a 24-hour cooling-off period for first time investors.
FCA's Pritchard: We need open debate about crypto risks
These changes also include making sure investors who buy cryptoassets understand the risks involved, and the banning of 'refer a friend' bonuses.
The FCA explained firms will need to ensure investors have the "appropriate knowledge and experience to invest in crypto"; and those promoting such products must have clear risk warnings in place and make sure adverts are "clear, fair and not misleading".
The regulator's move follows government legislation, which set out crypto needed to be brought under the FCA's remit, with MPs advocating for it to be regulated like gambling.
The FCA's own research also revealed that estimated crypto ownership has more than doubled between 2021 and 2022.
SEC sues Coinbase for breaking market rules
Sheldon Mills, executive director consumers and competition at the FCA, said: "It is up to people to decide whether they buy crypto. But research shows many regret making a hasty decision. Our rules give people the time and the right risk warnings to make an informed choice.  
"Consumers should still be aware that crypto remains largely unregulated and high-risk. Those who invest should be prepared to lose all their money.
"The crypto industry needs to prepare now for this significant change. We are working on additional guidance to help them meet our expectations." 
The regulator added those wishing to have their say on its guidance and expectations of firms advertising crypto, have until 10 August to do so.
Industry reaction
Industry players and commentators have unanimously welcomed the more stringent rules on crypto marketing, with Myron Jobson, senior personal finance analyst at interactive investor, saying the crypto advertising space has become a "wild west of dubious claims and misleading information".
He added: "Cryptocurrencies marketeers have danced to the beat of their own drum for far too long, operating outside the FCA's regulatory framework that governs traditional investments which left crypto speculators susceptible to financial harm.
"Cryptocurrency advertising often paints a vibrant picture, focusing on the allure of potential riches while conveniently sidestepping the intricacies and risks that underpin the crypto market. 
"Unscrupulous actors have exploited the regulatory vacuum to peddle false promises and entice unsuspected victims into unwise and sometimes outright scam investments."
Treasury Committee calls for regulation of crypto as gambling
Laith Khalaf, head of investment analysis at AJ Bell, noted the FCA has sent a clear message to crypto firms with the new set of rules: "If they want to play in the mass market, they are going to have to play by the rules."
He added this is likely going to be the "end of the wedge" for crypto regulation, with financial watchdogs around the world taking firmer actions to protect consumers.
"Only this week, Binance has been charged with a number of offences by the SEC [alongside Coinbase], and the crypto world is still reeling in the wake of the FTX scandal. The crypto market has often been compared to the wild west, but now the sheriffs are riding into town to clean things up," Khalaf said.
Rio Stedford, financial planning expert at Quilter, said the FCA's action is reassuring, especially as it seeks to avoid investors being lured into crypto without understanding the risks.
"While some have made money through cryptocurrency, and there is nothing wrong with that, those investing are taking a real gamble with their money as they run the risk of losing everything," she noted. "It is particularly concerning where people are inexperienced investors and may be vulnerable to the promotions regularly seen on social media which can be highly misleading, and therefore it is right that those promoting crypto will soon be held accountable."
International regulatory group unveils first set of global rules for crypto industry
Stedford, however, said further clarity from the FCA is needed, the regulator will also need to ensure those investing in crypto are receiving the appropriate knowledge and experience to make an informed choice as well as having the opportunity to "back out" should they regret investing in it.
She continued: "Those interested in holding cryptoassets also face a significant risk of fraud given the number of fraudulent digital tokens out there. While it is understandable that many people have seen headlines showcasing the rise of cryptocurrency and decided that they do not want to miss out, this is not a good investment strategy.
"Investing is not about making quick returns, but about getting rich slowly and crafting an investment strategy which takes into account how much you can realistically set aside each month to invest, your capacity for loss and appetite to risk given your investment objectives."
Stedford said: "For instance, if you are aiming to build up enough money for a deposit on a house in the near term, you may want to reduce the amount of risk you take on. Diversified, multi-asset portfolios will better guard you against violent swings in asset prices and ensure your long-term objectives are achievable. Something cryptoassets are currently ill-equipped to provide."
But Susannah Streeter, head of money and markets at Hargreaves Lansdown, questioned whether the FCA's rules will satisfy some MPs, who advocated for crypto to be regulated like gambling.
"These rules will not go as far, but at least now the FCA has run on the pitch with a whistle and the threat of a serious red card if firms do not meet requirements," she said. 
Checkout latest world news below links :
World News
||
Latest News
||
U.S. News
Source link