Banking
BoE's Bailey predicts 'powerful downward forces' will rein inflation in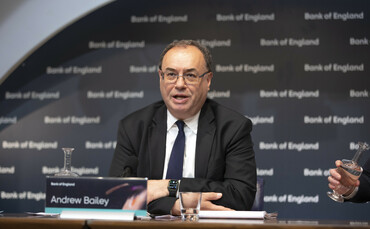 "There are powerful downward forces on inflation now," Bailey told MPs today (9 February). "We expect it to fall rapidly this year to somewhere below 5%."
"I do think we have turned the corner," he added. "Headline inflation is now under where we had forecast it to be." 
The downward forces he referred to are the demand destruction and tighter money supply resulting from the move to 4% interest rates from just 0.25% before the hiking cycle began. 
However, Bailey was quick to caveat the dovish outlook with some notes of caution: "We are still concerned about inflation persistence, this is why we have voted to raise rates."
ECB raises rates by 0.5 percentage points
The remaining risk of persistently high price rises stems in large part from the "very tight labour market" the UK is still experiencing, he said. The BoE governor does not expect large numbers of businesses to significantly reduce headcount, adding that companies are more likely to reduce the hours of workers than let them go. 
Bailey added that the Bank of England needs to see what the labour market does over the coming months before having full confidence inflation will return to the 2% target without further rate hikes. 
Last week (2 February), the bank's Monetary Policy Committee raised rates by 0.5 percentage points to 4%. Bailey indicated at the time that it could be the last rise of this cycle, providing inflation does not surprise to the upside in the coming months. 
Inflation in the UK economy was running at 9.2% at the last read-out on 18 January, having peaked at 11.1% last October.
"The Bank of England is in the unenviable position of trying to tame inflation driven by supply-side overseas factors, including the war in Ukraine and post-pandemic supply chain snarl ups, with its demand-focused rather crude tool – interest rates," said Victoria Scholar, head of investment at interactive investor. 
"On the one hand, arguably the Bank of England was ahead of the pack as the first major central bank to start tightening monetary policy in December of 2021. On the other hand, most central banks got it wrong by beginning the rate hiking cycle too late when price pressures were already overheating," she continued.
"Given the knock-on effects of the current double-digit levels of inflation on living standards, the cost of living and real pay, the central bank deserves today's grilling.
"Fortunately, inflation is starting to show insipient signs of easing, although there is still a long way to go to restore the Bank of England's 2% target.
"The economic downturn with lacklustre UK growth should help support the path towards more moderate inflation. However, shortages of labour which results in strong bargaining power among workers to bid for higher wages remains a key upward pressure for inflation this year."
Checkout latest world news below links :
World News
||
Latest News
||
U.S. News
Source link