Europe
Switzerland returns three centuries-old mummies to Bolivia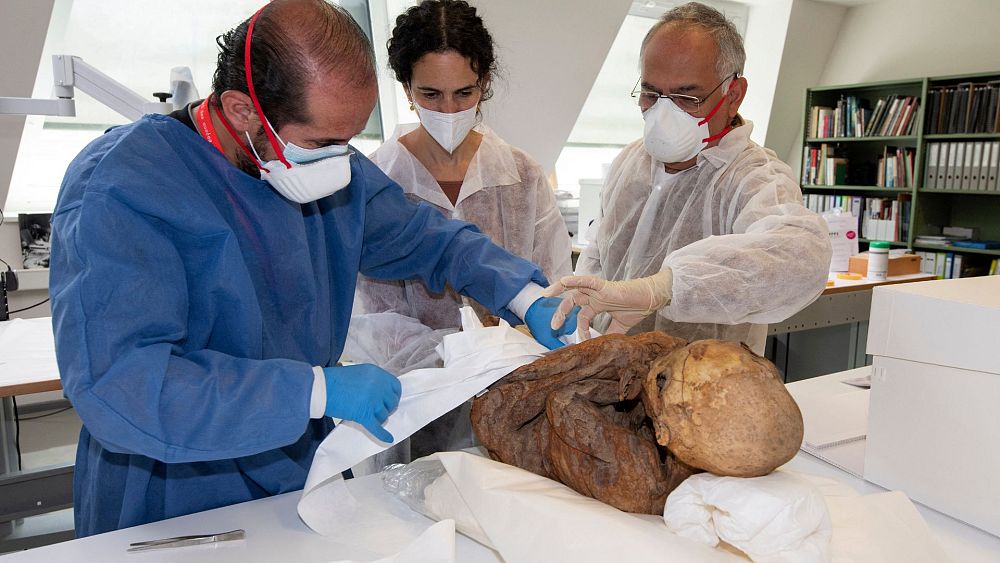 The three mummies were officially restituted to the Bolivian Minister of Culture and Decolonisation Sabina Orellana Cruz during a ceremony at the Geneva Ethnographic Museum (MEG).
Switzerland has returned three pre-Colombian, centuries-old mummified bodies to Bolivia, acknowledging that they had been acquired without the consent of their respective owners.
The official restitution ceremony took place at the Geneva Ethnographic Museum (MEG), where Bolivian Minister of Culture and Decolonisation Sabina Orellana Cruz received the three mummies.
"What we are seeking here, beyond the restitution, is ethical reparations," expressed museum director Carine Ayele Durand, highlighting the broader significance of the event.
Where did the mummies originate from and how were they acquired?
According to the MEG, the three mummified people, consisting of two adults and a child, originated from an area around the high-altitude mining town of Coro Coro, situated 4,020 metres (13,190 feet) above sea level, to the southwest of La Paz.
They had been mummified according to funeral traditions from the pre-Columbian era, meaning before explorer Christopher Columbus arrived in the late 15th century and ushered in the European colonisation of the continent.
The Bolivian minister identified them as of Pacajes de origen Aymara origin, a culture established in the region between 1100 and 1400, known for building large funerary towers called chullpas. The structures, which can be several metres high, attracted numerous tomb raiders and collectors.
Historical accounts indicate that Gustave Ferriere, the German consul in La Paz, sent the mummified bodies and their shrouds to Geneva's geographical society in 1893. 
The MEG revealed that these artefacts were exported from Bolivia and imported into Switzerland without the consent of their traditional owners or any formal authorisation.
Federic Ferriere, brother of Gustave and vice-president of the International Committee of the Red Cross in Geneva, later presented them to the city's archaeological museum in 1895, eventually becoming part of the collection at Geneva's old ethnographic museum six years later.
"Reunited with our roots"
The three mummified bodies were delicately arranged in a crouched position along with their shrouds made of braided vegetal fibre inside wooden crates bearing a diplomatic seal. 
Notably, the MEG refrained from displaying the mummies during the ceremony, citing "ethical" reasons.
Bolivian Minister Sabina Orellana Cruz reflected on the significance of the restitution, stating, "Today, we are reunited with our roots." 
She emphasised the connection between restitution and decolonisation, praising European countries for their efforts to return looted objects and human remains.
The MEG, in its commitment to "decolonise the collections," had informed Bolivia of the existence of the mummies and established protocols for their restitution.
The ceremony took place against the backdrop of a growing global movement where Western institutions are increasingly returning artefacts acquired under questionable circumstances or looted centuries ago.
Video editor • Theo Farrant
Checkout latest world news below links :
World News
||
Latest News
||
U.S. News
Source link