TV News
'Poker Face': Adrien Brody on Helping Set the Season's Stage With Natasha Lyonne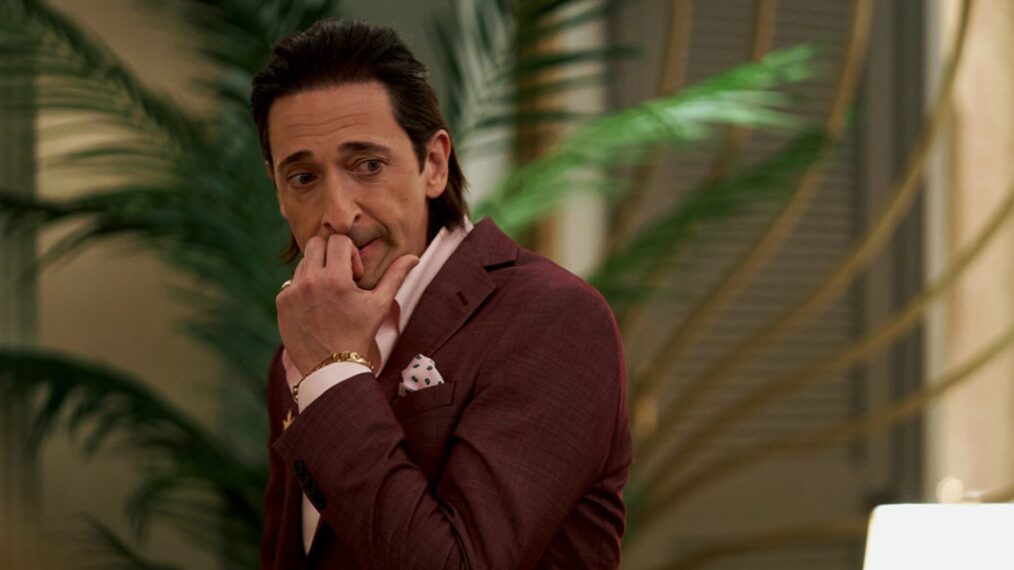 [Warning: The below contains MAJOR spoilers for Poker Face, Season 1, Episode 1, "Dead Man's Hand."]
Peacock's highly-anticipated mystery-of-the-week series Poker Face has arrived and begins its run with four very different murders, none more important though than the premiere's scene-setting story.
Introducing viewers to Natasha Lyonne's human lie-detector character Charlie Cale, the opening episode sees her run into a situation at work when her pal Natalie (Dascha Polanco) winds up dead. Unlike the episodes following this one, viewers are clued into what led to Natalie's demise in the opening minutes.
A housekeeper at Frost Casino, Natalie discovers what is presumably child pornography (viewers are never shown) on the open computer of a high-roller guest. Snapping a photo herself, she rushes out to find Cliff (Benjamin Bratt), the right-hand man of current Casino boss Sterling Frost Jr. (Adrien Brody). As she's escorted to Sterling's office, the three discuss what Natalie has seen and they send her home.
The empathy and understanding they show on the surface don't ring true though as Cliff rushes to Natalie's house, shoots her husband, and waits in the darkness for her to walk in the door before shooting her dead too. He stages it to look like a murder-suicide, which Charlie doesn't buy when she reads the headlines the next day.
As the episode plays out, the story goes back in time to the days leading up to Natalie's death in which Charlie's recruited by Sterling to participate in a private game the high-roller customer is holding. He's eager to secretly swindle the man as his private games take away from the casino's business, and Charlie's special skill is the secret ingredient he's missing.
But the timing in proximity to Natalie's death leads Charlie to search for answers when Sterling wants her focused on the task at hand. As she digs for answers, she ultimately uncovers the truth when reviewing security footage from the casino days before Natalie's murder in which her husband came in threatening while wielding a gun.
The lights on a metal detector don't indicate the presence of a weapon as he's dragged out, hinting to Charlie that Cliff swiped the gun for himself before using it on the doomed couple. When Charlie puts the pieces together, she sabotages Sterling's game, warning the high-roller of his intentions and essentially putting Frost Casino on a gambling blacklist, dooming the business.
"I just thought it was so fun," Brody tells TV Insider of the series. "It was an easy decision to be a part of this and the character was so well written. Just such a complicated individual and there was room for humor and there's a lot of darkness within that as well, and I was just excited by the challenge."
Particularly with the added layer that Sterling's running of the casino is dependent upon his dad's approval after the elder Sterling Foster handed him the keys to the kingdom. Hence the reason Sterling Jr. even knows about Charlie's talents as his father already uncovered them years prior.
Following his failure, Sterling Jr. jumps from one of the casino's high-level windows, committing suicide and putting Charlie in his father's crosshairs. "I don't think it's fear of his father," Brody says of the motivation behind Sterling's life-ending decision. "I think if anyone takes their life in their hands or considers it, it comes from an utter state of desperation and of failure and irreparable loss. It's the feeling that something is so irreparable the rest ceases to make sense. So it's a catastrophic failure."
While Brody says the role offers "light bits," he says Sterling Jr. is "grappling with his own failings in the past. And what's at stake for him, not only in his father's eyes." Someone who is seemingly unsurprised by Sterling Jr.'s shortcomings is Cliff who laughs upon learning about Charlie's whistleblowing.
So what was their bond? It seems like Cliff's allegiance is to the senior Sterling and the business itself. "I'm sure he's probably been assigned to Junior," Brody says."He's security, but he's also probably saved his ass too many times. So he knows [Junior] well, he knows his dirty secrets and that's all you need to know to see very clearly where his allegiance stands," continues Brody. "The orders come from the top."
Once Junior's dad realizes what Charlie's done, he sends Cliff to chase her down and that's where the mystery-of-the-week theme steps in. Viewers follow Charlie as she pops in an out of different towns, solving murders on her journey to escape danger herself. Will we ever know more about the dynamics and inner workings of Frost Casino? Brody couldn't say whether or not the show will revisit his character in a flashback, but he does open up about working opposite Lyonne who despite standing nearly a foot shorter than him, puts everything she has into going toe-to-toe with him.
"She's just so wonderful and her work is so nuanced," says Brody. "She brings wonderful humor and broader comedic choices," to the screen he clarifies, "and then the honest restrained, but very deliberate character." Paired up with creator, director, and executive producer Rian Johnson, you have yourself a dream team. "It's just such a pleasure," Brody says of the experience. "Everybody feels like they're in good hands and the material is so good. You have a lot of confidence in what you can achieve together. And she's very impressive."
See what other mysteries Charlie tackles as she avoids Cliff's clutches when Poker Face continues on Peacock.
Poker Face, New Episodes, Thursdays, Peacock
Checkout latest world news below links :
World News
||
Latest News
||
U.S. News
Source link