TV News
Julia Schlaepfer Thinks '1923' Is 'Building Towards' John Dutton II Reveal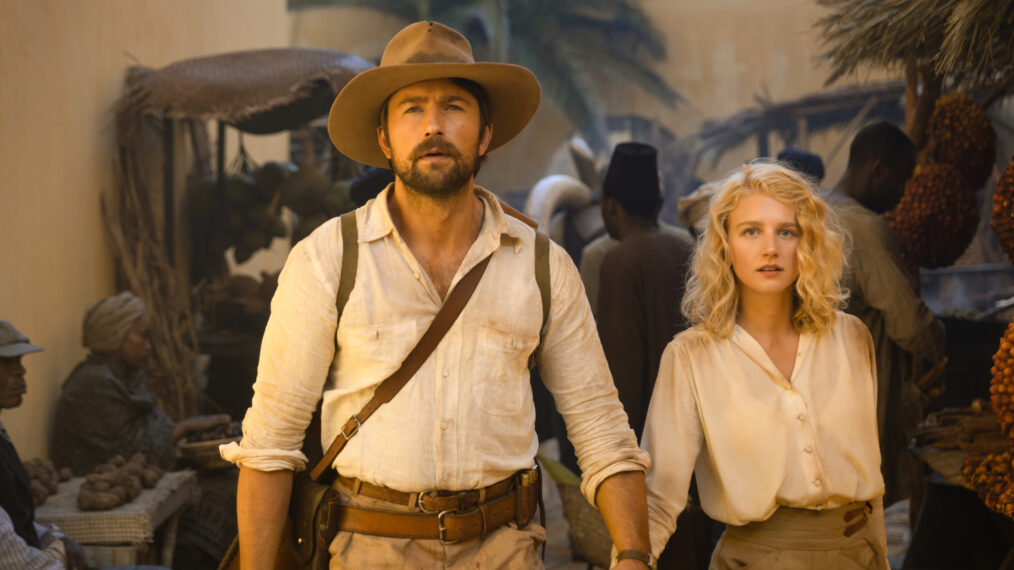 The first three episodes of 1923 served as a prologue to Spencer Dutton's (Brandon Sklenar) return to Montana after six years away. He learns of the death of his brother, John Dutton Sr. (James Badge Dale) when fiancée Alexandra (Julia Schlaepfer) reads his long-avoided letters from home aloud. Jolted to action, the couple will take the perilous journey from Africa to Montana in 1923 Episode 5 (the midseason premiere drops Sunday, February 5, on Paramount+).
Now that we're in the main plot of 1923 (and now that we know there will be a Season 2), Schlaepfer breaks down what to expect in Episode 5 and beyond — including whether or not the arrival of John Dutton II is as pivotal to the show as fans think.
Whether the cast really is in the dark about who John Dutton II's father is (and by extension, Yellowstone's John Dutton's grandfather), we can't say. But Schlaepfer says this was a popular topic during 1923 training, aka "Cowboy Camp."
"It was funny, because when we all got to Cowboy Camp, the cast, we were all debating it," Schlaepfer tells us. "We were like, 'Who is it? I don't know.' And we would pester Taylor [Sheridan] all the time being like, 'Taylor, it's gotta be this, right? Because this and this and this.' And he'd be like, 'I don't know. Honestly, guys, I don't know.' And we were like, 'Of course, you know! You have a family tree somewhere written out.' But I do think the show is building towards that."
In response to fans thinking they see glimpses of Kevin Costner's character in Spencer and Alexandra, Schlaepfer says, "I'm honored that people think that." Alex, an English countess, will soon meet the Montana Duttons, including Jacob (Harrison Ford) and Cara (Helen Mirren), who took John and Spencer in as their own children after the deaths of Jacob's brother James (Tim McGraw) and wife Margaret Dutton (Faith Hill) after 1883. One family member that Schlaepfer knows Alex would adore: Beth, played fiercely in Yellowstone by Kelly Reilly.
"I think they would get along great," she shares. "I think at first, I don't know if Beth would know what to do with Alexandra, but she's got that ball of fire in her that Beth does. And I think it's coming out more and more as she learns more about the world and toughens up with their journey."
The actor also hints that Alex and Cara will love each other as well, as "Alexandra has a lot of qualities of a Dutton woman. She has that intensity, that bravery, and the grit." All of those things are what she thinks "draws Alex to Spencer so much — she embodies a Dutton woman."
As teased in the 1923 midseason trailer, Spencer and Alex's hurried trek back to Montana will not an easy one. Their boat will suffer rough waters and at one point appears to be threatened by the presence of a shark. Sklenar previously told us that the lovebirds "are challenged in a very serious way, pretty relentlessly, throughout" the trip. Schlaepfer adds that "they are put through everything" you could imagine in this Indiana Jones-like adventure. We compare it to Indiana Jones because, well, Sklenar and Schlaepfer are dressed like Indy and Marion for basically all of the first half of Season 1.
Both of the actors recognize the irony of their wardrobes making them look like they were plucked out of Raiders of the Lost Ark with Ford as part of their cast. Filming their African adventure on location, Schlaepfer says, was unforgettable: "It was the time of our lives."
"It was truly so much fun," she continues. "It was hard work too, but it was just unreal. Every location, every costume, and set piece, and we kept getting more scripts with all of this incredible stuff to do. It was just this crazy whirlwind, and it was just me and Brandon really on that journey together. So we were just clinging on to each other for dear life and going for the ride. It was the most rewarding thing that I have certainly ever done."
"There's no stone left unturned," she explains, adding that "their love is tested, their devotion to each other is tested," and they will be pushed to their physical and emotional limits as they fight to get back to the States and save the ranch.
Schlaepfer and Sklenar did as much of their own stunts as they could this season. That was really them in the overturned car in Episode 3. She says director Ben Richardson had to remind her not to let her "glee" show on her face while it flipped — this wasn't a roller coaster, after all. Schlaepfer was tossed around again in the boat in Episode 5. The trailer shows her being rocked every which way as the ship struggles in rough waters.
"It was a big platform that rotated completely sideways," she describes the set rig. "They made that one side of the boat wall all cushion, so none of that was real metal. They were like, 'Just let the momentum take you, protect your head, and just let yourself fall.'"
Alex fell for the heir apparent of the Yellowstone Dutton Ranch, but she also comes from an influential family. The countess lost her brother in World War I, making her the only person who could carry on her family's legacy. She's English nobility, so marrying someone of status was paramount.
"She's a countess," Taylor told me at one point, she's like 20-something or 40-something in the line for the throne [laughs], so she's royalty for sure."
But she dropped everything to be with Spencer. They both go in and out of moments of doubt over their quick decision, but Schlaepfer says the cowboy and the countess "disarm each other in such a way" that coming back to each other is easy. Their whirlwind romance continues with the second half of 1923 Season 1.
1923, Sundays, Paramount+
Checkout latest world news below links :
World News
||
Latest News
||
U.S. News
Source link