TV News
Did Benson & Stabler Finally Kiss on 'SVU'?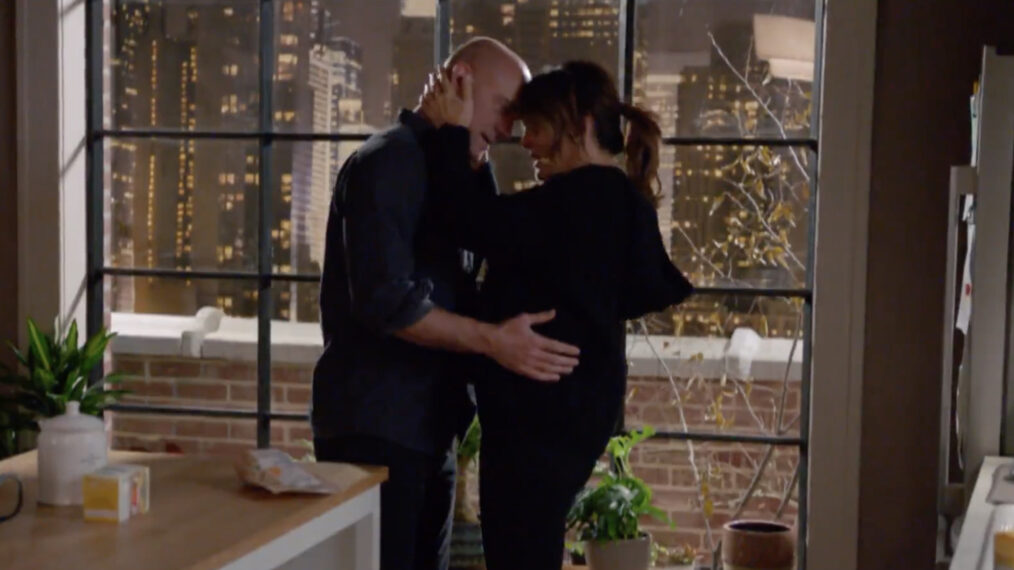 [Warning: The below contains MAJOR spoilers for Law & Order: SVU Season 24 Episode 12 "Blood Out."]
The promo for the latest Law & Order: SVU episode made it look like the time has come for the long-awaited kiss between former partners Captain Olivia Benson (Mariska Hargitay) and Detective Elliot Stabler (Christopher Meloni). But has it?
Heading into what could be a monumental episode, Benson spoke with Detective Amanda Rollins (Kelli Giddish) before her exit about why she's hesitant to go there, and Stabler, while drunk, said he's in love. And now, in "Blood Out," the two don't cross that line. No, Benson and Stabler don't kiss.
Leading up to that moment, the leader of BX9, Oscar Papa (Goya Robles), is arraigned and remanded, facing 19 counts of rape and two for attempted murder, and Benson makes it clear he shouldn't even think about threatening Noah again. "If you say one more word about my son, it will be your last," she warns.
Prep for the case against Oscar is bleak; there's concern over who will actually testify and potentially questionable decisions (like Velasco possibly using drugs to get information from Hector). Then, in court, Maria testifies to being raped and withdrawing her complaint out of fear of retaliation against her brother (who was then killed by BX9 rivals), but Oscar's lawyer argues she can't prove his involvement. And his lawyer then pushes Duarte (Maurice Compte) about his prejudice against BX9 and Oscar when he takes the stand. It only gets worse: lead witness Benny is then given food with rat poison in it and dies. (BX9 might have gotten to his mom or the delivery kid.)
With their case on "life support," as Carisi (Peter Scanavino) puts it, it may be time to play dirty, like Oscar. That means telling him they'll release the recordings of him running his mouth against gangs in the city, who have people in prison. "That's not a threat. It's a verdict. No one gets away with trying to kill my son, not without some form of justice, and right now, yours is starting to sound pretty good," Benson tells him. "You know the rule: blood for blood."
But they hit another roadblock: not only is Albert, who was one of the men to attack Benson, sick, but he must be rushed to the hospital because of his leg. Fortunately, the doctors are able to save his leg, but even if he could testify from the hospital, his mom refuses to let him. Carisi switches gears in that conversation to asking Benson how Noah's doing, and she knows he's reminding here which kid she should be thinking about. Noah's doing fine; he looks happy with his half-brother — and they look normal, Benson and Duarte agree when he joins her at a bar. (He also comments on a remark she makes about sleeping in her house alone; she's referring to her son, she clarifies.)
After, Duarte turns down a ride and instead chooses to walk. And yes, that ends as we expect: BX9 members surround and attack him with machetes in a bodega. Though he makes it to the hospital, he dies in surgery. Oscar doesn't even put up a fight once the recruits he had kill Duarte talk. "He wanted to take away everything I built. Couldn't allow that to happen," he says. He also admits to having a "soft spot" for Benson because he sees the type of mother she is: one who would go toe-to-toe with a guy like him. He'll plead guilty to murder (resulting in 25 years to life) and attempted murder (25 years) and assures Benson that Noah won't be harmed. "I got what I wanted, so we're even now."
And that means that Noah can come home. Benson has Stabler driving him back, explaining to Carisi, "there's nobody that I trust more to bring my son home in one piece." It's after Noah's asleep that the big, intimate "Bensler" moment comes.
"You're family," Stabler says when Benson thanks him for picking up Noah, but also wants to know why she didn't call him. "I knew that you would try to protect me," she says. "And there's something wrong with that?" he asks. "I care for you." She avoids his gaze, searching the cabinets, until they get close and… "Elliot, I want to, I want to but I can't," she admits. "What if it doesn't work out?" He counters with, "and what if things work out?" But "I'm not ready for this. I'm not ready for this," she insists, pulling away. "I'm not ready for this."
So SVU fans, how are you doing after that?
Law & Order: SVU, Thursdays, 9/8c, NBC
Checkout latest world news below links :
World News
||
Latest News
||
U.S. News
Source link