TV News
A 'Wick'-World Prequel at the Continental, Kaitlyn Dever Fights Aliens, After-Hours Comedy in 'Still Up,' Supreme Court History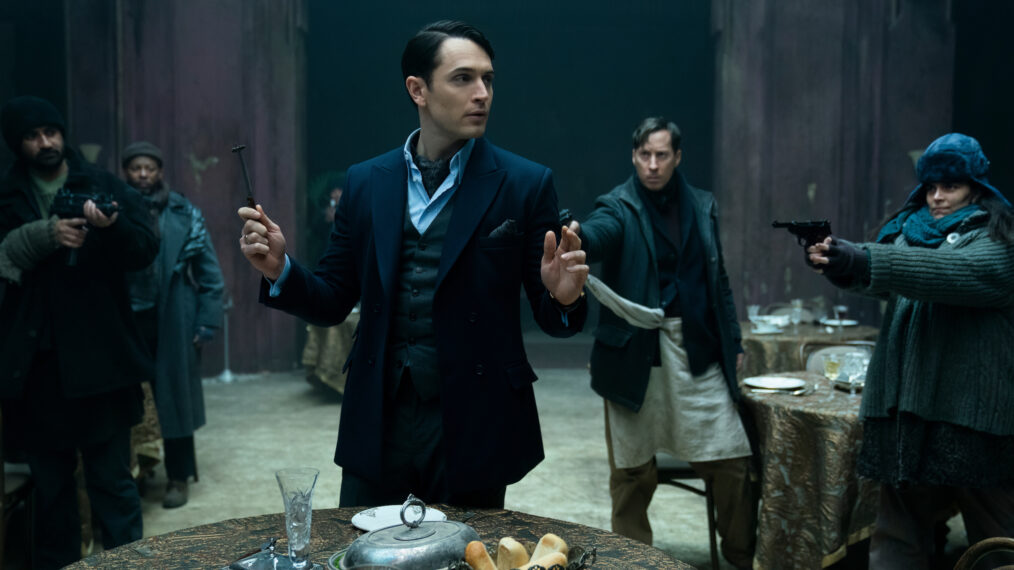 A violent prequel to the John Wick movie universe provides an origin story for Continental hotel proprietor Winston Scott. Kaitlyn Dever (Dopesick) battles scary ETs in the Hulu thriller No One Will Save You. Insomniac besties see each other through late-night misadventures in the offbeat comedy Still Up. A four-part docuseries explores the modern history of the ever-controversial Supreme Court.
The Continental
The grinding ballet of gunfire and bone-crunching carnage John Wick fans have come to expect from the Keanu Reeves franchise will not be disappointed in a three-part prequel — movie-length installments drop over three Fridays — focusing on the origin story in the gritty 1970s of Winston Scott (Ian McShane in the films, Colin Woodell here) as he fights to take control of the Continental, the hotel sanctuary for global assassins. A gruff and hammy Mel Gibson co-stars as the current proprietor, the crooked Cormac, who's desperate to retrieve a coin press stolen by Winston's estranged, Vietnam-vet brother Frankie (Animal Kingdom's Ben Robson). The coins, as Wick-ites know, are what the underground killers use as currency during their stays. After con-man Winston is summoned (violently) from London to find his brother, the mayhem rarely lets up. The premiere episode is directed by pulp master Albert Hughes (Dead Presidents).
No One Will Save You
The remarkable Kaitlyn Dever (Justified, Dopesick), one of today's most promising young stars, commands the screen throughout this taut 90-minute sci-fi horror thriller, a nearly wordless exercise in sustained suspense. She's Brynn, a rural outcast who's on her own in a remote country house when terrifying alien intruders of various shapes and sizes go on the attack. Dever keeps it real as a woman with a troubled past, even when things become surreal on its way to an ending worthy of The Twilight Zone.
Still Up
The Good Doctor's Antonia Thomas and Craig Roberts (Red Oaks) are good company — for each other, at least — in an offbeat British comedy about insomniacs who are always there for each other (on the phone, computer, FaceTime, texting) into the wee hours. Launching with three (of eight) episodes, we meet madcap Lisa (Thomas), a mom in a committed but unexciting relationship, as she waits for service at a mysteriously unattended pharmacy while neurotic and agoraphobic Danny (Roberts) hides from neighbors as he tries to get a pizza delivered. Their late-night misadventures may lead them to a realization that could keep them up even later at night: that they're meant for each other.
Deadlocked: How America Shaped the Supreme Court
A four-part docuseries examines the modern history of the U.S. Supreme Court, dating back to the more progressive Warren court of the 1950s, as it tracks the decisions and occasionally explosive confirmation hearings that have resulted in today's court becoming a lightning rod for political controversy. The conflict between originalists and those who believe the Constitution can be adapted to reflect evolving societal values continues to this day.
CMT Crossroads
Irish singer-songwriter Hozier first collaborated with country star Maren Morris on her 2019 crossover hit "The Bones." They reunite for a new installment of the Crossroads series, sharing anecdotes and singing from each other's catalog, including Hozier's "Take Me to Church" and "Work Song" and Morris' "My Church," "Girl," and new single "The Tree."
iHeartRadio Music Festival
The annual festival is livestreamed for the first time on Hulu, with highlights available on demand in the weeks to come. Headliners on Friday's and Saturday's roster include Foo Fighters, Kelly Clarkson, Lenny Kravitz, Sheryl Crow, Tim McGraw, Public Enemy, Fall Out Boy, Kane Brown, Lil Wayne, Miguel, Travis Scott, and Thirty Seconds to Mars.
INSIDE FRIDAY TV:
ON THE STREAM:

Checkout latest world news below links :
World News || Latest News || U.S. News

Source link