Entertainment
'Stranger Things' Writers Are 'Working Their B*tts Off' On Season Four (They Promise)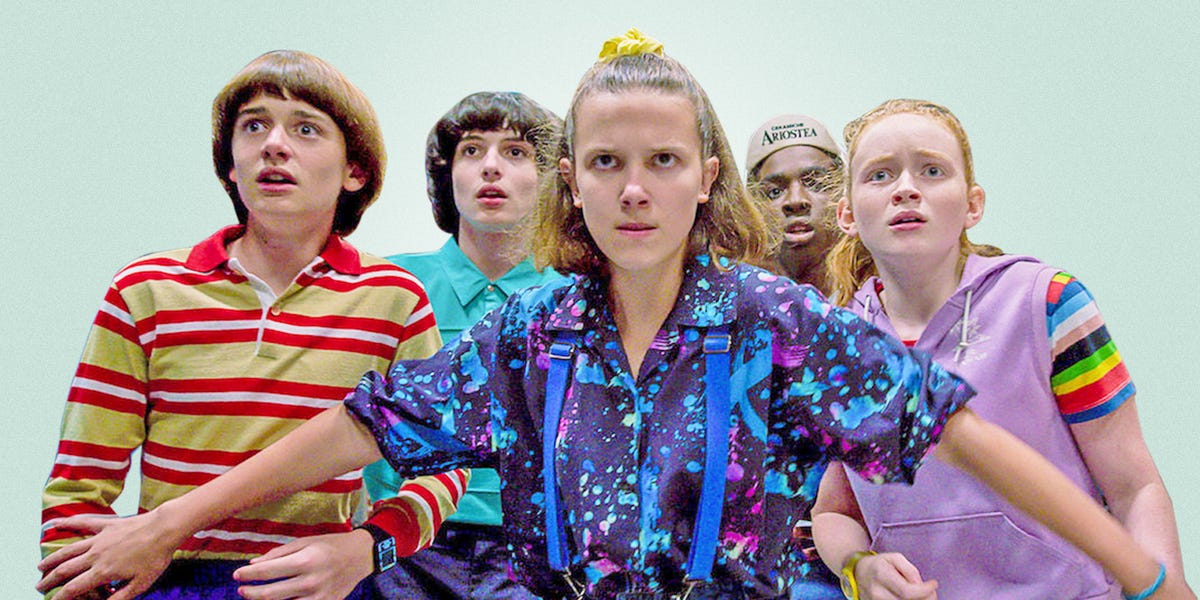 Good news for you Stranger Things fans, who may or may not have forgotten that this show, you know, exists (the last season debuted nearly two years ago!). Though pandemic-induced production woes have left Netflix's expectant audience in limbo, there may finally be a light at the end of the tunnel. As of late, both memberships of the cast and the writers' room have been hinting at a more concrete release timeline than we've seen in years.
Read on for the full rundown on what to expect from Season Four.
What Will Stranger Things Season Four Be About?
The Season Four teaser, released back in May, is—you guessed it—is extremely cryptic. The preview shows a handful of kids playing around at a secret facility, which we assume is where Eleven was raised and experimented on. Then, we hear the voice of Dr. Martin Brenner (Matthew Modine) greeting the children, whom they call "Papa." We see him walk down the hallway of the lab. The camera cuts to a separate cell, with "11" on the front. His voiceover asks: "Eleven, are you listening?" Eleven's eyes open… and that's all we get, folks. While there's not much in this, it's interesting that Stranger Things is teasing Brenner, who appeared to die at the end of Season One. Is he back from the dead somehow? Is this just a flashback?
That preview marked one of our first looks at the new Stranger Things season since March of 2020, when Netflix dropped a brooding teaser revealing that Detective Hopper, who was presumed dead at the end of Season Three, is in fact the mysterious American prisoner held captive by Russian operatives. Netflix may have gotten the hint that Hopper's labors on a Russian chain gang weren't the cheeriest sneak peek, so they've gone ahead and revealed other pieces of the Season Four puzzle with a behind-the-scenes look at the inaugural table read—one that reveals a lot about who's coming back for another trip to the Upside Down.
This content is imported from YouTube. You may be able to find the same content in another format, or you may be able to find more information, at their web site.
Let's go down the list: returning characters include Hopper (David Harbour), Joyce (Winona Ryder), Lucas (Caleb McLaughlin), Robin (Maya Hawke), Jonathan (Charlie Heaton), Nancy (Natalia Dyer), Dustin (Gaten Matarazzo), Mike (Finn Wolfhard), Eleven (Millie Bobby Brown), Karen Wheeler (Cara Buono), and Max (Sadie Sink). At the end of the grainy video, the cast assembles for a supersized table read, which suggests that production is moving along, even if we don't have an official release date just yet.
The main problem with Stranger Things 3 was that most of the episodes felt too similar to the first two seasons. But despite the structural and narrative likenesses, that outing did eventually end in a more interesting place than Season One or Two found. By the time the final episode concluded, Hopper was allegedly dead, Eleven had lost her powers, and somehow the Russians had a mysterious American prisoner and a Demogorgon. The preview shows a line of rugged workers laboring on who knows what, and turns out one of them is Hopper, who went full 2017 Chris Pine and buzzed his hair off. So, yes—it looks like Stranger Things 4 is going full Rocky IV and setting part of its story in Russia.
To begin Season Four with the Byers family and Eleven living outside of Hawkins, with Eleven still missing her powers, and Hopper in Russia makes for a much more interesting premise than the sameness we saw in Season Three.
This content is imported from YouTube. You may be able to find the same content in another format, or you may be able to find more information, at their web site.
With the "American" serving as one of the big cliffhangers—we now know this is Hopper, of course—a possible outline for a fourth season begins to take shape. Eleven must figure out how to get her powers back to stop whatever meddling the Russians are still doing with the Upside Down. The gang must reunite to save Hopper from whatever fate befell him at the hands of the Russians. And, possibly, they may even team up with Dr. Brenner, who has the answer to it all.
Before the big teaser about Hopper, the cast had been cagey about a Season Four. Harbour told ET that he hoped Hopper somehow returns in another season, but he had no idea what was going on.
"I know as much as you. I've seen the final episode—it's extraordinary, it's magnificent. What Hopper does and what happens to him, he acts like the person he is meant to be. And then there is this mystery at the end," he said. 'I don't really know what's going to happen, but if you find out from the Duffer Brothers, let me know."
While promoting Black Widow, Harbour teased that Season Four will reveal "a very big secret" that he's been keeping under wraps for five years. "There's one thing in it that plays very big in this season that I've known since the first frame of the first season," Harbour revealed. "Me and the Duffers would sit around and speculate, 'Oh, wouldn't this be cool?' the minute we started shooting. We never thought we'd even get a second season, and then we get to do it in this season. It's so satisfying to have had an idea five years prior, and to go like, 'Oh, this is a season when we're gonna let out this secret that we were using just as a subtle thing to inform something.' We're gonna lay it out finally, and it's really cool."
The big reveal might have something to do with a hidden chapter of Hopper's backstory, which the show touched on in Season Two, when we glimpsed boxes in Hopper's attic labeled "Dad," "New York," and "Vietnam."
"There's some fun stuff that we're doing this season, but it's also the heaviest dramatic stuff I've ever had to do," Harbour said. "We get to see a lot of Hopper at his most vulnerable, we're gonna reveal a lot of backstory points that we've only hinted at in boxes in his attic. We're gonna see a lot of these different threads, and also, we get to see a rebirth of him."
As for the show's quality, Harbour teased a season that promises to top everything that came before it.
"Season Four is really my favorite season," Harbour said. "I just love it. The scripts always get better and these guys, they started out, and Season One is so tight and good and intimate in a certain way, it's so good. And these guys go in different directions, of which the fans have multiple takes on, but I will say, the writing continues to be of its particular, specific genre, whatever they're doing each season is just extraordinary. And this, again, we top it. Like I feel it's a big, beautiful season. I can't wait for people to see it."
Will Season Four Gain New Cast Members?
You bet. Netflix recently announced a passel of new cast members, including Myles Truitt (Black Lightning), who will join the cast as Patrick, a Hawkins basketball player whose life will end up "spiraling out of control" following some "shocking events." Amybeth McNulty (Anne With An E) has signed on as Vickie, "a cool, fast-talking band nerd who catches the eye of one of our beloved heroes." Regina Ting Chen (Queen of the South) joins as guidance counselor Ms. Kelly, while Grace Van Dien (Lady Driver) will play Chrissy, a popular cheerleader about whom Netflix writes, "beneath the seemingly perfect surface lies a dark secret."
Back in November, Netflix shared an even larger cast list on Instagram, which rounds out the characters we can expect to meet in Hopper's neck of the woods:
This content is imported from Instagram. You may be able to find the same content in another format, or you may be able to find more information, at their web site.
When Will Season Four of Stranger Things Come Out?
In September 2019, Netflix officially announced that Stranger Things would be returning for a fourth season. Nearly two years later, no exact date has been shared just yet, but we can likely expect it sometime in 2022. In an appearance on Jimmy Kimmel Live in in June, Harbour teased that filming is nearly over. "I'm almost done," he said. "I've got one more like, little stint, we should be done in like August."
Given that July 4th marked the second anniversary of Season Three, some fans hoped that the Stranger Things team would offer a breadcrumb about Season Four. The Stranger Things writers' room teasingly tweeted, "Istg [I swear to God] if Stranger Things writers tweet about S3 day without giving us S4…" They went on to say, "In all honesty, everyone has been working their b*tts off and a half to get it out ASAP. Really truly."
This content is imported from Twitter. You may be able to find the same content in another format, or you may be able to find more information, at their web site.
Toughing out the pandemic-related wait hasn't been easy on fans, but it may pay off. Executive producer Shawn Levy suggested that the delay may result in the show's best season ever, saying, "The pandemic definitely massively delayed shooting and therefore the launch of our current season four. But it impacted very positively by allowing the Duffer brothers, for the first time ever, to write the entire season before we shoot it and to have time to rewrite in a way that they rarely had before so the quality of these screenplays are exceptional, maybe better than ever."
So, having binged all eight episodes of Season Three, the future of Stranger Things remains largely a mystery, aside from the brief tea leaves we've been able to read from teaser trailers. But, we can agree that the stage is set for a very promising Season Four, whenever it comes along. Watch this space for updates as we continue to learn more.
This content is imported from YouTube. You may be able to find the same content in another format, or you may be able to find more information, at their web site.
This content is created and maintained by a third party, and imported onto this page to help users provide their email addresses. You may be able to find more information about this and similar content at piano.io
Checkout latest world news below links :
World News
||
Latest News
||
U.S. News
Source link