Entertainment
Stranger Things Creators Tease Steve's Season 4, Part 2 Fate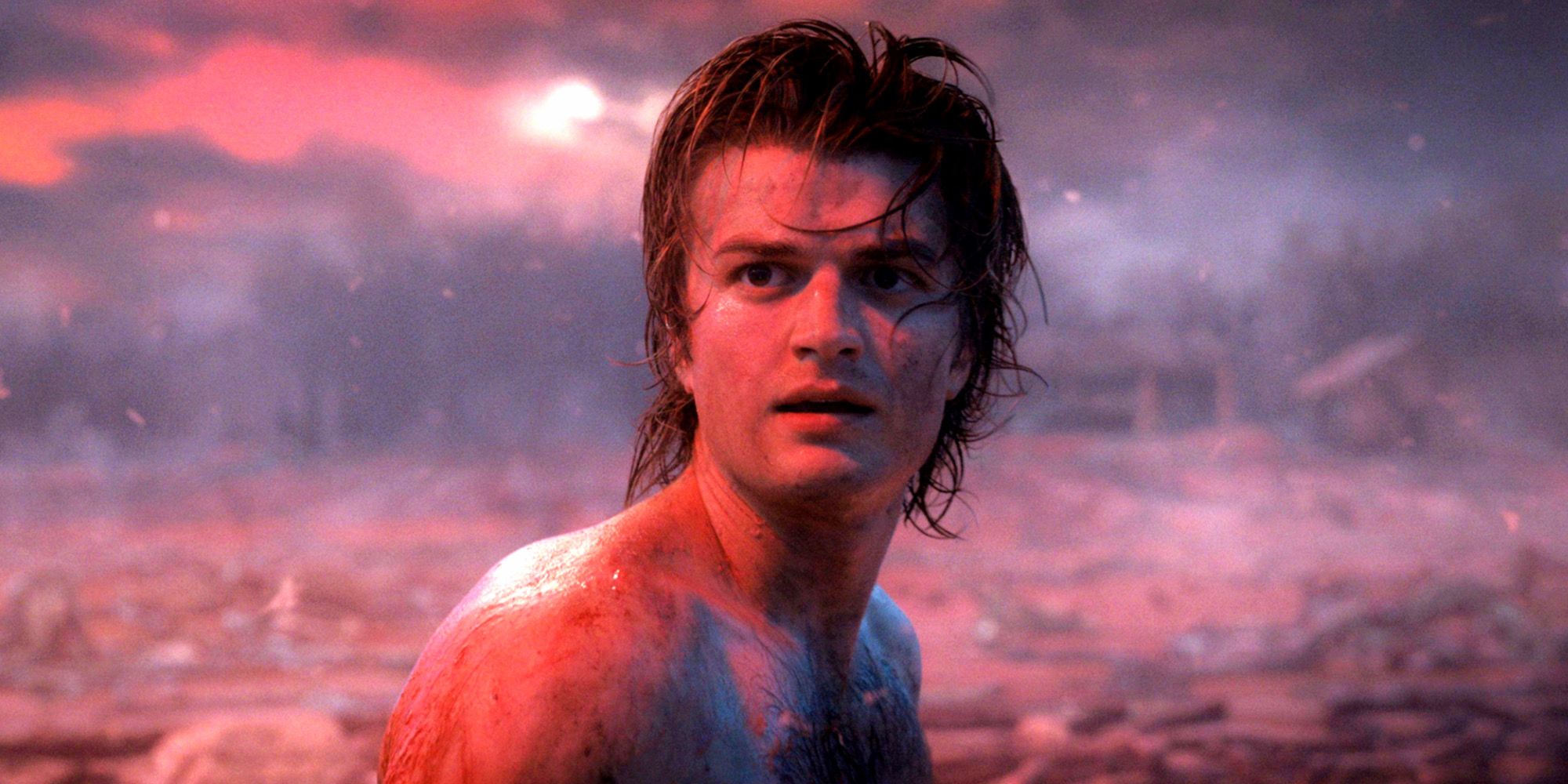 Stranger Things creators Matt and Ross Duffer tease the fate of the audience's beloved Steve Harrington in the upcoming season 4, part 2.
Warning: MAJOR SPOILERS for Stranger Things season 4, part 1
The creators of Stranger Things, the Duffer Brothers, tease the fate of Steve Harrington in season 4, part 2. The successful Netflix series finally made its long-awaited return on May 27 with the first 7 episodes of the season after experiencing years of filming setbacks. Part 2 of Stranger Things season 2 arrives on July 1 with the final 2 episodes, a conclusion that's already highly anticipated by viewers with just weeks left to go. This season has so far been the most terrifying and action-packed one yet, and the intensity only seems to be rising heading into its conclusion.
This intensity has caused Stranger Things viewers to wonder who might not be making it out of this season, with one character being at the forefront of many people's minds: Steve (Joe Keery). The character had quite the redemption arc in Stranger Things season 1 that has since made him one of the series' most beloved characters. His babysitter arc in Stranger Things season 2 only deepened this connection between Steve and the audience until they continued to demand more and more of the teen with iconic hair. He's managed to make it out of each season unscathed, despite many lost fights as Dustin Henderson (Gaten Matarazzo) likes to point out. Still, viewers have been holding their breath throughout Stranger Things season 4 as Steve takes some dangerous risks in the Upside Down.
Related: Don't Worry, We Already Know THAT Stranger Things Character Won't Die
Now, Matt and Ross Duffer have opened up a bit about Steve's fate in the final 2 episodes of the season. In a conversation with TVLine, the Stranger Things creators take the chance to go more in depth on the wounds Steve suffers from the Upside Down's Demobats. Responding to the question of whether fans should be concerned about Steve, they say:
Matt: Everybody's always worried about Steve. I love it. We always have to beat Steve up somehow, so certainly the Demobats have done that job pretty well already this season.

Ross: "It feels wrong to say 'excited,' but I'm excited that people are concerned. And they should be concerned going into the final two episodes [of Season 4] — for everybody.
This isn't the first time the Duffer Brothers have hinted towards a major character death for the Stranger Things season 4 finale, though the emphasis on Steve is no doubt jarring for his enthusiasts. Producer Shawn Levy has shared before that he would walk away from the show if Steve ever died, which previously made his death seem impossible. It now seems as if the Duffer Brothers have placed every card back on the table heading into this suspenseful and action-packed finale. With Steve currently stuck in the Upside Down, his odds aren't very favorable, especially with Nancy (Natalia Dyer) being in such grave danger on his side of the gate.
The final 2 episodes of Stranger Things season 4 are shaping up to be the series' greatest event so far. The characters in all three main storylines are in greater danger than ever with no clear resolutions in sight. The Duffer Brothers have already teased a lack of happy endings, which could further confirm that someone won't be coming back from this season. Vecna is the Upside Down's most powerful villain yet, and it seems as if he won't be stopping anytime soon, especially with Eleven (Millie Bobby Brown) still struggling to get her powers back. Stranger Things season 4, part 2 is an event that can't be missed, especially by those begging to know whether or not Steve will make it to Stranger Things season 5 yet again unscathed.
Next: Stranger Things 4 Volume 1 Ending Explained (In Detail)
Stranger Things season 4, part 2 premieres Friday, July 1 on Netflix.
Source: TVLine
The MCU Just Made 1 Perfect Thor 5 Story A Lot More Difficult
About The Author

Checkout latest world news below links :
World News || Latest News || U.S. News

Source link