Entertainment
'Shrinking' Lets Harrison Ford Be Harrison Ford Again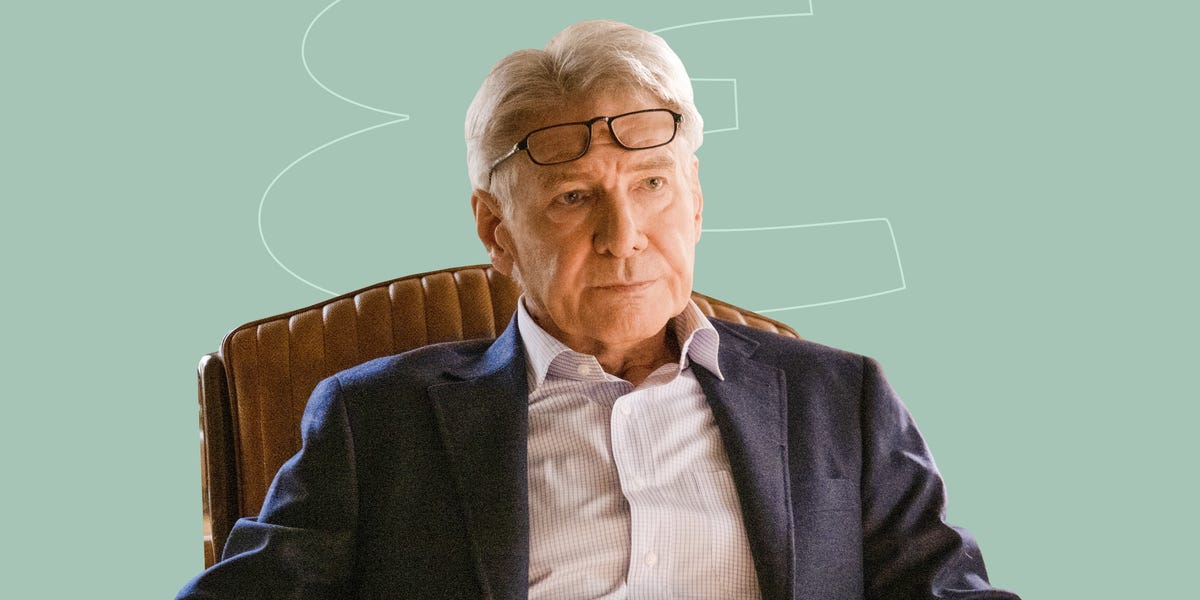 Anyone remember that bizarro story from a few years ago, when we heard that James Dean would be recreated as an unholy, digital resurrection for a new movie? Not only that, but we could expect celebs to start auctioning off their image and likeness, so that they could appear in Pepsi ads, Marvel movies—Dean as a variant of Steve Rogers, probably!—and whatnot for eternity?
Hear me out on this one: many years ago, I was starting to think that Harrison Ford sold the rights to Harrison Ford—and we've been watching his deepfaked doppelgänger since at least 2015's Star Wars: The Force Awakens. Meanwhile, the real Harrison Ford was sipping beers from the cockpit of a transatlantic flight. Or whatever Harrison Ford does in his free time. Because ever since Ford's turn as Branch Rickey in 2013's somehow-underrated Jackie Robinson biopic, 42, something hasn't felt quite right with the legendary, yet infamously crotchety actor. You can split Ford's past decade of work into three categories:
Reboot Zombie. Ford does the Saturday Night Live! version of a character he made famous.
Han Solo in The Force Awakens, Rick Deckard in Blade Runner 2049, Indiana Jones in the upcoming Indiana Jones and the Dial of Destiny.
Harrison Ford Playing Harrison Ford: Ford plays a fictional version of himself in a talk-show interview: gruff, crabby, formidable, dry.
Jacob Dutton in 1923, John Thornton in The Call of the Wild, and yes, Rooster in The Secret Life of Pets 2.
Hey, Look, It's Harrison Ford!: Ford appears and we're supposed to go, "Wowie!" just because it's freakin' Harrison Ford.
Mack Tannen in Anchorman 2, Drummer in The Expendables 3.
I'd argue that—in all three categories—Ford's heart has never really been in it. These performances have been missing anything we'd usually associate with the man: an All-American level of mettle, endless charm, and—this is important—something that feels new. The wit and grit of his early-career work in television and Westerns. (Don't forget 1979's The Frisco Kid, opposite Gene Wilder.) The space outlaw every kid wanted to be. A believable, badass police detective in 1985's Witness. When I saw the recent Dial of Destiny trailer, which sees Ford sleepily mumble, "Those days have come and gone"—a line you could convince me that Solo, Deckard, and Rooster all presumably uttered at some point this decade— I thought all hope was lost. Then I saw the latest entry of Ford's great foray into television: Apple TV+'s Shrinking. And I've gotta say: Harrison Ford feels like Harrison Ford again.
Shrinking, which debuts today, is Ted Lasso and Scrubs creator Bill Lawrence's latest attempt at spinning male friendship, down-and-outedness, and mildly shitty alt-rock into another hit. In the half-hour comedy, Jason Segel plays Jimmy Laird, a therapist grieving the somewhat-recent loss of his wife. (It's Segal, actually, who goes full Jason Segal Character in Shrinking, right down to an homage to Forgetting Sarah Marshall's Dracula ballad.) Jessica Williams plays another therapist in Laird's office, Gaby, delightfully cutting up on her coworkers. Then there's Ford's character: Dr. Phil Rhodes. At first glance, Rhodes fits into the "Harrison Ford Playing Harrison Ford" category: the man is grumpy as all heck, and the first to call out a hangover. We soon learn, though, that Rhodes is suffering from Parkinson's disease. And while he's the first to faux-reluctantly help Laird out of a jam, he's knotted up in his own life, refusing to tell his daughter about his diagnosis.
Shrinking itself is an incredibly fun, if not entirely memorable watch—truly, the series is Ted Lasso Gets a Psych Degree—but Ford is the true standout. It's as if the man was strapped to a seat, A Clockwork Orange-style, had to watch The Force Awakens scene where he pops out of the Millennium Falcon over and over again, then decided to go cold turkey on the rough-and-tumble thing. In Shrinking, Ford is simply hilarious. He says things like, "Look, I like your scrunchies. I just don't understand them." He gets high! Crashes his car! Maybe it's some of that Bill Lawrence, chemically-engineered good feeling at work, but Ford steals every scene, feeling—for the first time in a while—like the star he's supposed to be. Weirdly, even at 80 (!) years old, Ford's Dr. Rhodes still has that you-want-to-be-him quality. Who wouldn't want to grow up to be wise, funny, and hyper-aware of their own mortality, to the point of radical acceptance?
Honestly, I'm just happy to see Harrison Ford be Harrison Ford again. Here's hoping that once the man puts down the fedora this summer, Shrinking is just the beginning of Ford's new groove.
Checkout latest world news below links :
World News
||
Latest News
||
U.S. News
Source link