Music News
Ice Spice: 'Beyoncé picked me to be part of this campaign and s**t'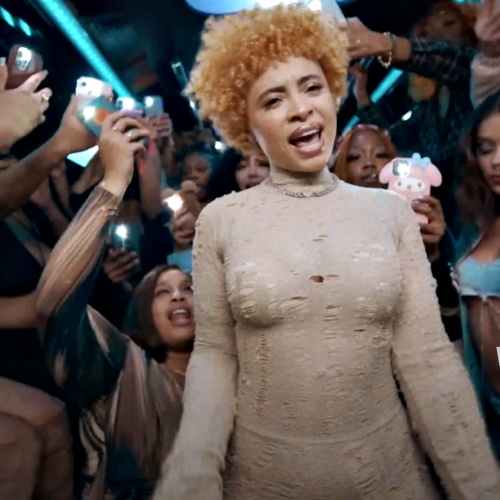 Ice Spice joins Ebro Darden on Apple Music 1 to discuss her breakout success and debut EP 'Like ..?', smash single "Munch", being tapped by Beyoncé to join her latest Ivy Park campaign, forthcoming album, dating and sexuality, taking her time to develop as an artist, and more.
Ice Spice Confirms a Full Album is Coming This Year…
The album? Most likely this year. Since I'm going to have 10 songs, something like that or whatever, definitely going to be different vibes in there, for sure. I don't want to talk too much on it because, you feel me? But got to keep the secret sauce a secret.
On The Origin of Her Hit Single "Munch" and that it was Initially a "Throwaway" Song…
It was January of 2022, and I was really just trying to rhyme a word with lunch, and I just said munch for the first time. I had just made that s**t up in the studio. And it went crazy. The song was really a throwaway for me. I made it and I was like, "All right, let me put that away." I was like whatever. I wasn't too focused on it. And the people I was playing it for, I played it for a bunch of people and it was just like, "Oh. Okay, cool." But then once I put the snippet up, it started picking up quick.
On Taking Her Time as an Artist…
…I'm just going with it. Those are six songs that I already made. So we pushing that right now. Fans going to eat that up. And then it is always time to evolve and grow as an artist. So, I'm not rushing to jump into another sound or rushing to do something different, if it happens, it happens. I just want everything to be natural. I just love it. Nah, not in any hurry. I know I'm here for a good time and a long time.
On New Song "Gangsta Boo" and collaborating with Lil Tjay …
"So Gangsta Boo's fire. RIP Gangsta Boo, too. Feel me?"
"I made the song, and then I was just thinking who I would hear on it really. But I wanted it to be a real genuine collab. You feel me? We've been friends since last year, so I was just like, yeah, who better than him? We both from the Bronx. I made the song before she passed. Right before. So, yeah. That was real sad, very exact coincidence."
On Dating and Her Sexuality…
Ice Spice: I just want to play…I be even having to struggle to find time for myself really. So, how I'm going to find time for somebody else? Even for family and friends, and myself, I'm still like that little bit of time that I be having on the side is for them and me. N****s come last.
Ebro: Speaking of a Gangsta Boo, because that's what you say in the record you want, a gangster, that's the type of dudes you out here looking for?
Ice Spice: I never been with a gangster, but…
Ebro Darden: You date squares.
Ice Spice: Not squares, but I like … good boys and girls.
On Being Tapped by Beyoncé For Her Latest Ivy Park Campaign…
You know she's smart and professional. She went through for me proper channels and she did everything right. I really was, she's so real. She's such a boss. It's a honour that Beyoncé picked me to be part of this campaign and s**t, but I can't say too much on it yet. So, it's going to be out soon though.
On Her Parents Are Support…
They mad supportive. It's so crazy. They have always been though. They're real supportive. I love my parents.
On Her Parents' Reaction To Her EP Cover Art…
Mom's a baddy so she knows what it is. But my pop thought I'm his baby girl. Yeah, he going to be like, "You couldn't do a different pose?" But that's my pose like, for me.
On About Being a Competitive Spirit…
Naturally, I'm just like a competitive person. I really am. I'm not going to lie. And I don't really like when people play with me. But regardless though, I always focus on myself. I never rush to do it because I see the next girl or the next doing it. I'm like, "Aight, that's cool. They could shine. We could all shine." You feel me? Everybody got their time. So, I just really focus on me and try to be the best me. Like n'aw, no corny for real, for real.
Checkout latest world news below links :
World News
||
Latest News
||
U.S. News
Source link