Movie Reviews
Disney Princess Sequels, Ranked (According To IMDb)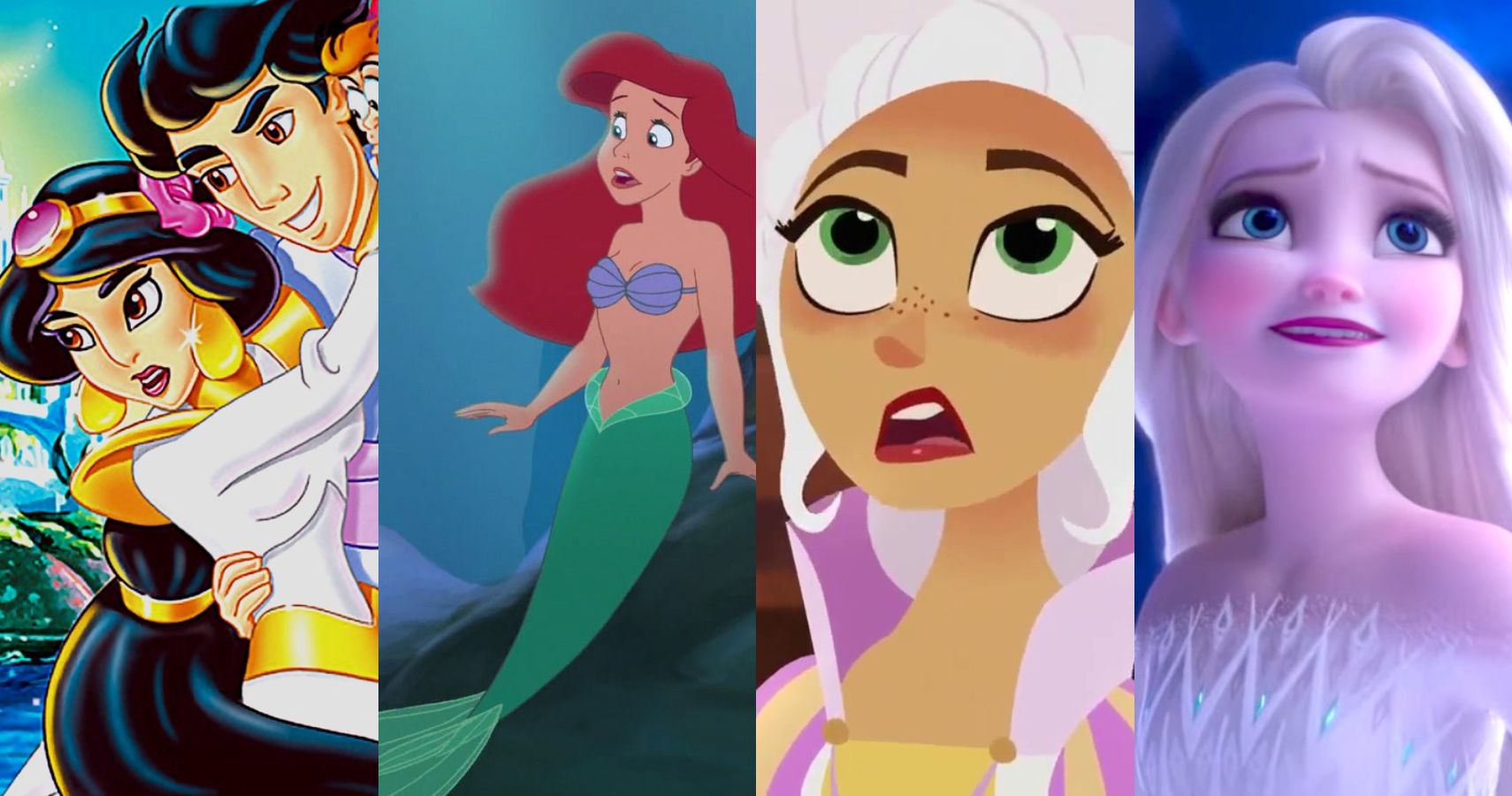 It's become quite common for Disney to follow their largely successful princess movies with direct-to-video sequels—with the exception of Frozen II, which debuted in theaters. The reception to these follow-ups rarely approaches the accolades the originals are usually met with, but they nonetheless provide charming tales of life after happily-ever-after.
RELATED: Disney's Upcoming Movie Slate Highlights It's Original Franchise Problem
With Frozen II being out on Disney+, as well as every other Disney princess movie, we've compiled a ranking of every Disney Princess Sequel, according to IMDb.
12

Pocahontas II (1998) – 4.9
When we catch up with Pocahontas in the sequel, she's saddened by the news that John Smith has reportedly died. John Rolfe's arrival sparks her interest, and she agrees to go to England with him in the hope of preventing war. Much is made of King James needing Pocahontas to prove herself as "civilized," and there is an uncomfortable attempt to assimilate her to British culture that is played for humor.
When Pocahontas points out that King James is the one behaving savagely, she's imprisoned. John Smith turns out to be alive and breaks her out of prison, but she chooses to stay with John Rolfe instead of running off with her old love. Pocahontas stops the war and ends up with John Rolfe.
11

Cinderella II (2001) – 5.0
Cinderella II: Dreams Come True is really three short stories. The first story shows Cinderella insisting on inviting non-royalty to parties at the palace. The second story centers on Jaq as he's turned into a human but ultimately learns to be satisfied as a mouse. The third story is of Cinderella helping Anastasia find love. The stories are brief but very sweet.
10

Belle's Magical World (1998) – 5.3
Belle's Magical World consists of four short stories that take place before the Beast's transformation back to a human. Like many direct-to-video Disney sequels, the feel of the movie is that of a series of episodes meant for television.
The content of the stories ranges from Belle teaching virtues to the Beast, Lumiere's romantic life, a rivalry between Cogworth and Lumiere, and yet another argument between Belle and the Beast that ends up teaching the Beast a lesson about being a better person.
9

The Little Mermaid II: Return To The Sea (2000) – 5.6
Eric and Ariel's daughter, Melody, acts as the protagonist in this sequel to The Little Mermaid. A party is held in honor of the new princess, but Ursula's sister, Morgana, crashes it, declaring her intention to avenge Ursula. Ariel keeps Melody from the ocean after this, and Melody turns twelve and discovers that there are things her mother is hiding from her and takes a boat into the ocean herself.
RELATED: Every Disney Renaissance Movie (Ranked By Metacritic)
Morgana transforms Melody into a mermaid, telling her that if she wants to remain a mermaid she has to steal Triton's trident. Of course, Morgana is eventually defeated, and Melody is able to live a life with both her human and mermaid family.
8

Mulan II (2004) – 5.7
Marriage is the main theme of Mulan II, as the movie picks up with Shang's proposal to Mulan. Mushu discovers that marrying Shang would make him no longer Mulan's guardian, so he endeavors to stop the marriage.
Mulan and Shang are tasked with transporting the Emperor's daughters safely to their betrothed. Mulan's friends fall in love with the girls, which throws a wrench into the plans. Things almost don't work out between Mulan and her fiancé, but they pull through, and Mushu gets to remain Mulan's guardian.
7

The Return Of Jafar (1994) – 5.9
After marrying Jasmine, Aladdin is yearning for adventure. Iago is bored in exile with Jafar and saves Aladdin's life, which leads to his being reinstated in the palace. Jafar teams up with another enemy of Aladdin's, and they agree to seek revenge.
Their plan leads to Aladdin being framed for the murder of the Sultan, but his kindness to Iago leads to a new ally for Aladdin. Iago enlists the Genie to help save the royal family. Jafar is destroyed, and Jasmine and Aladdin set out to see the world.
6

Cinderella III: A Twist In Time (2007) – 5.9
The conflict in Cinderella III starts with Anastasia finding the fairy godmother's wand. She gives it to her stepmother, who uses it to go back in time and make the slipper fit Anastasia's foot. Cinderella sneaks into the palace with the hope of making the prince remember her, which he eventually does.
RELATED: Disney: Top 10 Disney Princess Gowns, Ranked
Cinderella's stepmother tries once again to stop the wedding from taking place, using magic to make Anastasia look like Cinderella, but Anastasia realizes that she'd rather be loved for who she is, and refuses to marry the prince. Cinderella and the prince are married again, erasing the events of the first two movies, but maintaining a happily ever after.
5

Beauty And The Beast: The Enchanted Christmas (1997) – 6.1
The Beast hates Christmas, but Belle tries to change his mind. An enchanted pipe organ named Forte doesn't want the spell to break and so tries to ruin the relationship between Belle and the Beast. He's able to drive a wedge between them, leading the Beast to act cruelly towards Belle. Forte is eventually destroyed when his plot is revealed, and Belle and the Beast celebrate Christmas together.
4

The Little Mermaid: Ariel's Beginning (2008) – 6.3
The second follow-up to The Little Mermaid actually acts as a prequel. It tells the story of Ariel's mother's death leading to King Triton banning music in his kingdom. The resolution to the conflict is consistent with what audiences know about the relationship between Ariel and her father. They're both strong-willed and often find themselves on opposing sides, but their strong bond means that they always find a peaceful resolution in the end.
3

Aladdin And The King Of Thieves (1996) – 6.4
This sequel takes place before Jasmine and Aladdin are married and involves somewhat complicated mythology about an Oracle and Forty Thieves, both of which have something to do with Aladdin's father. Much of the movie is about Aladdin looking for his father, who turns out to be a wanted criminal. However, the two are able to repair their previously-nonexistent relationship, and Aladdin's father even attends his wedding to Jasmine.
2

Tangled: Before Ever After (2017) – 6.6
After the events of Tangled, Rapunzel is getting used to her new life. She refuses to marry Eugene and sets out on an adventure of her own, where she finds magic plants that restore her long blonde hair. Her father fears that Rapunzel will be taken from him again, but she remains determined to live a life without fear. Her relationship with Eugene remains strong, and the movie ends with a cliffhanger that is picked up in the Tangled series.
1

Frozen II (2019) – 6.9
Elsa and Anna run into trouble again when Elsa accidentally awakens elemental spirits while following a familiar voice through the woods. While seeking to restore safety to themselves and their kingdom, the sisters uncover a plot that dates back before they were born.
They manage to set things right and bring a peaceful alliance to the humans and the spirits. Anna marries Kristoff and becomes the Queen of Arendelle, while Elsa assumes the position of guardian of the Enchanted Forest.
NEXT: 5 Live-Action Disney Remakes That Are Better Than The Original (& 5 That Aren't)

Next
Harry Potter And The Prisoner Of Azkaban: 5 Characters With The Most Screentime (& 5 With The Least)

About The Author

Checkout latest world news below links :
World News || Latest News || U.S. News

Source link