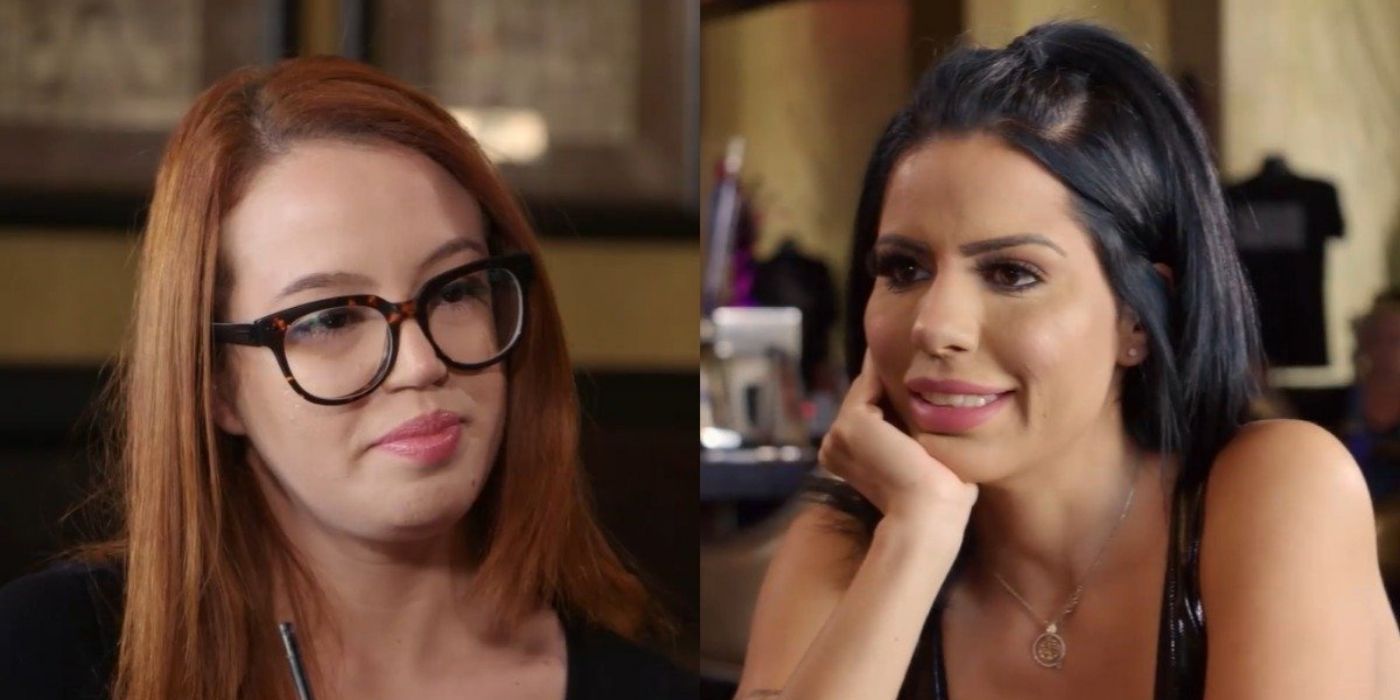 Jess Caroline and Larissa of 90 Day Fiancé: Happily Ever After? shared a picture of them kissing. Some fans are finding the image "cringey."
Jess Caroline of 90 Day Fiancé: Happily Ever After? met Colt Johnson's ex-wife, Larissa Dos Santos Lima, and by the end of the meeting, the two shared a kiss on the lips. While some fans are loving the picture, others are disgusted by it. Check out the image below.
Earlier in the season 5 of 90 Day Fiancé: Happily Ever After?, Larissa gets to know that her ex-husband is now dating another Brazilian Jess. During a confessional, she said, "I want to pay back what Colt did to me. I'm not going to be quiet when I know who Colt is." So, she calls the new girl to warn about Colt and his mother, Debbie Johnson. The mother of two tells Jess that her American boyfriend is a "demon." She added, "I know everything is perfect with him from the begin, but he change." However, everything was going just fine between Jess and Colt at the time, so she defends him by saying that he's a "good guy." Either out of her own jealousy or genuine concern for a fellow immigrant, Larissa continues to explain to the 26-year-old. She said, "You need to be to be careful with your status you know? I know that I was arrested, and I'm a little bit crazy, but I look at your profile and I see that you are a good girl. So I don't want that to happen the same thing that happened to me." At the time, Jess said that she is willing to work on her relationship, but the 32-year-old Larissa asks her to just remember what she has said. Now, Jess has arrived in Las Vegas to find out that Colt is a "geeky player," and he has been sending "inappropriate imagery" to several girls online. Jess said to the cameras, "Colt broken my feelings and I wish I listened to Larissa."
Continue scrolling to keep reading
Click the button below to start this article in quick view.
Related: 90 Day Fiancé: Colt & Vanessa May Be Official After Being Spotted Holding Hands
Both of Colt's exes decide to meet up and bond over his size in the recent episode of 90 Day Fiancé: Happily Ever After? Recently, the Brazilian bombshells shared pictures of them kissing each other on their Instagram accounts. Jess posted it with a caption, "Every woman's success should be an inspiration to another. We're strongest when we cheer each other on." Check out the picture below:
While many 90 Day Fiancé: Happily Ever After? fans love the connection between the girls, others think they're doing it to gain more followers. One fan wrote, "Jess and Larissa have more chemistry than Larissa and Erikee." Another one said, "I just have to say the friendship is shocking but so cool!!" One Reddit user wrote, "They're both so desperate for attention." Another one wrote, "This is super cringey. Not that I support Colt in anything ever. But unrelated to Colt, this is super cringey." 
Some 90 Day Fiancé: Happily Ever After? viewers still can't accept that Colt dated these gorgeous women. One fan said, "Still can't believe Colt slept with both." Another one chimed in, "This picture is Coltee's nightmare fuel." Well, let's hope that the Nevada native Colt didn't watch the episode with his mother. It was embarrassing!
Next: 90 Day Fiancé: What We Know About Vanessa's IG & Relationship With Colt
90 Day Fiancé: Happily Ever After? airs Sundays at 8pm EST on TLC.
Source: Jess Caroline, Larissa Dos Santos Lima, Reddit
IT: What The Turtle References Mean In The Movie (& How To Spot Each One)
About The Author

Checkout latest world news below links :
World News || Latest News || U.S. News

Source link