Entertainment
Jay Ellis, Monica Barbaro & Lewis Pullman Interview: Top Gun Maverick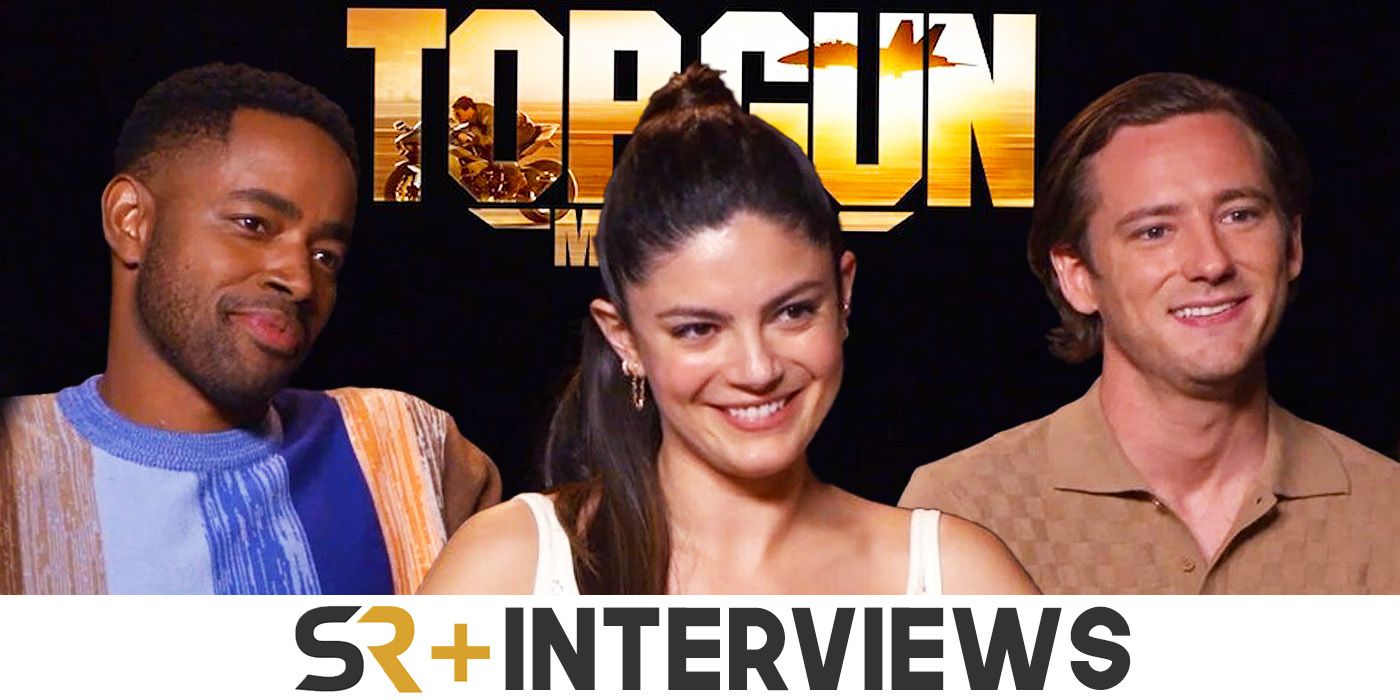 Top Gun: Maverick has taken the box office by storm, already boasting the highest Thursday gross ever for Paramount with an incredible $150M projection for the weekend. A sequel decades in the making, the follow-up to 1986's Top Gun sees Peter "Maverick" Mitchell (played by Tom Cruise) a very different man at 50 than he was at 25, and it explores how he handles the next generation of recruits who are now as fresh-faced as he once was.
Though Top Gun: Maverick naturally focuses on several of its protagonists relationships, whether it be his mentor dynamic with Goose's son Rooster (Miles Teller, The Offer) or his on-and-off-again romance with Penny Benjamin (Jennifer Connelly, Snowpiercer), much of the movie's charm also comes from the triumphs and foibles of the mission candidates.
Related: 9 Best New Characters In Top Gun Maverick
Screen Rant spoke to cast members Jay Ellis (Payback), Monica Barbaro (Phoenix) & Lewis Pullman (Bob) about how they earned their callsigns, the awkwardness of playing football in wet jeans, and the experience of going up in the air.
Screen Rant: I assume you know from the interviews that everybody loves the movie.
Jay Ellis: We're hearing that.
What does that feel like?
Jay Ellis: It feels great. We still haven't seen it with an audience, so we've only seen it with eight of us. And we obviously enjoyed it and loved each other and thought it was amazing in every single way. But it's also still inside of our bubble, so we're very protective of our thing.

I think we still need that audience experience, but it is amazing to hear this. We're like, "It's great. It's really cool."
Tell me what your callsign is, and how you think your character earned that callsign.
Lewis Pullman: Well, I play Bob. Bob is his name, and I think that basically, he's a little quiet and hard to read. I think the other pilots don't really know what to make of him. So they kind of just throw Bob back to him, because they're like, "You're not giving us any personality, dude? What are we going to do with you?"

But then by the end, there's some little interpretations and maybe some hidden Easter egg ideas of what Bob might mean. I'm curious to hear what the audience might come up with.

Monica Barbaro: These are usually something embarrassing that you did, like maybe one time in Phoenix. It's funny, these were written when we got the parts – and then we sort of earned them ourselves, these callsigns. Because we got the opportunity to change them, but then very quickly, we also were like, "No, I grew into it."

I'll tell [Jay's] story, actually, and he can tell mine. The first day we all met, he took Louis' phone. Louis, a bit like Bob had not really spoken to a lot of us much that day.

Jay Ellis: Five hours. Not a word

Lewis Pullman: It was more than that. I was just trying to try out some method techniques. [Laughs] No, I think it was just shy.

Monica Barbaro: We were a lot. We were very bro-y about it.

[Jay] took his phone and put it on the bar, and then Lou had to buy everyone in the bar drinks. We were like, "You better pay him back. That's so mean," and it was really funny. And they did split it.

Jay Ellis: And in that same night, Monica was a beer champion. She could take 'em down, they had no idea. And at a certain point, I tapped out. She kept going, which was also insanely impressive, and then woke up the next morning like nothing happened.

Lewis Pullman: Woke up stealing Tarzan's catchphrase. "I don't get tired like nobody's business."

Jay Ellis: No, that's her catchphrase.

Monica Barbaro: It was mine, and he stole it. Really weird.
Did you guys wear wet jeans during the football scene?
Jay Ellis: I wore shorts, so you could see my calves kind of pop like a flamingo's.

Monica Barbaro: I still don't know what that means. [Laughs]

We lucked into athletic shorts. I think the premise was that people wore jeans, because they got this random assignment to show up at the beach and didn't know why. And then suddenly, it was football time. Nothing like a pair of wet jeans.

Jay Ellis: Danny was in jeans. Miles was in jeans. Tarzan? Manny was in jeans.

Monica Barbaro: Tarzan might have been in jeans. Can't remember, but I have so many videos on the day. I gotta go back and look. That'll be why I go back and look: for the jeans.
How do you describe the experience of going up?
Jay Ellis: Unlike anything you could be prepared for. There's all these nerves that you have first, as you're in the cockpit and going through all these checks that lasts 30-45 minutes. You're excited and your adrenaline's pumping in, but you're also nervous and don't know what it's going to feel like. You're trying to anticipate it based off the training that you've done.

And then, you get to the end of the runway, and it's time to go. That jet goes flying down the runway, you pull up – and as you pull up, you peel off to one direction or another. That's probably where you feel your first 2Gs. Then after that, you do this G worm, which is like 3Gs to one side and 4Gs to another side, right?

Monica Barbaro: I think it's 4 and 6.

Jay Ellis: 4Gs to one side, 6Gs to another side. And you're like, "Oh, this is what this feels like in an F-18 going 700 miles an hour. Who could be prepared for this thing?" And then it ends and you're like, "Oh, I think I got this!"

For me, I was like, "Hey, I gotta pee. Is there any way we could go back to base real quick? Because I think I'm gonna pee on myself if we fly for another hour." My pilot would be like, "No, we're gonna [keep going]."

Monica Barbaro: "Do feel that? There's a bag in the pocket. of your leg."

Lewis Pullman: Didn't he have a nickname for you? The wet bandit.
Top Gun: Maverick Synopsis
After more than 30 years of service as one of the Navy's top aviators, Pete "Maverick" Mitchell is where he belongs, pushing the envelope as a courageous test pilot and dodging the advancement in rank that would ground him. Training a detachment of graduates for a special assignment, Maverick must confront the ghosts of his past and his deepest fears, culminating in a mission that demands the ultimate sacrifice from those who choose to fly it.
Check out our interviews from the Top Gun: Maverick global premiere, as well as our junket interview with stars Miles Teller, Jon Hamm, Jennifer Connelly, and director Joseph Kosinski.
Next: Top Gun Maverick Ending Explained
Top Gun: Maverick is currently out in theaters.
Why Snyder's Justice League Sequel Plans Ruined Wonder Woman's Future
About The Author

Checkout latest world news below links :
World News || Latest News || U.S. News

Source link