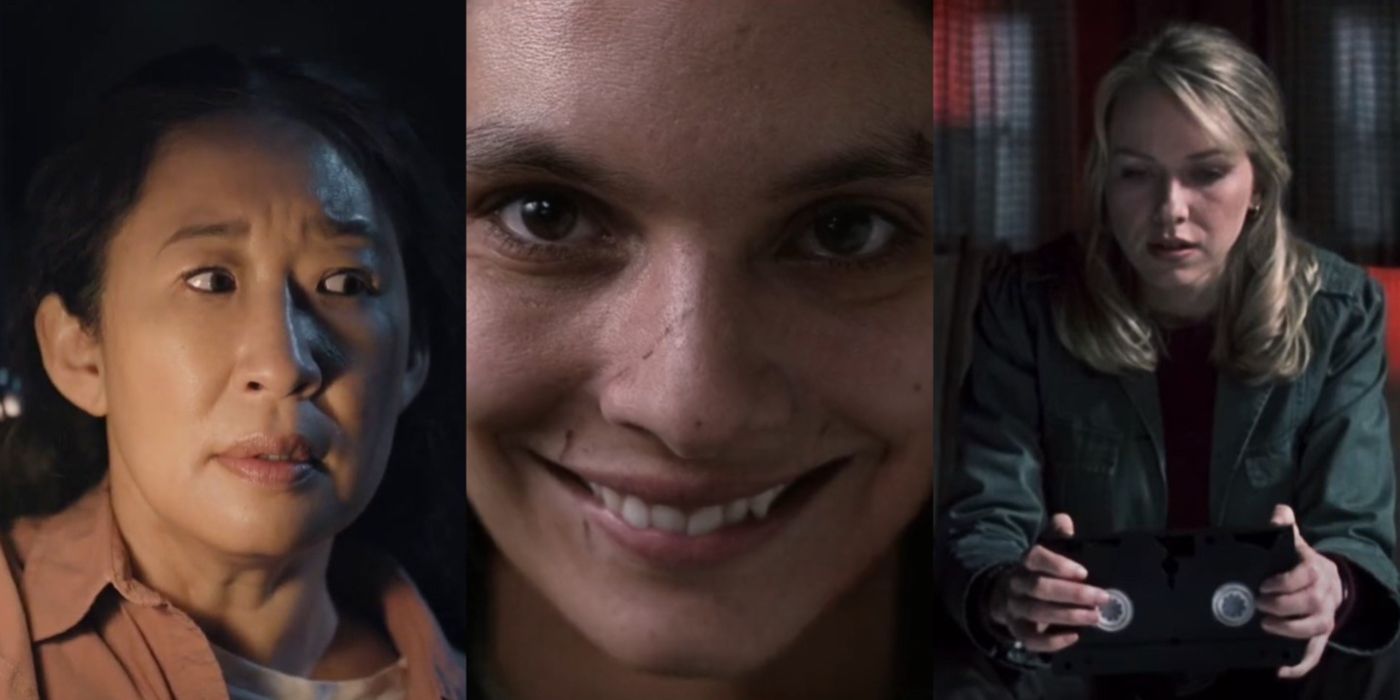 Smile will be making its world premiere at this year's Fantastic Fest and start Halloween early when it's released in cinemas on September 30th. The feature-length debut of Parker Finn, the movie tells the story of Dr. Rose Cotter as she witnesses a series of unexplained occurrences after experiencing a traumatic event with one of her patients.
But after audiences walk out and want some more of the same, there are certainly plenty of horror titles to choose from that offer their own traumatic and terrifying tales. From cult classics to major names in the genre, there are many horror flicks that are worth picking up and discovering.
Scream (2022)
Often regarded as one of the best slasher movies of all time, Wes Craven was able to deliver something refreshing in 1996 with Scream. After being followed with several sequels, the fifth installment saw a new Ghostface killer slaughter teenagers who share a link with the series' previous murders one by one.
RELATED: 10 Horror Movie Sequels Better Than The OriginalOne of Paramount Picture's signature horror series, this latest iteration will be worth exploring for anyone who has seen any installment in the horror franchise or not, as it managed to make everyone afraid of this mysterious stalker. Furthermore, eagle-eyed audiences might just recognize Kyle Gallner, who played Vince in the movie and will play a major role in Paramount's upcoming film.
All I Need (2016)
Released in 2016, this low-budget horror movie starred Caitlin Stasey as Chloe, a young woman who finds herself trapped in a building with a masked killer. With mystery surrounding the murderer's motives and her own predicament, Chloe attempts to escape before meeting the end of a sharp knife.
After seeing Smile, some will recognize Caitlin Stasey as Laura Weaver, the patient who commits a horrifying incident in front of Dr. Rose Cotter that starts her journey into madness. It may not be a supernatural story, but this movie does try to add mystery and suspense that gave the actress an early entry into horror.
Umma (2022)
After starring in the smash hit series Killing Eve, Sandra Oh starred in this supernatural story about a bee farmer who becomes haunted by the spirit of her recently deceased mother. With Sam Raimi acting as producer and directed by Iris K. Shim, it unfortunately did not garner a lot of attention when it was released earlier in the year.
RELATED: The 10 Highest-Grossing Horror Movies Of 2022 (So Far)However, its focus on past tragedies emerging through supernatural means might just be enough for some to dive into this one. It will also keep viewers on edge as they slowly uncover the dramatic past of Sandra Oh's character in one of her best performances to date.
Ju-On: The Grudge (2002)
One of the most iconic Japanese horror movies since it premiered in 2002, it is still discovered by newcomers today while remembered fondly by fans. After moving into her new home with her husband, Kazumi becomes cursed by a vengeful ghost who was brutally murdered years prior by his own father.
Although it eventually received a couple of American remakes, one of which was immediately forgotten, the stories remain similar that anyone can enjoy. But the filmmakers behind the Japanese version made a truly frightening experience that helped to open the door for other movies from the country to make their way to the US.
Drag Me To Hell (2009)
After Sam Raimi directed the Spider-Man trilogy back in the 2000s, those unfamiliar with the horror titles he previously worked on were in for a treat as he returned to the genre that made him popular with Drag Me To Hell. Being cursed by an elderly woman, a loan officer must try to break free from it within three days before she is eventually dragged to the underworld.
RELATED: The Highest-Grossing Sam Raimi Movies, According To Box Office MojoWith tormenting visions following the helpess woman who was just doing her job, this is one of several horror movies that see a person become unnecessarily victimized that makes everyone root for them. Dragging her into a supernatural and nightmarish scenario, her journey to free herself will be a familiar one that should not be ignored.
The Invisible Man (2020)
Adapted from the novel of the same name, this 21st-century retelling saw Elisabeth Moss play Cecilia Kass, a woman who escaped a violent relationship from a controlling businessman. But after he seemingly killed himself, Cecilia slowly believes that she is being stalked and tortured by him.
Its themes of domestic violence played a big part in the movie's success that makes it stand out as more than just a modern remake of a classic story. Questioning how this new interpretation of the fictional figure functioned throughout the movie made it a tense ride that made a relevant title in the process.
Lights Out (2016)
Produced in 2013 as part of the Bloody Cuts Horror Challenge, Lights Out garnered a lot of attention when it became a viral sensation and was transformed into a feature-length movie three years later by the same director. The story revolves around a mysterious entity that only emerges from the darkness as it stalks a family with sinister motives.
Trying to present something new to the genre with an interesting spin on story and filmmaking, it's one scary movie that will make everyone leave their lights on for days to come. Turning a childhood fear of the dark into a monstrous stalker will make anyone feel unnerved throughout this intense journey.
The Babadook (2014)
One of the biggest and most successful horror movies to come out from Australia in recent years, The Babadook became an icon of the genre back in 2014 that many still enjoy today. After reading her son a pop-up book, she starts to experience unusual visions that share similarities to the monster that was illustrated in it.
Introducing a new figure of horror is no easy task, but the filmmakers were able to make the Babadook a celebrated, fresh face in horror. Those who have yet to watch the movie will be in for a treat as it will offer enough scares and uneasy scenes for anyone to feast their eyes on.
It Follows (2014)
One of the most unique horror titles to be released in 2015, It Follows featured a scary and creative curse that hasn't really been explored in horror. Jay becomes haunted by an unknown and deadly entity after a sexual encounter with a young man and must commit the act with another victim to pass it on.
Using horror to tell a story about STDs, the movie creatively sees its effects on Jay as she starts to see visions that may or may not be real that is created by the curse attached to her. Those looking for a new and innovative horror title might just find their new favorite gem that deserves more love and attention.
The Ring (2002)
Perhaps regarded as one of the best American remakes of a Japanese movie, The Ring would open the door for other horror titles to be remade for Western cinema-goers. Based on the 1998 original, Naomi Watts plays a journalist who tries to uncover the mysteries surrounding a cursed videotape.
With the surreal imagery and brutal deaths that the victims will encounter from the ghost that the tape summons, it's a thrilling and shocking journey that no one is safe from. And with a limited time frame before the skeptical journalist becomes the next victim, fans of Smile might want to rediscover the hit horror movie that inspired it and other titles in the popular genre.
NEXT: 10 Best American Remakes Of International Movies, Ranked According To Rotten Tomatoes
Checkout latest world news below links :
World News
||
Latest News
||
U.S. News
Source link