Canada
So tacky it inspired the invention of national parks: What you didn't know about Niagara Falls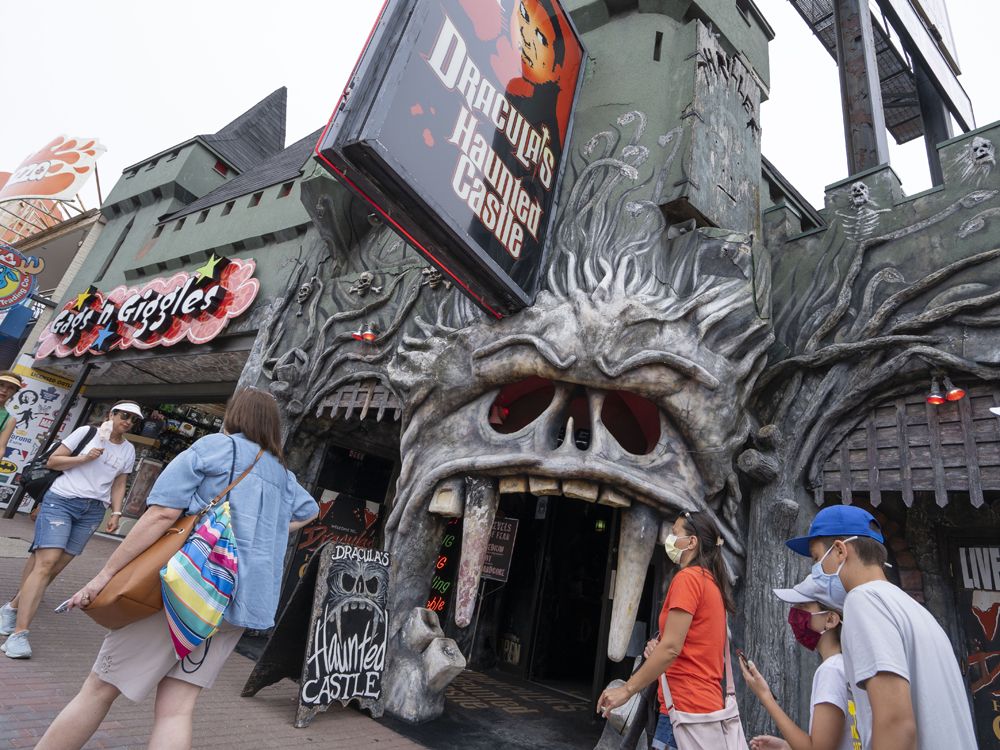 While guidebooks abound with factoids about the quantity of water pouring over the falls, here are some more unseemly details you may not have heard
Article content
As tourists begin a slow trickle back into Canada, crowds have once again returned to the viewing platforms of Niagara Falls. The 100-metre-tall falls have been one of country's most reliable tourist draws for decades before Canada was even created. While guidebooks abound with factoids about the quantity of water pouring over the falls, here are some more unseemly details you may not have heard about our leading water-based attraction. 
Article content
Niagara Falls is so tacky it inspired the creation of the national parks system
Even the proudest Niagaran wouldn't claim that the attractions packed around their famous falls are particularly highbrow: Walk a mere 10 minutes from the falls' ever-present spray and you'll soon be drowning in a sea of neon lights, tourist traps and overpriced buffets.
Niagara Falls has been a magnet for promoters almost since the beginning, and it's this singular fact that inspired conservationists in both the U.S. and Canada to invent the concept of national parks that could be roped off from the worst inclinations of private enterprise. So if you've ever wondered why the Grand Canyon, Lake Louise and El Capitan aren't similarly surrounded by casinos and strip clubs, you can thank Niagara Falls for taking one for the team.
Article content
The water was indeed shut off in 1969
While the Woodstock Music Festival was taking place in eastern New York State, a mere five hours away it would have been possible to get a glimpse of a completely dry Niagara Falls. It was only the American side that had its flow shut off, but for a period of eight months roughly half of Niagara Falls was nothing more than a rocky cliff. It was all the result of a U.S. Army Corps of Engineers operation to build an upstream dam that temporarily diverted the Niagara River exclusively towards the Canadian side. Unlike most Army engineering projects, this one was purely done for esthetics: The American falls were cleared of rocks so that they'd look prettier when the water was turned back on.
Article content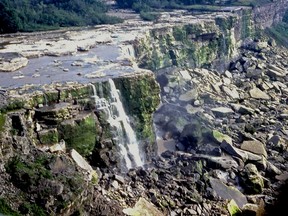 The place is utterly surrounded by battlefields
The Americans and Canadians get along so well these days that it's easy to forget that the whole Niagara region was once so prone to armed conflict that it was being invaded by marauding armies roughly once every generation. During the War of 1812, several battles occurred close enough to the falls that gunfire would have been audible. Before that, the region saw battles between France and England jockeying for control of the continent. And only a few months after the end of the American Civil War, a ragtag precursor to the Irish Republican Army invaded and briefly claimed lands just south of Niagara Falls for Ireland.
The first daredevil to go over the falls in a barrel was a cat
Article content
Of all the testosterone-fuelled daredevil acts that Niagara Falls has hosted over the years, it's notable that one of the most iconic was pioneered by a 63-year-old schoolteacher looking for some easy money. While Annie Edson Taylor was the first to successfully go over Niagara Falls in a barrel, what's less often mentioned is that she tested the feat by forcing her cat to do it first. The cat's name has been lost to history, but it reportedly endured the ordeal "mostly unscathed."
Promoters once sent a ship loaded with exotic animals over the falls
In another epic tale of Niagara Falls animal abuse, in 1827 local tavern owner William Forsyth sought to draw in tourist traffic by packing a derelict vessel full of random animals and sending it over the falls. The exact animal cargo isn't known for sure, but the ship reportedly contained a buffalo, some geese, a couple bears and a dog or two. An estimated 10,000 people did indeed answer Forsyth's call to watch the animals drown, but forecasts that many of the creatures might survive the ordeal were premature: Only a goose made it out.
Article content
Nik Wallenda was praying out loud throughout his 2012 wire walk
In 2012, famed tightrope walker Nik Wallenda made international headlines for crossing a nearly kilometre-long high wire strung overtop the falls. Unnoticed by much of the crowd, however, was Wallenda's noted penchant to pray loudly throughout the entirety of his wire-walking feats. Typical prayers include "praise you God," "praise you my king, Jesus" and "you're my Jesus, my counsellor, you're my wisdom." Needless to say, Wallenda is really, really religious. As he told Good Morning America after the crossing, "The Bible says to pray without ceasing and I'm always praying."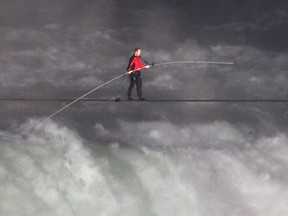 Doomed explorer Sir John Franklin was a Niagara Falls tourist
The falls are close enough to Ottawa, Washington, D.C., and New York City that they've been visited by any number of unexpected dignitaries who just happened to be in the area. Europe was in the darkest months of the Second World War when British Prime Minister Winston Churchill spent a relaxing 90 minutes at the falls with his daughter. And in 1825, the falls were glimpsed by John Franklin, the British explorer noted for tragically vanishing into the Arctic in the 1840s. Franklin said they were "justly celebrated as the first in the world for grandeur."
Article content
Oscar Wilde didn't care for Niagara Falls
Niagara Falls tourist guides don't often mention that Irish writer Oscar Wilde is among the famous figures to have visited over the decades. This is probably because Wilde, in characteristic fashion, was deeply unimpressed. After his visit, he reflected on Niagara Falls' status as a honeymoon destination and quipped that sighting the falls "must be one of the earliest, if not the keenest, disappointments in American married life."
The falls helped ward off a war between the U.S. and Mexico
During the ten-year Mexican Revolution that began in 1910, border tensions with the United States got so bad that American troops briefly occupied the port city of Veracruz. So a peace conference was called in Niagara Falls, with the idea that the Mexicans and Americans would best work out their differences within sight of natural splendour. Unfortunately, the peace conference reached a successful conclusion just in time for an irate Serbian nationalist to gun down an Austrian royal, sparking the First World War.
Checkout latest world news below links :
World News
||
Latest News
||
U.S. News
Source link