Canada
Randall Denley: Doug Ford's apology for the Greenbelt was the bigger mistake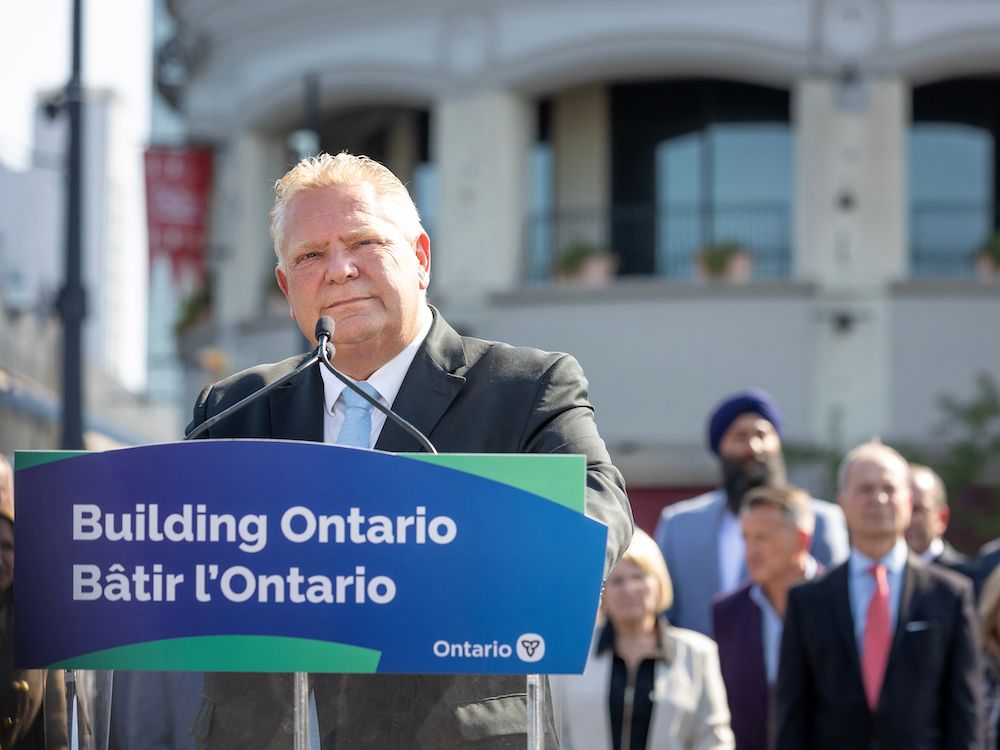 Ford might have to accept that if the party's work is to continue, it will have to be with a different leader
Article content
Ontario Premier Doug Ford has done a lot of good things in his five years in power, but his ham-handed handling of the Greenbelt development controversy could, and perhaps should, spell the end of his political career.
Ford was simply inept Thursday when he reversed the Greenbelt plan that he has spent weeks defending. In doing so, he undercut his caucus and anyone who had pointed out that developing 0.3 per cent of the Greenbelt was hardly the ecological disaster that the opposition parties and much of the media had made it out to be.
Article content
Ford said that he had made a "mistake" when he opened the Greenbelt, breaking a promise not to do so. He was not just sorry for breaking that promise, but "very, very sorry."
The sorriness seems to have come on rather quickly. Ford attributed it to caucus members telling him that they'd heard people didn't like his Greenbelt plan. Had he missed the storm of complaint that has gone on for months?
Worse, this was Ford's second time down this road. He said back in 2018 that he would open up the Greenbelt, then promised not to do it when the public protested. Thursday, Ford said he would learn from his mistake. Must be a slow process.
A politician breaking a promise is not exactly unique, but Ford's first experience with Greenbelt development ought to have taught him that this was an unpopular idea that needed to be handled with finesse, if it was to be done at all. Instead, this non-urgent decision was rushed through.
Article content
Ford would have been smarter to point to now-former cabinet minister Kaleed Rasheed, the guy who took a trip to Vegas with a developer who benefited from the government's Greenbelt decision. Rasheed seemingly forgot what year he and the developer were in Vegas together when he gave false information to Ontario's integrity commissioner. Subsequent media reports said that Rasheed and the developer got massages together at the hotel spa. Apparently what happens in Vegas doesn't stay in Vegas.
Rasheed's stupidity provided an opportunity for Ford. he could have made a "that was the last straw" argument and dumped the Greenbelt plan because there were too many issues around it. That would have been better than a lame apology.
The Greenbelt controversy has also exposed a weakness in Ford's own ethical standards. The premier should have made it abundantly clear to those organizing a pre-wedding event for his daughter that no one who might benefit from a government decision should be asked to buy a ticket. Instead, Ford's future son-in-law asked the head of the PC party fundraising arm to sell tickets — and he did, including some to a developer who benefited from the Greenbelt decision. The $150 tickets were small change, but the principle of it is not.
Article content
Ford's political background before becoming premier consisted of being a Toronto city councillor, a level of government where tight relationships between developers and politicians are not uncommon. Ford doesn't seem to get that people expect more from a premier.
So should Ford stay or go? Thursday, Ford said people would have the chance to decide how he has done in the next election, which is nearly three years away.
Time might work in Ford's favour, but once people have formed a negative impression, it's difficult to change it. Ford didn't exactly begin his time as premier with a deep well of goodwill. Liberal and NDP supporters have a deeply negative view of him, but Ford has benefited from those parties putting up astoundingly weak leaders in the last two elections.
It's tough for any political leader to realize when he has become a liability to his party. The current prime minister would be a case in point. It will be difficult for Ford, whose strengths are optimism and confidence, to admit that he has reached his Dalton McGuinty moment.
When the former Liberal premier cancelled two unpopular natural gas generating plants in 2010 and 2011, it was a transparent attempt to hold seats where the unpopular plants were to be located. Nevertheless, McGuinty said, "It's never too late to do the right thing."
Article content
As it turned out, it was too late. McGuinty won the 2011 election, but resigned the following year after the real costs of his decision were made public. Fortunately for the Liberals, McGuinty turned over the leadership in time for his successor to keep the party's hold on power.
Ford might have to accept that if the party's work is to continue, it will have to be with a different leader. On Friday, Monte McNaughton, one of Ford's most capable cabinet ministers and a man seen as a future leadership contender, suddenly resigned for a job in the private sector.
It wasn't exactly a vote of confidence in Ford's ability to bounce back.
Randall Denley is an Ottawa journalist and author. Contact him at [email protected]
Checkout latest world news below links :
World News
||
Latest News
||
U.S. News
Source link