Canada
Poilievre demands Trudeau 'come clean' on intelligence implicating India in Canadian's murder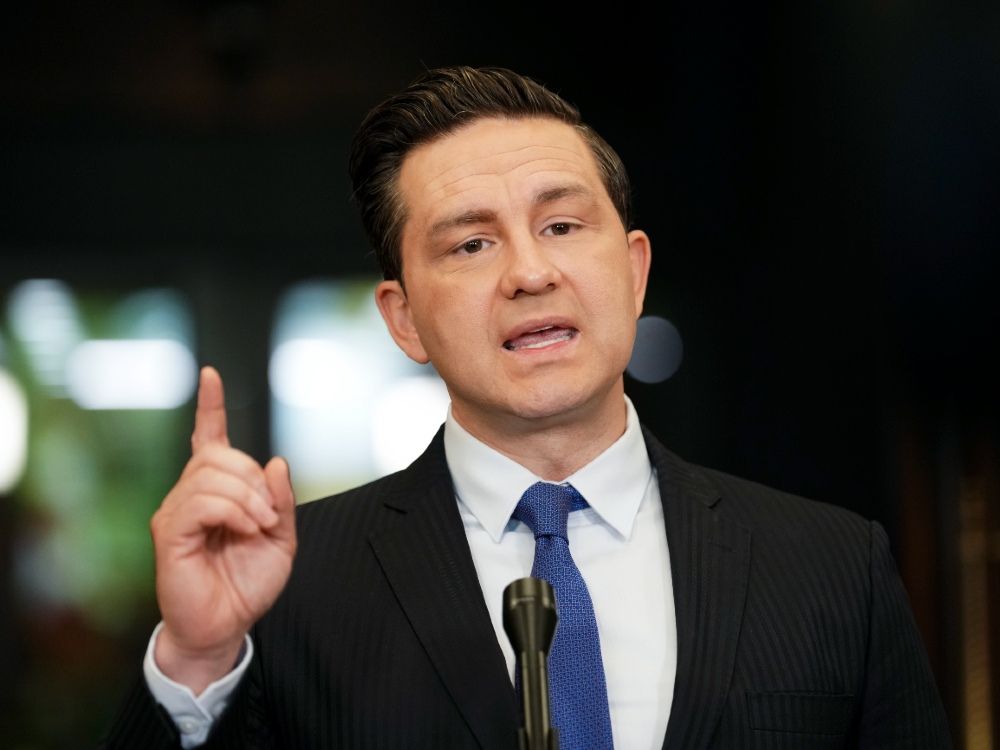 Article content
OTTAWA — Conservative Leader Pierre Poilievre called on Prime Minister Justin Trudeau to "come clean" with more information about allegations that Indian government agents were involved in the murder of Sikh leader Hardeep Singh Nijjar on Canadian soil.
Poilievre offered guarded and sometimes terse responses to reporters Tuesday during a press conference where he was pressed on his party's views on the shocking allegations by Trudeau Monday that Canadian intelligence suggested a direct tie between the Indian government and Nijjar's murder in June.
Article content
Nijjar was shot dead by two masked gunmen as he left his Sikh temple in Surrey, B.C. He was the president of the Guru Nanak Sikh Gurdwara and a leading supporter in the movement for a separate state for Sikhs in India called Khalistan. The Indian government declared Nijjar a "fugitive terrorist."
Poilievre said he received the same information from Trudeau privately that the prime minister shared with his announcement of the allegations in the House of Commons on Monday afternoon. When asked if he thought Canada's relationship with India should change in light of the new allegations, Poilievre called on the prime minister to share more proof behind the allegations.
"The prime minister needs to come clean with all the facts. We need to know all the evidence possible so that Canadians can make judgments on that," Poilievre said.
Tuesday morning, B.C. Premier David Eby also called on the Trudeau government to share more information on ongoing foreign interference and "transnational organized crime threats" after receiving a briefing from the Canadian Security Intelligence Service (CSIS) on Nijjar's "assassination".
Article content
Shortly after Trudeau levelled the allegations in the House on Monday, Ottawa announced it was expelling a top Indian diplomat that was India's leading intelligence officer in Canada. India responded by kicking out a Canadian diplomat and called the allegations "absurd and motivated."
Asked if he thought Canada should go further than declaring a single Indian diplomat persona non grata, Poilievre again said it was necessary for Canadians to be told more about the facts behind the allegations.
"The prime minister hasn't provided any facts. He provided a statement and I want to emphasize that he didn't tell me any more in private (than) he told Canadians in public, so we want to see more information," Poilievre said.
Poilievre said there would be "real" risk if Trudeau refuses to provide more information or if the allegations turn out to be inaccurate.
The Conservative leader also said Trudeau "said nothing and did nothing" regarding Chinese interference in Canadian affairs for years, even while Michael Kovrig and Michael Spavor were imprisoned in China, comparing it to Trudeau's sudden action following allegations against India for the extrajudicial killing.
Article content
Last week, Poilievre shared a picture of a Toronto Sun front page noting the prime minister had "few friends" while travelling to India earlier this month and criticized the Trudeau for being "repeatedly humiliated & trampled upon by the rest of the world."
Trudeau's revelations come on the heels of a difficult trip to a G20 meeting in India earlier this month that revealed how testy Trudeau's relationship with Indian Prime Minister Narendra Modi has become.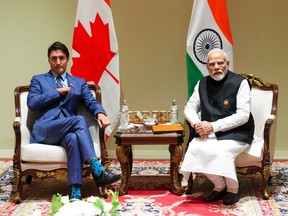 Trudeau said Monday he had raised the Canadian intelligence with his Indian counterpart directly during a brief meeting in New Delhi. An Indian government readout of the meeting noted Modi expressed frustration over growing anti-India sentiments within Canada and pointed to a poster produced by a Canadian pro-Khalistan group featuring "KILL INDIA" in large letters. 
On Tuesday, Trudeau said he went public with the allegation so that it could be discussed openly with other countries during the annual United Nations meeting this week. 
"We wanted to make sure we were taking the time to talk with our allies to share what we knew. We wanted to make sure that we fully shared with the Government of India, the seriousness and the depths of our preoccupations and indeed conclusions," he told reporters.
"Canadians have a right to know and need to know when things are going on like this, and that's why we made the decision to do this."
National Post
Our website is the place for the latest breaking news, exclusive scoops, longreads and provocative commentary. Please bookmark nationalpost.com and sign up for our politics newsletter, First Reading, here.
Checkout latest world news below links :
World News
||
Latest News
||
U.S. News
Source link