Canada
FIRST READING: Tories thought they needed a centrist to win. The polls disagree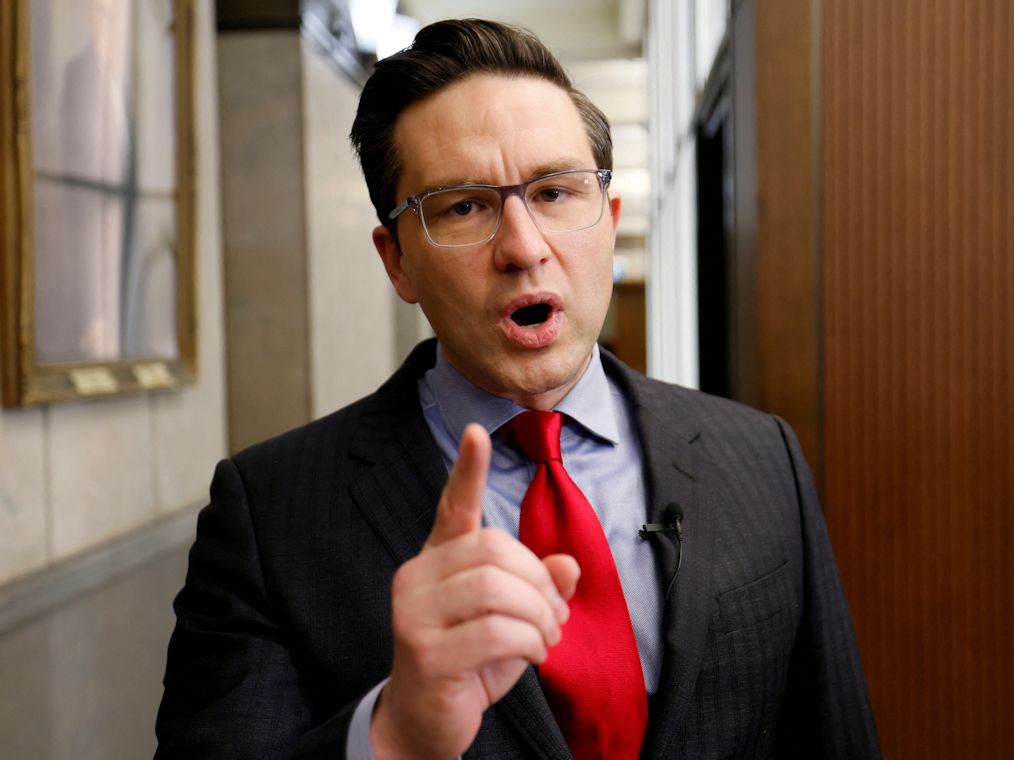 Canada found to have boots on the ground in Ukraine
Article content
First Reading is a daily newsletter keeping you posted on the travails of Canadian politicos, all curated by the National Post's own Tristin Hopper. To get an early version sent direct to your inbox every Monday to Thursday at 6:30 p.m. ET (and 9 a.m. on Saturdays), sign up here.
Article content
TOP STORY
Despite years of Tory orthodoxy that they could only win government with a centrist, polls show a Canada that seems to be warming to a Conservative Party led by hardliner Pierre Poilievre.
Poilievre – the 43-year-old Calgary-raised MP representing the Ottawa-area riding of Carleton – has been the clear frontrunner for Conservative leader since the race began in February. While moderate support has generally coalesced around former Quebec premier Jean Charest, there hasn't been one poll thus far that hasn't seen Poilievre in a commanding lead.
While Tory love for Poilievre has never been in doubt, there were early questions about whether he was palatable to swing voters.
A March poll for Leger found a Poilievre-led Conservative Party would lose a general election at roughly the same proportions as 2021, when the Tories won 121 seats to the Liberals' 157.
Article content
Whenever non-Tories are asked which Conservative leadership candidate would be most likely to win them over in a general election, nobody answers Poilievre. In March, Liberal, NDP and even Bloc Québécois supporters said they preferred Charest at the helm.
In recent weeks, however, polls have started to show rising support for the Conservatives, even as it becomes clear that Poilievre is likely to capture the leadership.
On Monday, a poll by the Angus Reid Institute found that Canadians, on average, were more inclined to vote for a Conservative Party run by Poilievre than by Charest.
While Poilievre was still despised by stalwart Liberals and NDPers, he was the blowout favourite among a demographic of conservative voters who in recent elections have been inclined to stay home on Election Day — or to lodge a protest vote with the People's Party of Canada.
Article content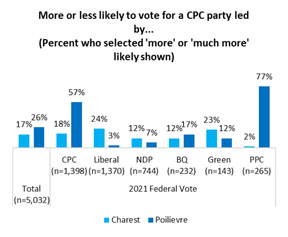 Poilievre was also the favourite among voters inclined to go for the Bloc Québécois – although this may largely be a function of the fact that Charest remains rather unpopular in the province he governed as premier for nine years.
Overall Conservative support is also continuing to rise even as Poilievre increasingly becomes the face of the federal Tories.
An Abacus Data poll this week had the Conservatives at 34 per cent against just 30 per cent for the Liberals; not a huge lead, but enough to put Tories in the realm of potentially forming government.
Of course, those numbers are being helped along by the fact that support for the government of Prime Minister Justin Trudeau is in free fall. Amid spiking inflation and yet another Liberal scandal, that same Abacus poll had half of respondents saying that Canada was on the "wrong track."
Article content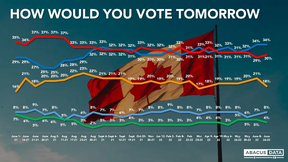 The 2021 election saw the Conservatives run their most centrist platform in modern history. Leader Erin O'Toole promised federal spending that was slightly higher than the Liberals, he referred to himself as "pro-choice," he promised to leave a sweeping Liberal gun ban untouched and he even backed retention of the carbon tax. "We're not your dad's Conservative Party anymore," O'Toole said in his final pitch to voters.
Rather than convincing swing voters to go blue, however, O'Toole's strategy lost the Tories two seats and resulted in an exodus of support from urban areas. "The reality is that today, after the 2021 election, Conservatives are more rural, more homogeneous than we've ever been before," was how Conservative MP Shannon Stubbs put it.
Article content
Poilievre – in sharp contrast to O'Toole – has campaigned on a slate of sweeping economic pledges, including a hard cap on deficit spending, a permanent ban on extraordinary health measures and firing the Bank of Canada governor for his failure to curtail inflation. And, of course, Poilievre's "fire the gatekeepers" plan to dramatically cut government regulation.
Where Poilievre differs from the traditional hardline Conservative, however, is in his stated disinterest for the usual social conservative issues.
The Campaign Life Coalition – one of Canada's leading anti-abortion groups – has refused to endorse Poilievre on the grounds that he is "pro-abortion." "Tragically, he abandoned his past pro-life beliefs during the previous leadership race when he was considering running, deciding that the "pro-life" label was no longer useful," wrote Jack Fonseca, the group's director of political operations, in February.
Article content
In 2005, Poilievre was still a rookie MP when he delivered a lengthy speech opposing the adoption of gay marriage, saying "the term 'marriage' ought to be preserved as a union between one man and one woman to the exclusion of all others."
By 2020, Poilievre had changed his mind, telling Radio Canada that "love is love" and "it's the freedom of every person to choose their own destiny; marriage should be open to everyone."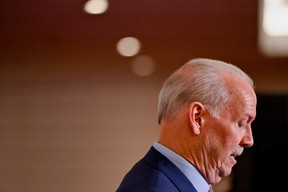 IN OTHER NEWS
Throughout the war in Ukraine, Canada has been very careful to avoid taking a direct hand in the conflict. While Ottawa has sent lethal weapons to the Ukrainian military, the shipments were all flown into Poland and then moved across the border by Ukrainian sources. And while the Canadian Armed Forces had an active training deployment in Ukraine for eight years, they were evacuated just prior to the Russian invasion. So it's somewhat surprising that a New York Times report revealed that Canadian special forces are stationed in Ukraine. Nobody in Ottawa has confirmed the report, which said Canadians were among Western commandos providing training in Ukraine and gathering intelligence on the Russians.
Article content
Tamara Lich, a key organizer of Freedom Convoy, is back in court. Why? It appears to be because she attended an event by the Justice Centre for Constitutional Freedoms in which she posed for photos with fellow convoy organizer Tom Marazzo. One of the conditions of Lich's release from prison – which the Justice Centre worked to secure – was that she avoid contact with Marazzo. This is probably where we should mention that Justin Centre lawyers should probably have known better than to allow the circulation of photos on social media of one of their clients breaching release conditions. 
Article content
Gas is so expensive that half of Canadians are no longer filling their tank when they go to the filling station, and 70 per cent think they will eventually be unable to afford the level of driving they knew before the pandemic. That's according to a new Ipsos poll commissioned by Global News. With gas prices above $2 per litre almost everywhere in Canada, even an economy car now costs roughly $100 per fill-up.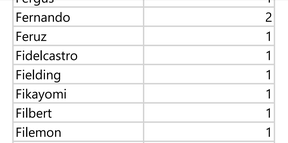 Get all of these insights and more into your inbox every weekday at 6 p.m. ET by signing up for the First Reading newsletter here. 

Checkout latest world news below links :
World News || Latest News || U.S. News

Source link