Canada
Canadians can still trust the RCMP (except that one guy): The imagined thoughts of Brenda Lucki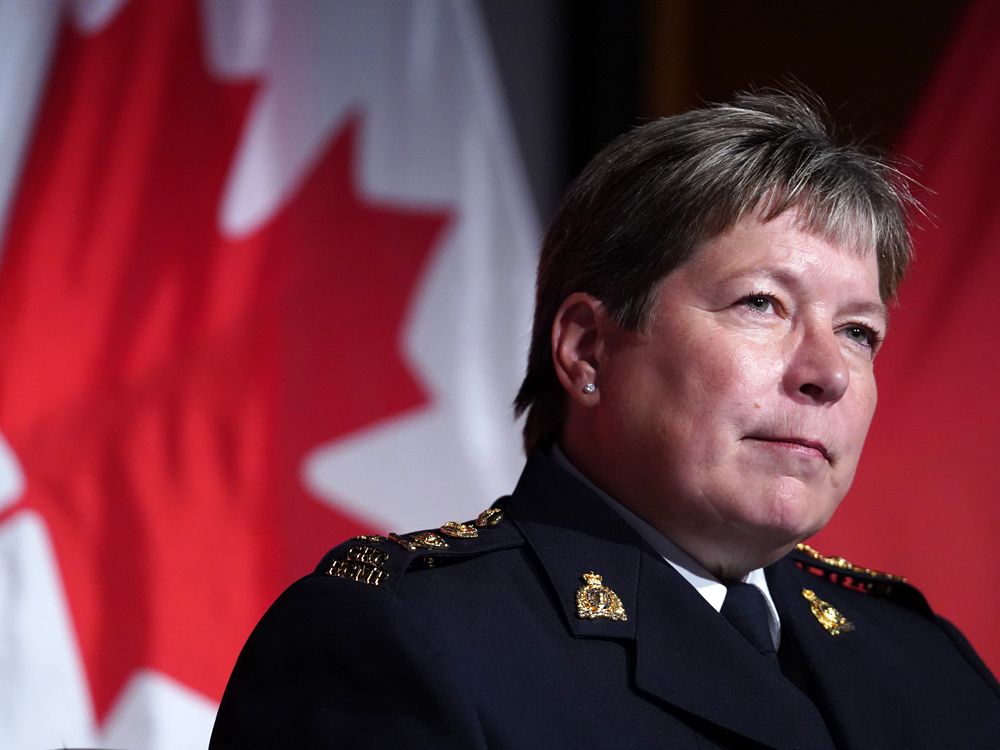 Dear Diary: They're calling it 'interference,' but I would more accurately refer to it as 'an actionable opportunity moment'
Article content
RCMP Commissioner Brenda Lucki has found herself in the political spotlight this week after Nova Scotia's Mass Casualty Commission uncovered evidence that she tried to push investigators to prematurely release sensitive information about Canada's worst-ever mass shooting in order to help Ottawa justify a planned firearms ban.
Article content
In the first days after a gunman murdered 22 people in Nova Scotia, RCMP on the ground were being deliberately coy about the make and provenance of the weapons used in order to avoid compromising an FBI investigation into their origin. But in a tense meeting, Lucki allegedly demanded they release it anyways to help boost some "pending gun control legislation" from the federal government. It sure looks like a case of Canada's top Mountie trying to do the Trudeau government's political bidding, but here's a guess that Lucki would disagree.
In Dear Diary, the National Post satirically re-imagines a week in the life of a newsmaker. This week, Tristin Hopper imagines Lucki's thoughts from this very eventful week.
Monday
Article content
On their face, the allegations look bad: A top Mountie appearing to intervene in an active criminal investigation for political ends, and the whole thing coming to light thanks to internal RCMP notes revealed during a federal inquiry. But if there is public worry about this alleged "wrongdoing," it is only because of an acute public misperception of what happened. Because the truth is: Nothing happened, no wrongdoing was committed or considered, and the Canadian public can still place its full trust in the RCMP (except for the select RCMP documents which contradict the preceding and are thus obviously incorrect). Anyway, this will all blow over just like that Robert Dziekański incident. Our senior leadership saw there was a problem, we took immediate action to fix it and public faith in the RCMP has never been higher.
Article content
Tuesday
They're calling it "interference," but I would more accurately refer to it as "an actionable opportunity moment." Did you know the Chinese use the same word for crisis as for opportunity? Just because we Mounties happened to be investigating a horrific gun massacre didn't mean we couldn't also consider how the tragedy could be put to good ends. This is a philosophy that I've proudly followed from my earliest days as a patrol officer. When responding to a stabbing in Montreal, I told the victim just before he passed out that "you should probably consider avoiding rough areas at night." When we freed a Saskatchewan woman from two weeks of forcible confinement at the hands of her boyfriend, I told the gal, "You should probably break up with this guy." The advice wasn't always welcome, but I suspect they took it to heart in time.
Article content
Wednesday
The very fact that this is being considered a "scandal" is ultimately a failure of Canadian civics education. Policing isn't like the old days; I can't just send out a bunch of guys in yellow pants to shoot the bad guys. The Canadian public expects a more holistic "whole of society" approach to law enforcement. If we catch a repeat sex offender, it's our job to consider the root causes of what prompted him to lash out against the community. If we bust a shipment of tainted heroin, we owe it to the community to advocate for that drug's legalization. And if we sell some serial domestic abuser a surplus police car that he then uses it to shoot up Nova Scotia with illegally obtained firearms, it's our solemn responsibility to consider whether those guns should be made even more illegal.
Article content
Thursday
As the public face of the RCMP, it's heartening to know that my government has my back. How many times in recent years have we seen a police force thrown under the bus for political expediency? But not in Canada; Prime Minister Trudeau told a press conference in Rwanda he still has full confidence in my leadership. Although I must admit my suspicions were raised the other day when — while signing a routine sheaf of official documents from cabinet — I noticed that one of the papers was a registered letter claiming "full and solitary responsibility for requesting the invocation of the Emergencies Act." The public safety minister said it was a "joke" just to "see if I was paying attention." It's also a little unusual that Trudeau ended our call today by asking me to make a public statement saying that the airport delays were all my idea.
Article content
Friday
I will not pretend that these are not trying times, but it's in these moments that I draw the most strength from the proud heritage of the red serge uniform that hangs in my closet. I think of the men who bravely hunted down the Mad Trapper while still taking time to send talking points to Ottawa about new federal prohibitions on trans fats. I think of the crew of the St. Roch, who became the first to circumnavigate North America without it distracting from their core mission of finding data points for cabinet to justify a new cigarette tax. And I think of Sam Steele, who successfully maintained law and order in the Klondike while helping to lobby for a ban on single-use plastics. At least … this was my read of the history.
Checkout latest world news below links :
World News
||
Latest News
||
U.S. News
Source link