Canada
Canada inks deal to replace army's Second World War-era sidearms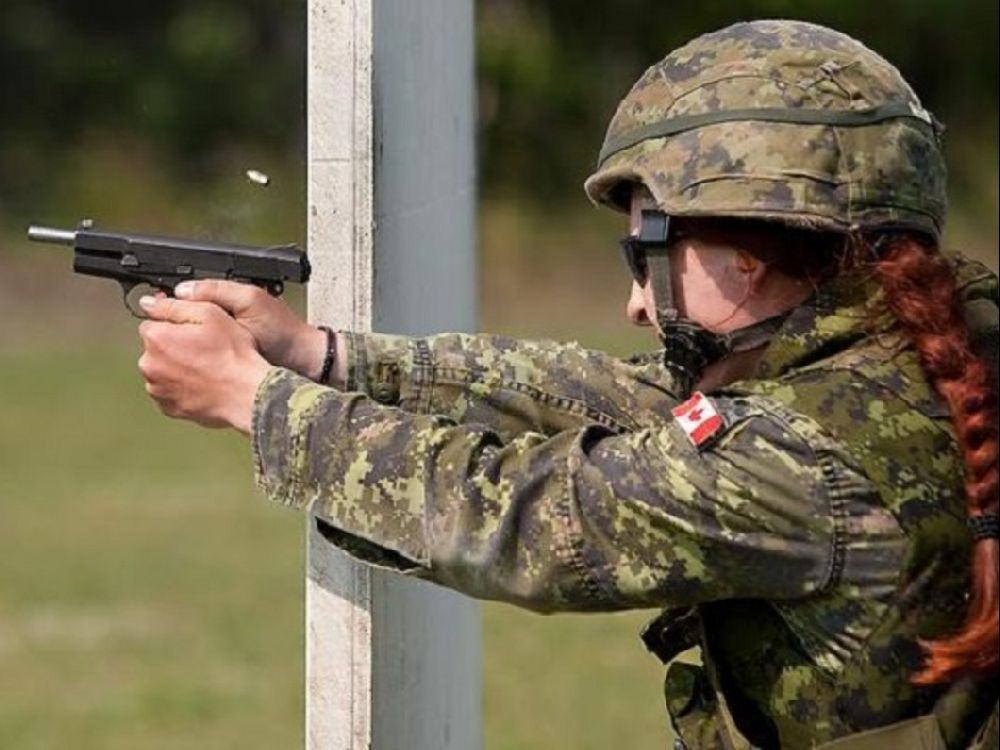 Deal with Victoria, B.C. based armourer will replace Canada's ancient Browning Hi-Power pistols with 7,000 new, modular Sig Sauer P320 handguns — with an option for 9,500 more
Article content
After a decade-long procurement drama involving false starts and accusations of rigging the outcome, Canadian soldiers should expect replacements for their second world war-vintage sidearms by the middle of next year.
Article content
A Department of National Defence press release issued early Friday morning announced the signing of a US $3.2 million (CAD $4.3 million) contract with Victoria, B.C.-based armourer M.D. Charlton to purchase Sig Sauer P320 handguns and holsters as part of its C22 full-frame modular pistol procurement program.
Article content
The program will initially purchase 7,000 pistols for use by the Canadian Army, with options for up to 9,500 additional weapons for the Royal Canadian Air Force, Royal Canadian Navy and military police services.
If all options are exercised the contract value will grow to $7.6 million.
Delivery is expected to begin in the middle of next year.
The new pistols will replace CAF's current sidearm — second world war era 9mm Browning Hi-Powers, a firearm whose number of working samples in CAF's inventory is dwindling due to a lack of spare parts.
The new pistol will use the same ammunition as the previous guns.
Article content
In 2018, Sig Sauer beat out fellow firearms giant Glock in securing a deal with the United States government to supply nearly half a million P320s to replace their aging Beretta M9 pistols — the U.S. Armed Forces' standard-issue military sidearm since 1984.
One week ago, Australia announced an AUS $500 million (CAD $437.6 million) deal to upgrade small arms used by the Australian Defence Force (ADF,) including Sig Sauer's P320 handguns and MCX carbines.
In 2013, Great Britain spent around CAD $14 million CAD replacing their second world war era 9mm Brownings with 25,000 brand-new Glock pistols, a process that took less than three years.
Launched in 2011, Canada's 11-year journey to replace the elderly sidearm was one fraught with delays, intrigue and accusations of favouritism by prospective vendors.
Article content
The Ottawa Citizen's David Pugliese previously reported last year that the federal government was ordered to restart its pistol procurement from scratch by the Canadian International Trade Tribunal (CITT) after allegations of bid rigging by one of the competing vendors.
Ottawa-based outfitter Rampart International, representing Austrian gunmaker Glock Inc. accused the federal government's big process of requiring "certain design types which serve no legitimate operational requirement and favour certain bidders."
The process spent several years in limbo after protests over demands that the winning bidder must manufacture the firearms at Colt Canada's plant in Kitchener, Ont. — a process they say was tantamount to turning over proprietary manufacturing processes to a competitor.
Article content
Defence analyst and senior Macdonald-Laurier Institute Fellow Richard Shimooka said Canada's defence procurement process has become choked with layer upon layer of bureaucracy without any single point of oversight.
"There's been an over-reliance on bureaucratization and process instead of good management techniques in order to undertake defence procurement," he told the National Post.
The problem, he said, is magnified by the involvement of as many as six separate agencies and groups, all with a say in procurement.
"There's no real single leader that can go and crack heads, no single point of accountability," he explained.
The Americans, Shimooka said, have made significant process in fixing similar problems with their procurement system.
Article content
"Congress has the ability to change budgets laws, and will often zero budgets if they don't feel the United States government is getting value for its money," Shimooka said.
"Canada doesn't have that."
During the 2019 federal election campaign and subsequently referenced in the Prime Minister's 2019 mandate letter to former Defence Minister Harjit Sajjan, the federal Liberals promised to streamline defence procurement by creating a dedicated agency.
Despite Sajjan saying in 2020 that much of the work on that front had already commenced, no such agency ever materialized.
"That's long gone," Shimooka said.
• Email: [email protected] | Twitter: bryanpassifiume

Checkout latest world news below links :
World News || Latest News || U.S. News

Source link