Canada
Bill Morneau is 'much more worried' about Canada's economic prospects now than when Trudeau was first elected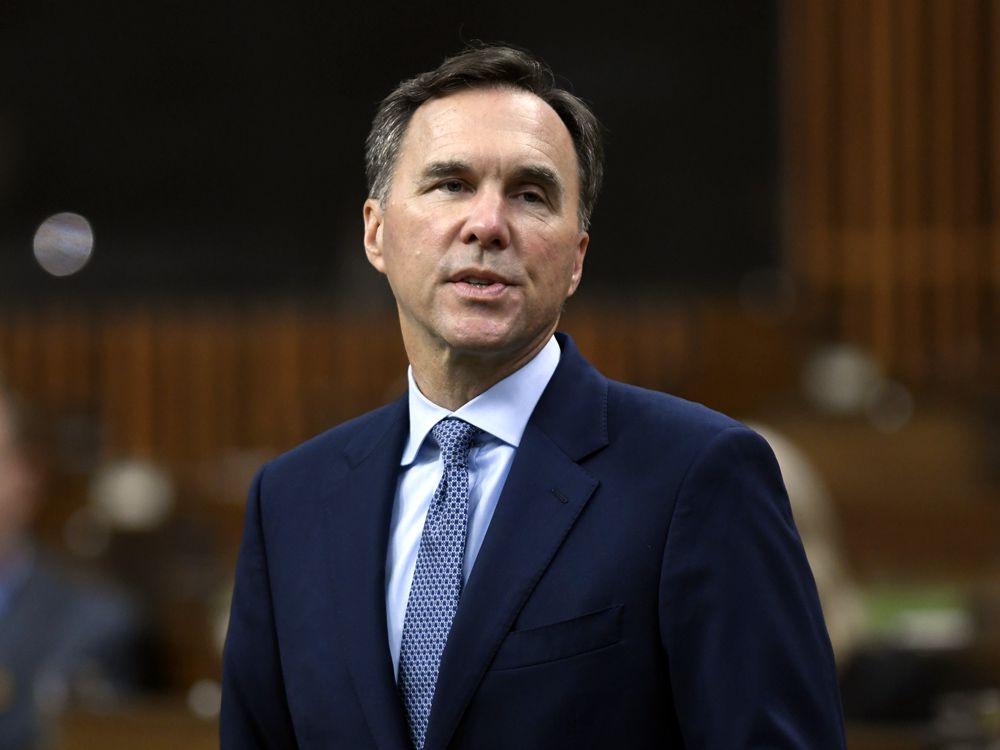 The ex-finance minister gave a series of critiques of his former government's economic policies in his first public speech since leaving office in 2020
Article content
Former Liberal Finance Minister Bill Morneau says he is "much more worried" about the country's economic prospects now than when Justin Trudeau first came into power, criticizing the government for focusing on ways to redistribute wealth instead of increasing the "collective prosperity."
Article content
Speaking at a dinner organized by policy think tank the C.D. Howe Institute on Wednesday evening, Morneau delivered a series of critiques of his former government's economic policies in his first public speech since he left office in 2020.
"When I look at politics in Canada today — from the perspective of a former insider — I have to confess that I'm much more worried about our economic prospects today, in 2022, than I was seven years ago," he said, referring to when Justin Trudeau was first elected prime minister and he became finance minister.
"And it bears repeated: We're facing even stronger headwinds in the coming decades."
Morneau said that his biggest concern all his career, including when he entered into politics with the Liberals in 2015, has been the "pace of economic growth in this country."
Article content
The businessman and former chairman of human resources giant Morneau Shepell (now called LifeWorks) said the federal government isn't preoccupied enough with the country's lack of competitiveness and productivity growth. He said they are "fundamental problem" facing Canada's economy, which is living "off our past success."
"So much time and energy was spent on finding ways to redistribute Canada's wealth that there was little attention given to the importance of increasing our collective prosperity — let alone developing a disciplined way of thinking and acting on the problem," Morneau told the audience.
"Though there have been nods to it from time to time, there is no real sense of urgency in Ottawa about our lack of competitiveness. It's like we're the proverbial frog in the pot, not realizing what happens to us as the heat gradually rises," he added.
Article content
To illustrate his point, the former minister said that Canada's real GDP rose only 1.3 per cent on average between 1982 and 2019, an issue he said is "directly" linked to downward productivity growth.
"Between 2000 and 2019, Canada placed 25th out of 36 OECD countries when it came to productivity growth," he said.
"Let me put it another way. If we had maintained our rate of productivity growth from 2000 on, the average annual income for a Canadian worker would have been about $13,500 higher in 2019."
"Anemic" capital investment and lacklustre investments in research and development are key parts of why the OECD projects Canada's GDP growth projections will be amongst the worst of most member countries over the next 40 years, he added.
Article content
Throughout his five-year tenure, Morneau says he tried to keep his government focused on working towards "sustained economic growth," but his efforts were constantly overshadowed by other issues that "seemed more politically urgent, even if they weren't truly as important."
On a more personal note, Morneau said the five years he spent as finance minister were both the "best" and the "most challenging" moments of his career.
"Politics takes a toll. Stay too long and it can erode your ability to look at problems dispassionately. It can harden you, make you less trusting, and make it tougher to solve the very big problems we're facing as a country and as a planet," he said.
"I have much more scar tissue from five or six years in politics than I do from 25 years in business."
Article content
He said some of his proudest career achievements were during his time in politics, but he was also surprised at the level of opposition he faced — both from opposition parties but also within his own party.
"Sometimes it's other MPs who think they can do a better job than you. Sometimes it's staff in other offices or the (prime minister's office) who also think they can do a better job than you," he told the audience.
It's like we're the proverbial frog in the pot, not realizing what happens to us as the heat gradually rises
Morneau also listed some of his favourite "life-changing" policy achievements during his tenure in federal politics: creating the Canada Child Benefit which helped "cut child poverty in half," as well as increasing the amount paid out by the Canada Pension Plan from one quarter to one third of recipients' final pay upon retirement.
Article content
He also took pride in his government's imposition of a carbon tax, its "great strides" on immigration as well as "swift and meaningful" decisions like renegotiating the free-trade agreement with the United States and purchasing the Trans Mountain Pipeline.
Despite leaving politics over one year ago, Morneau still managed to get some digs in on his former Conservative opponents, namely Andrew Scheer's dual American-Canadian citizenship while he was leader of the opposition.
"It was May 2019. Back then, the words "global pandemic" were largely confined to history books, or speculative fiction. Donald Trump was still president. Not to be outdone, Canada also had an American as the leader of a federal party," Morneau joked at the beginning of the speech.
Article content
Though he did not name him directly, the former finance minister also had choice words for his Conservative leadership candidate and his then-finance opposition critic Pierre Poilievre.
"There are politicians — who absolutely do know better — who are not only taking those institutions for granted, they're willing to actively undermine them if it gives them the slightest political advantage," he said.
"That might help you sell a few more memberships. It might even help you win an election. But when you put 'exciting the base' ahead of crafting good policy, when you cynically pander to conspiracy theorists, you are doing incalculable harm to the country you claim to love and to the people you seek to lead."
Checkout latest world news below links :
World News
||
Latest News
||
U.S. News
Source link