News
Australia election 2022 live: Albanese to headline Brisbane rally; Morrison prepares for campaign launch
At noon the Coalition campaign launch will kick off at the Brisbane Convention Centre. Scott Morrison and the Liberal National Party were greeted by union protesters:
Listening to the speeches, the core grievance was the increased casualisation of work, which speakers noted the Coalition had encouraged by using the building code to indirectly ban clauses in workplace pay deals that limit employment of casuals and allow casual conversion.
At the launch, Nationals leader Barnaby Joyce, and Liberal deputy leader Josh Frydenberg, will speak before Morrison.
Also in attendance are the employment and acting education minister, Stuart Robert, superannuation minister, Jane Hume, and Queensland MPs Luke Howarth and Bert Van Manen.
The Coalition are playing defence in Queensland. Polls show that Labor is competitive in Brisbane, held by Trevor Evans, and Ryan, held by Julian Simmonds, with the Greens a close third and potentially able to leapfrog Labor and able to win in those seats. Longman, which takes in Caboolture and Bribie Island just north of Brisbane, is also a traditional marginal and Labor target.
'Mood for change': Kevin Rudd kicks off Labor's Brisbane campaign rally
Josh Butler
Labor's Brisbane campaign rally has kicked off with the playing a montage of the party's own TikTok videos on a big screen.
A few gags about Star Wars and viral video memes isn't the most traditional way to gee up an election rally, but the hundreds of red-shirted Labor supporters seemed to lap it up.
It came after a live DJ at the front of the room spun a slew of upbeat dance and disco music. "DJ Albo" and his normal playlist of 80s dad-rock somehow didn't make the cut.
Former PM Kevin Rudd kicked off the event, listing a veritable 'I've been everywhere man' list of seats he's visited during the campaign – and roared "you can feel it right across this nation of ours today, there is a mood for change."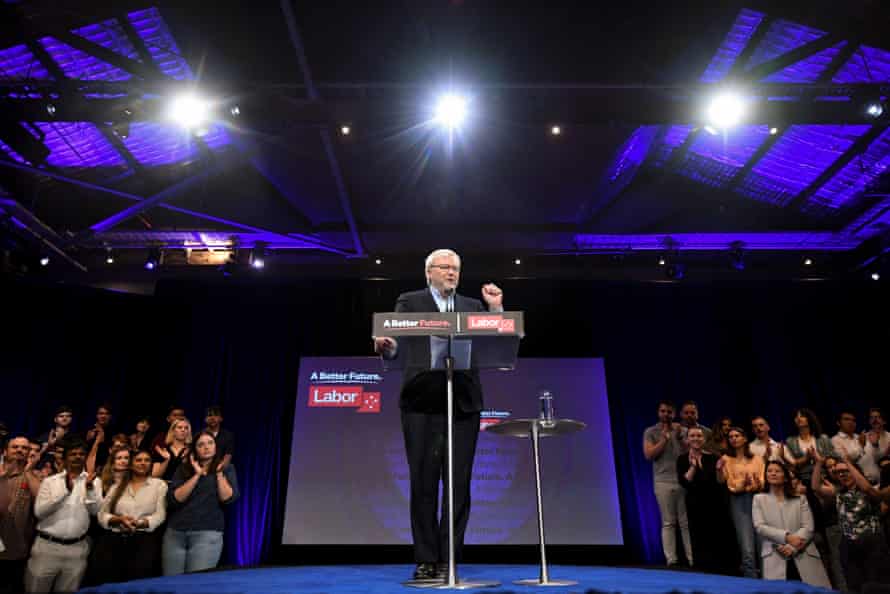 "The people of Australia want to toss this mob out," Rudd said – harking back to the famous News Corp "Kick This Mob Out" front page on the eve of the 2013 campaign which urged readers to vote out Rudd's Labor.
In case you can't quite remember events from political campaigns long gone, here is a helpful refresher:
Guardian Australia political reporter Josh Butler has joined Labor's campaign bus and is in Brisbane where the opposition is holding a campaign rally.
We will bring you updates as they come.
Queensland records two Covid deaths
Two people with Covid-19 have died overnight in Queensland. The state recorded 4,812 new cases on Sunday, with 417 people in hospital, 17 in ICU and two on ventilation.
Bandt says he has been spending time in coal communities in Queensland and New South Wales with a clear message "coal and gas workers are not the enemy".
'One coalminer said to me in New South Wales, look, the worst kept secret in this area is coal has a use-by date,' he said.

The problem is all the others, Liberal, Labor, keep saying, "We can keep opening coalmines to 2050 and meet climate targets, we can't".

Workers and communities know this – they're looking for an honest discussion and a plan.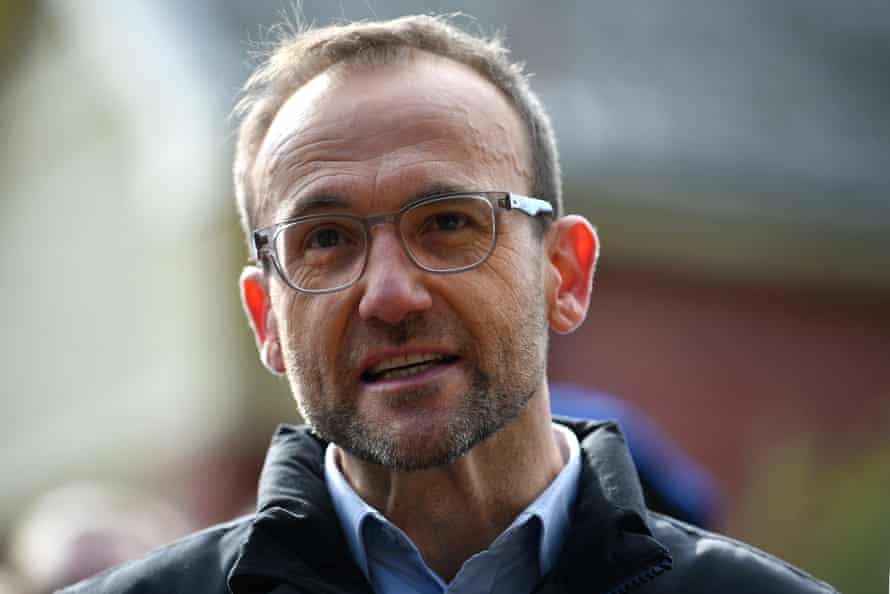 Greens leader Adam Bandt spoke to the ABC earlier where he was discussing the future of the Greens and the Independents who may end up the winners in a fractured political landscape if they hold the balance of power.
Bandt is very clear about what the Greens want to see: "It is time to turf out this terrible government. They have had years in power, they have made housing more expensive and haven't acted on the climate crisis."
"We are a real chance in lower house seats, in inner-city Brisbane, in northern NSW, and here in Melbourne, in McNamara, amongst others. We're campaigning very strongly some seats that there are independents running with a shot.

"As you say, in those seeds go there is a chance that they might knock off some Liberal members we are recommending preferences to those independents."

"Elsewhere we are recommending preferences to Labor because you want to see a change of government. I think a strong crossbench with a climate focus would get the action this country needs."
Anthony Albanese is expected to use his Brisbane campaign rally to further detail this morning's announcement of $1 billion for advanced manufacturing.
Part of Labor's $15 billion National Reconstruction Fund, the latest block of funding is said to be to "rebuild our industrial base creating new capabilities and opportunities to innovate in transport, defence, resources, agricultural and food processing, medical science, renewables and low emission technologies manufacturing."
The announcement was somewhat light on detail and specifics on what the money will go to – which is perhaps partly explained by the accompanying pledge that Labor would hold "wide-ranging consultations" with unions, state governments, local communities and other bodies to identify projects worthy of cash. A major focus will be on "sovereign capability" for "essentials."
"Labor's plan will give businesses access to capital to diversify operations, industrial processes, and use research and development to climb the technological ladder," Albanese's announcement reads.
"Serious countries should make things. Serious countries can stand on their own two feet when it comes to manufacturing essentials."
After appearing on the ABC's Insiders, Anthony Albanese will headline a Labor campaign rally in Brisbane this morning.
The opposition has its eyes hungrily set on the seat of Brisbane, held by Coalition assistant minister Trevor Evans on a 4.9% margin.
The rally will also feature Queensland premier Annastacia Palaszczuk, former prime minister Kevin Rudd, former treasurer and ALP president Wayne Swan and numerous Labor frontbenchers from the Sunshine State.
Also billed on the lineup is Madonna Jarrett, Labor's candidate for Brisbane – a clear sign the ALP has high hopes for this seat next Saturday.
The rally will go up against the Coalition's campaign launch, also in Brisbane today – literally just across the city's famous river, affectionately known as the "brown snake".
Albanese is not expected to give a press conference today and is to head to Perth this afternoon.
Record number of Australians voting early
Australians are voting early in record numbers in the 2022 federal election, with many saying they're "sick" of the drawn-out election campaign and want to avoid expected queues on 21 May.
Some 314,095 Australians cast their ballots on the first day of early voting this year, almost three times the 120,000 people that voted on day one of pre-poll in 2019.
As of Friday, more than 1.2 million of the 17 million Australians registered to vote had already pre-polled after just four days of early voting.
The safe Nationals-held seat of Hinkler topped the list, with 18,060 early voters, followed by the marginal seats of Gilmore (16,902), Paterson (16,271) and Richmond (15,111), according to data released by the Australian Electoral Commission.
No new Covid deaths recorded in ACT
Six people with Covid-19 are in ICU in the ACT. The territory recorded 885 new cases on Sunday, with 75 people in hospital and two on ventilation.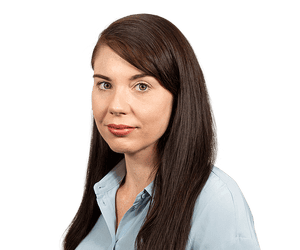 Melissa Davey
Samantha Hodgson met all the criteria for a possible heart attack, saying:
A tight, crushing pain that started in my shoulders and spread through my chest and ribcage. I was dizzy, and the pain had escalated over 24 hours so that it hurt to breathe.
Hodgson was also on day nine of being infected with Covid-19, and until the chest pain hit, she had been feeling better. According to health guidelines, she needed an ambulance for a suspected heart attack.
But when Hodgson, who lives in Potts Point in Sydney, rang triple zero, the operator told her "You could be waiting a while, we don't know how long it might be". In too much pain to walk far, she put on two masks and called an Uber to take her to the nearest public hospital.
When arrived she was told to wait outside in the rain because she had Covid.
Hodgson said:
I sat under a little tarp outside of emergency, next to a carpark. I stayed out there for at least two hours. I don't remember exactly as I was so out of it.
For the full story on how the pandemic is exposing the cracks in Australia's healthcare system, check out the weekend feature by Guardian Australia's medical editor, Melissa Davey.

Checkout latest world news below links :
World News || Latest News || U.S. News

Source link