Lifestyle
Have you ever wanted to eat cake from a tuna can? At RM25, M'sians now CAN.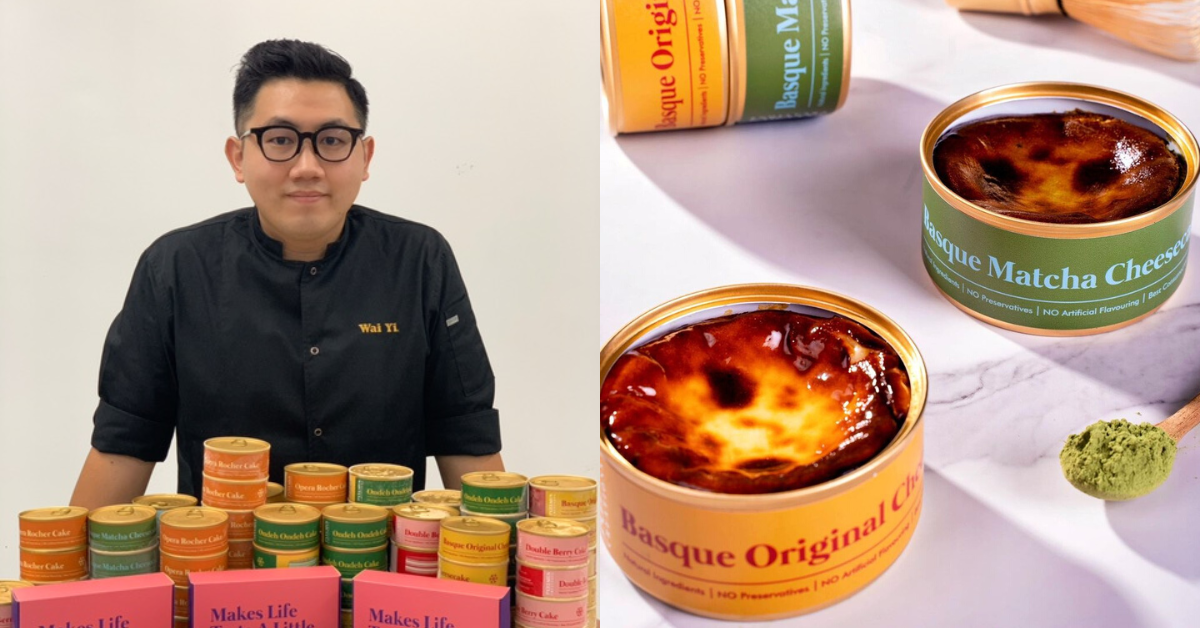 Ask any foodie and they'll say the experience is as important as the taste. 
Eating ice cream in a cone is different from having it in a cup. Dining at a restaurant is different from eating at a hawker stall.
The same can be said for cakes.
Feeling like there was a lack of innovation in how cake is presented, a Malaysian duo started 3 Celsius Creations to make tin-canned cakes.
Baking up an experiment 
The idea first sparked when Leong Wai Yi, founder of 3 Celsius Creations, was scrolling through social media.
There was a news piece about a cafe in China selling cakes stored in tin cans. Inspired by the novel approach, Leong decided to try his hand at it. 
Having run an online bakery for more than five years, it was an interesting challenge for Leong. 
"No one had done such a thing in our country. I thought it would be a good opportunity to venture into this business. Eating cake out of a can is a unique experience compared with having it in a box," he said.
After half a year of R&D and production, 3 Celsius Creations was born in January 2022.
Putting the layers together
Though pretty to look at, the tin cans aren't just for aesthetics. Yun, Leong's co-founder, explained that packaging the cakes this way preserves the flavours better.
The cakes can also be kept for longer without the use of preservatives, additives, or colouring, up to 10 days chilled and 1-2 months frozen.
"It's the perfect portion to consume. One can is equivalent to a slice of cake," Yun described. The tin cans are recyclable and can be reused for other purposes, like gardening and simple decorating.
As for the cakes, they're an art form themselves. First, they're baked separately and then assembled in tin cans. A scale is used to meticulously measure each of the seven to eight layers for a balanced bite.
The process ensures that customers will enjoy the crumbly biscuit base, soft fluffy sponge cake, and creamy mousse proportionately.
With a team of five, 3 Celsius Creations begins work at 8AM on production days. It takes 12 hours to make a few batches, with one batch taking up two hours every time. A total of 600 cans are usually produced at the end. 
As of now, the brand carries seven flavours on its menu—Opera Rocher, Double Berry, Ondeh Ondeh, Classic Tiramisu, Peach Oolong, Original Burnt Cheesecake, and Niko Neko Matcha Burnt Cheesecake.
Brainstorming for new flavours happens once a month and is a team effort. Everyone pitches their personal favourites before choosing the best idea for R&D. It typically takes a month or two before they launch a new flavour.
Of course, the cake ingredients play a key role in differentiating the brand from others. 3 Celsius Creations opts to source theirs from well-known international names, such as Elle and Vire, Cacao Barry, and Boiron. 
At a price point of RM25 for one can of cake (160g to 180g), 3 Celsius Creations is clearly targeting those with higher spending power. Though, its quirky packaging would also attract a younger demographic who want a novel experience.
Showing what they can do
The concept of storing cakes in a can is not new. One example is Fuwa Cans, where cakes are packaged in a soda can, an idea started by Japanese brand Okashi Gaku. Locally, we have our own Fuwa Can business too: The CANs Malaysia. 
Like Okashi Gaku, they can their cakes in transparent soda-style cans as per the trend. They also started the business not so much for the consumption experience, but to address storage issues at parties.
As attractive as the tinned or canned cake concept is, the 3 Celsius Creations team acknowledged that it's still a rather foreign idea to Malaysians.
Thus, the biggest challenge they face is introducing the product to the mass market. Most people are quite sceptical at first.
This also explains why the brand is curating locally familiar tastes instead of experimenting with bolder flavours.
"Customers are always curious. 'Are the cakes factory-made, do they contain any preservatives?' So we have to patiently reply and inform our customers," Leong said.
To promote the brand and normalise its tuna-can-like packaged cakes, the brand will start selling through vending machines. This is similar to what Okashi Gaku did for its Fuwa Cans in Singapore. 
Choosing the right location for this would be crucial though, as there's the risk of not getting enough foot traffic and making losses with unsold products in the end.
3 Celsius Creations currently operates on a pre-order basis, but they're hoping to also expand into other online cake delivery platforms.
Since they're based in Klang, this might make them more accessible to customers that live further away.
Other than expanding their reach, they will also be applying for a halal certificate to attract the Muslim crowd.
Featured Image Credit: 3 Celsius Creations

Checkout latest world news below links :
World News || Latest News || U.S. News

Source link