Bikes
5 Motorcycles That Recall The Essence Of Riding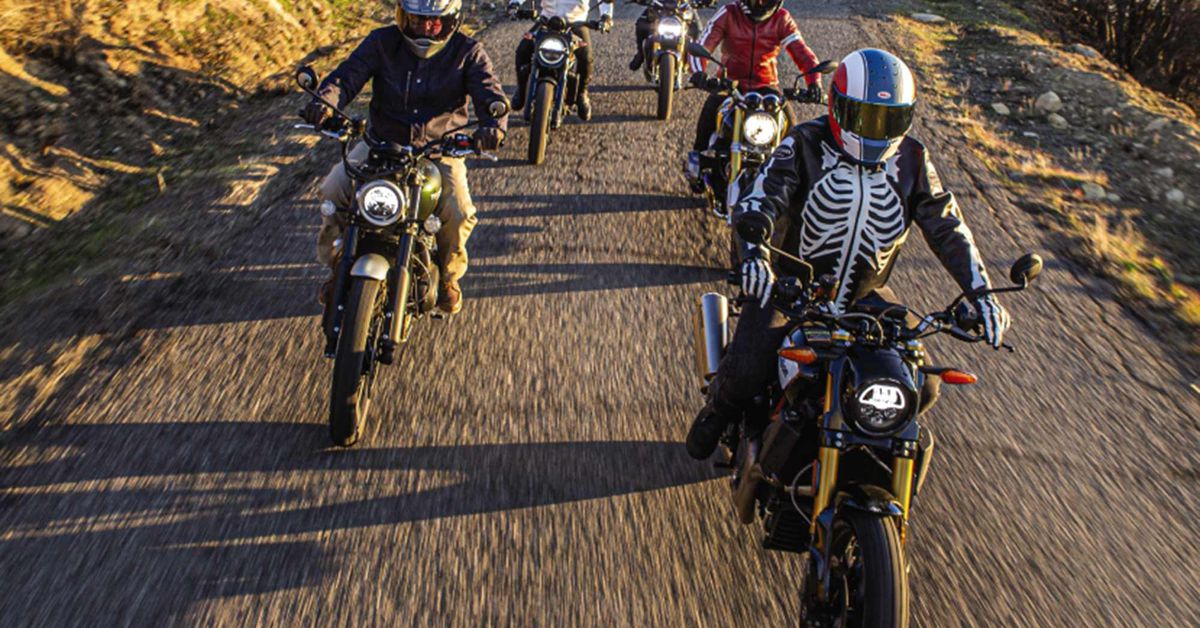 .embed-container position: relative; padding-bottom: 56.25%; height: 0; overflow: hidden; max-width: 100%; .embed-container iframe, .embed-container object, .embed-container embed position: absolute; top: 0; left: 0; width: 100%; height: 100%;
You can go farther on many bikes, and faster on others. There are many motorcycles that would also give you greater comfort and convenience. But, I ask you, are you here to ride free on comfort and convenience? Nice to have, sure, but we are here for fun. And so are these five bikes. They represent pure joy and personality, the essential spirit of good times on two wheels. There is retro inspiration here, but these are modern motorcycles with ride-enhancing tech that generally runs unnoticed in the background while your smile leads you down the road.
What's particularly compelling here is that each bike represents a spiritual and cultural path related to the heritage of its manufacture and design. So even if the actual engineering that's created them is becoming more similar on the inside, we are looking at great standard-style machines that bring the best of their national origins forward into modern expression.
"If you can't keep up, you can't get down!" the jacket reads. ­Husqvarna Svartpilen 701 is quick, nimble, and light, bringing moto/tracker ethos to a machine of high style. (Jeff Allen /)
That is, the inspiration for the Indian FTR 1200 S is American flat track; the Ducati Monster 1200 S channels the best of Italian superbikes; the BMW R nineT brings us classic German roadster vibes; and, well, the last two are slightly different. The Husqvarna Svartpilen does bring classic Swedish dirt bike/tracker vibes with its big single-cylinder engine and stylish number-plate-like bodywork, but it's obviously got more going on. And the Triumph Scrambler 1200 XC is sort of a modern interpretation of the TR6 Trophy, the do-it-all 650cc twin that dominated desert and scrambles racing in the 1950s and '60s. It's a bit of Britain, via the California high ­desert, with a dash of modern adventure bike.
This is normally where we say we gathered at our Irvine, California, headquarters after getting full performance numbers and running all the bikes on our in-house Dynojet 250i dyno, and then hit the road. Then we'd complain about lane-splitting for three hours to get out of the great Southern California sprawl. Which is exactly what we did: lane-split for three hours and complain about it. But since the time of our multiday test ride, the world as we knew it has ended as the novel coronavirus pandemic necessitated that we put human health before our freedom to roam, and we'll never complain about crowded freeways again.
The past few months have certainly made us ­appreciate motorcycling all the more. It's an individual activity that can be done in a (distanced) group. Adventure and movement are primal desires for most of us, and motorcycling is perhaps more perfect at satisfying these desires than anything else. Our ride to the Central Coast for a few days of roosting around on every kind of magnificent road could not have been better, and the further we get from having done it (and not getting out of the house much), the more perfect it seems.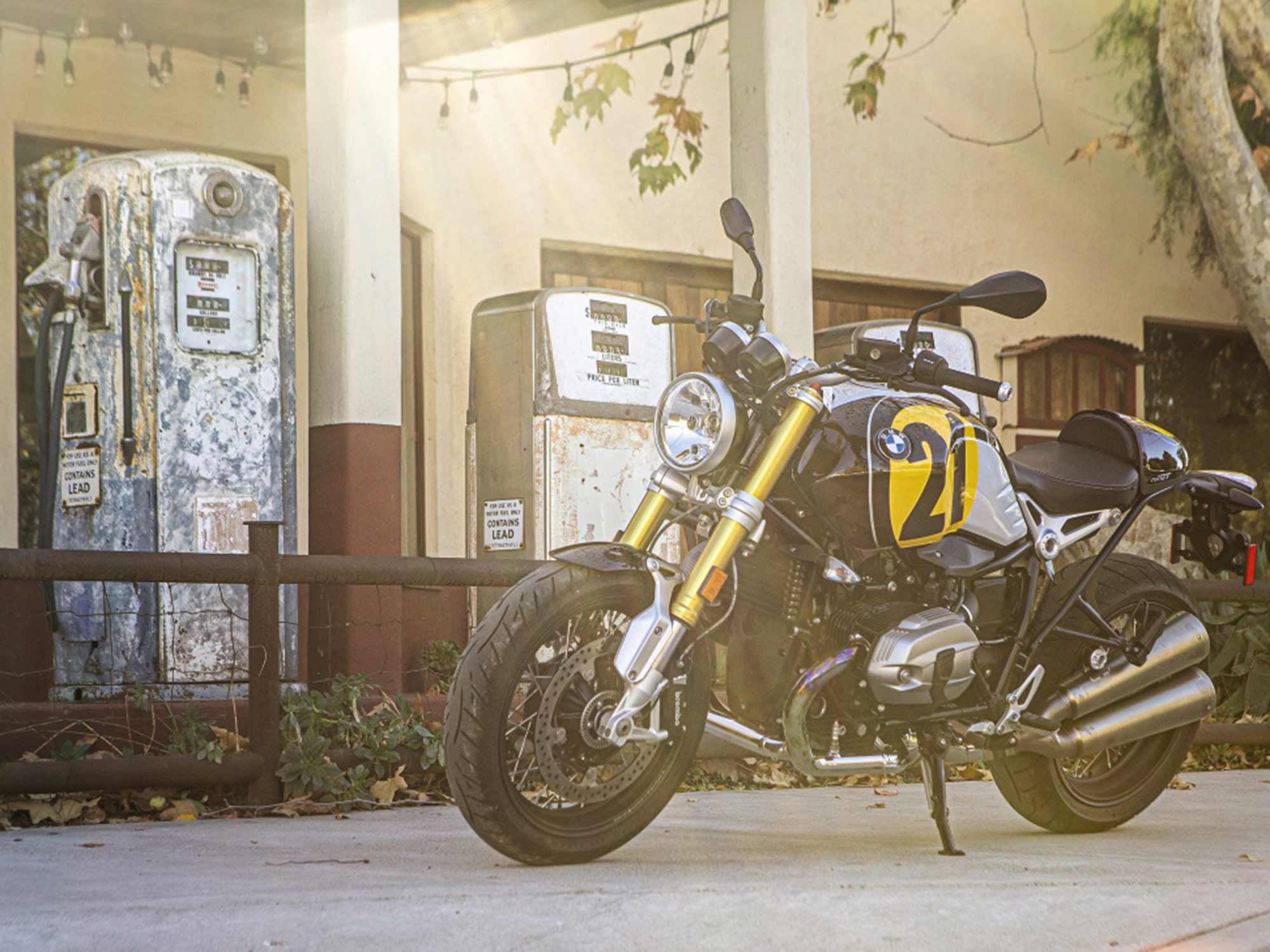 BMW R nineT, heritage, with an adjustable fork. Exhaust note is expertly tuned and soul stirring. (Jeff Allen /)
We rented a big house in a small town called Los Alamos, a census-designated place that straddles US 101 south of San Luis Obispo and east of Vandenberg Air Force Base. Los Alamos is, thankfully, still a bit more rodeo than red wine, a town that echoes with California's history and hard work. But it's stepped forward enough that we could eat a killer meal midweek at an (the one) open restaurant walking distance from our rented pad described as an "Old West Relic built in 1882."
We rode north, west, east, and south on the kind of chilly winter California day that frosts the seats in the morning and makes you worried you might be too cold to have fun. And then it gets just warm enough as that classic golden light starts to beam through the oaks and light up the lush green grass of our rainy season.
Because I got gear to match, I began on the 2020 Triumph Scrambler 1200 XC. It's the more street-oriented version of the big Scrambler versus the XE, the latter of which has longer-travel suspension (9.8-inch front and rear versus 7.8), as well as a longer swingarm. We were perfectly happy with the XC's still-ample travel, and also its lower 33.3-inch seat height (it's 34.7 on the XE). Custom and Style Editor Morgan Gales added, with a smile, "We know it's a scrambler because the seat is brown." The seat padding, for that lean look, is also on the thin side, and for me, at least, was good for less than an hour before getting uncomfortable. Thankfully it was easy and comfortable to stand, due to the dirt-bike-like riding ­position and fat footpegs, giving the rider the altitude and perspective to survey traffic or trail, as required.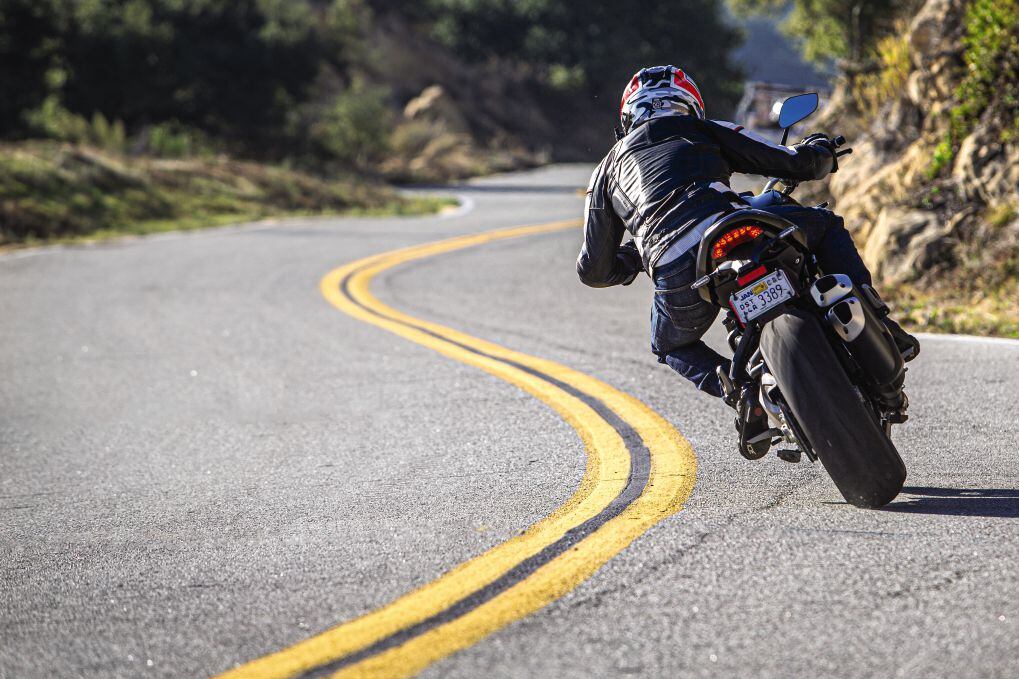 Ducati Monster 1200 S in its natural habitat. It is the best performer of the group. (Jeff Allen /)
The downside was rightly pointed out by Road Test Editor Michael Gilbert. "The tall handlebar, flat seat, and medium-length fuel tank places the rider in the middle of the motorcycle, but there's enough windblast to make you wish for some sort of hump or step in the seat. I found myself constantly using my arms to pull myself back to the tank while on the highway."
None of these bikes is really a highway bike, so no big knock, but the other machines here did block wind better. No bike sucked up bumps more effectively, however: The compliant, long-travel Showa fork and Öhlins shocks give a comfortable ride and work well on unmaintained dirt roads. On asphalt, it isn't nearly as planted as, for example, the Monster 1200 S or R nineT, but it didn't keep us from dragging Scrambler footpegs on all these amazing, often rough, roads we were sampling.
The 1,197cc parallel-twin has a 270-degree crank and counterbalancer, which brings a rhythm that's more like a Ducati than '69 Bonneville, but it sounds great, runs smooth, and makes 76 hp and 71.6 pound-feet, hurling its 475-pound measured dry weight along nicely. In broad terms, the customizable TFT display was really excellent, with a few cool layouts and easy switching among the five riding modes (one of which is the rider's custom setup), but the FTR 1200 S was a little easier to use and has a nice touchscreen.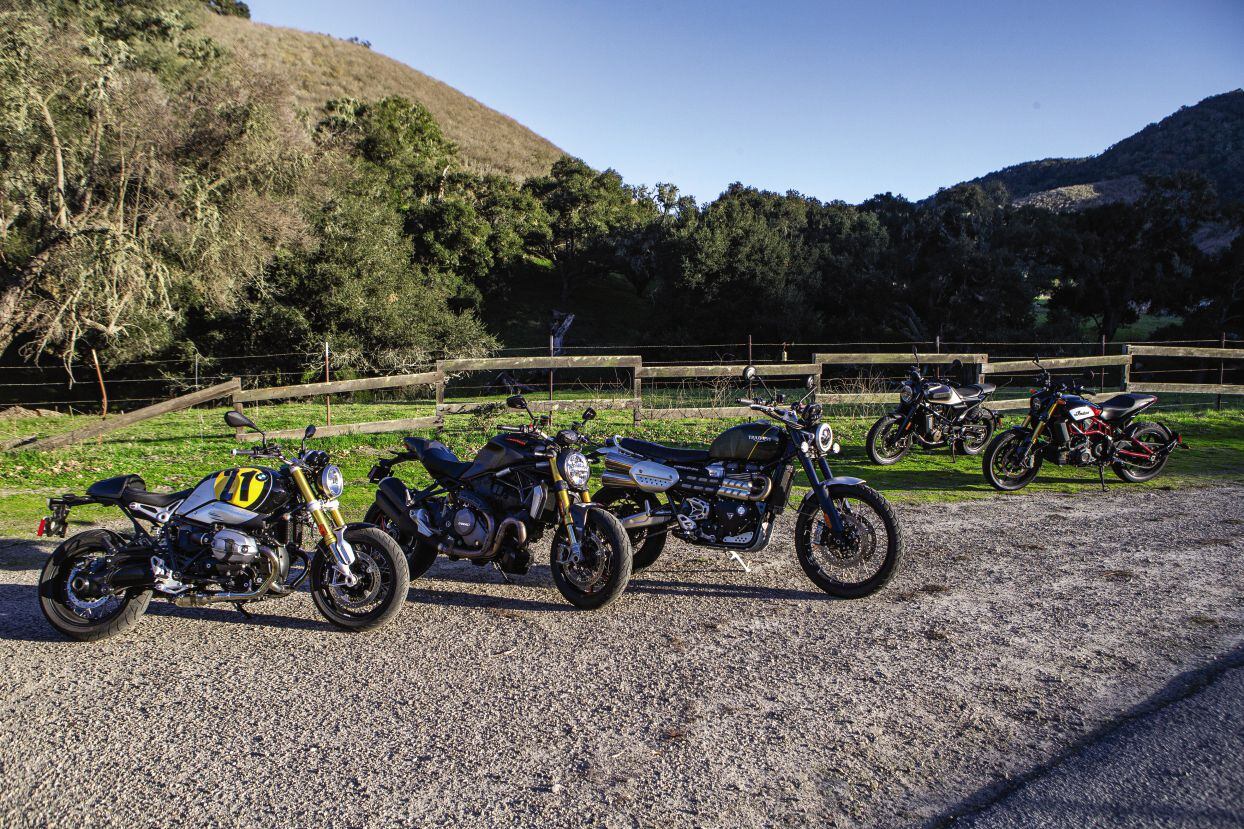 Heaven on earth? Hard to beat the California Central Coast for motorcycling. (Jeff Allen /)
Senior Editor Adam Waheed summed it up well. "What I like most about the Triumph, aside from its pleasing looks and ultra-fine fit-and-finish is how well it rides," Waheed said. "When you want to cruise, it cruises. When you want to wick it up, it's perfectly capable of that too. Sure, it's not as fast as the Monster 1200 S, nor as sweet-sounding as the BMW, but it is the most comfortable and remains true to its working-class ­heritage. It's versatile and value-conscious, offering plenty of premium touches for its $14,000 price. When it comes to form and function, Triumph's Scrambler does it best, while maintaining its timeless character."
There is a lot of timeless character to go around in this group nonetheless. It made us ask ourselves this question, in fact: Is the Monster retro? Well, not as such, and yet it perfectly channels the first Monster of 26 years ago, and is, as much as any Ducati, the spiritual successor to the original Ducati V-twin, the 750GT made from 1971-'74. It's about as simple as a modern, sporting liquid-cooled V-twin can be, and offers stellar performance with a generous level of firm, Italian-style comfort.
But let's talk a moment about a 10.70-second quarter-­mile with a 133 mph terminal speed. We realize, most days, you're not out there narrow-eyed, clutch hand twitching as you hold the revs at 9,000 waiting for the flag to drop at Circuit of the Americas. But this bike will make you wish you were. In fact, you'll dream there were a World Supernaked Championship where part of the race rules are that you have to ride from track to track.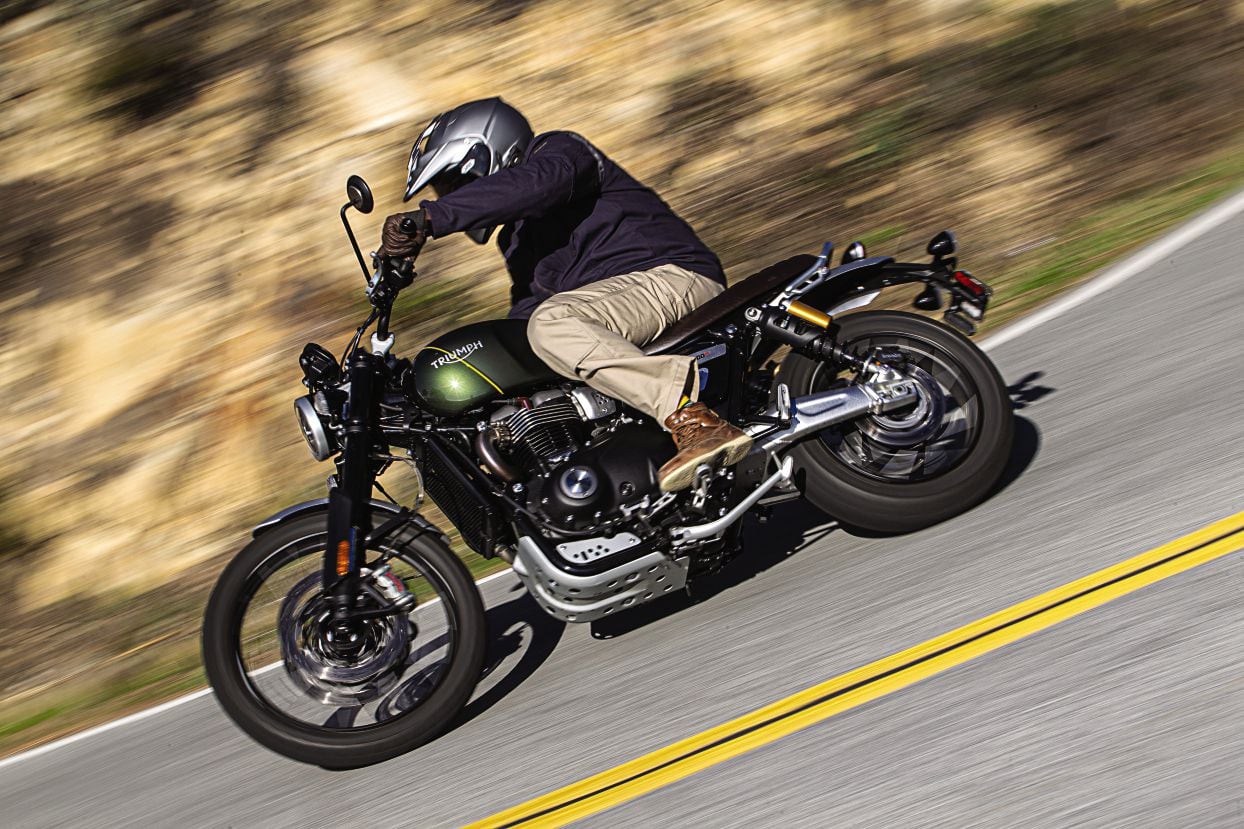 The Triumph Scrambler 1200 XC is a fun and competent road bike, and also pretty capable on dirt. (Jeff Allen /)
"The thing I like most about this bike is its familiar 1198 Superbike-based engine," Waheed said. "Full of torque and character, this engine embodies Ducati. Its rhythmic power pulses make it a blast to ride, plus it is crazy quick and leaps off turns like no other bike in this comparison."
It's also quite comfortable, if firmly suspended, with a forward-tipped riding position that puts your body in a state that engages your mind to eat the road ahead. We measured a 31.6-inch seat height, and the Monster offers nearly an inch of adjustability. From the rider's perspective, human-bike interface is very good. Visually, as you sit on the porch of your rented three-story house as the sun begins to set and gaze out upon the Monster, its left side is a bit of a plumber's nightmare. Monster complexity has gone up (hey, if you want superbike power, you have to have radiators, etc.); the delicacy and visual lightness of the original is lost.
Especially enjoyable as the sun is setting. (Jeff Allen /)
"When I think of Italy, I think of passion, tradition, and fashion," Gales said. "And while any motorcycle can embody passion and the color black is always in ­fashion, this Monster isn't putting it together for me."
It's the ripper of the group by a long way, and yet it is super-refined and exquisitely smooth. Thank the 131.4 hp desmodromic-valve 90-degree V-twin, beautifully set up, fully adjustable Öhlins suspension, and monster (ahem) Brembo brakes. Three ride modes, eight levels of TC, eight levels of wheelie control, three levels of ABS (all of which can be switched off), and up/down quickshifter make it the sweetest, most adjustable riders suite, though the instrument display, menu navigation, and switchgear is good, but not best in this group.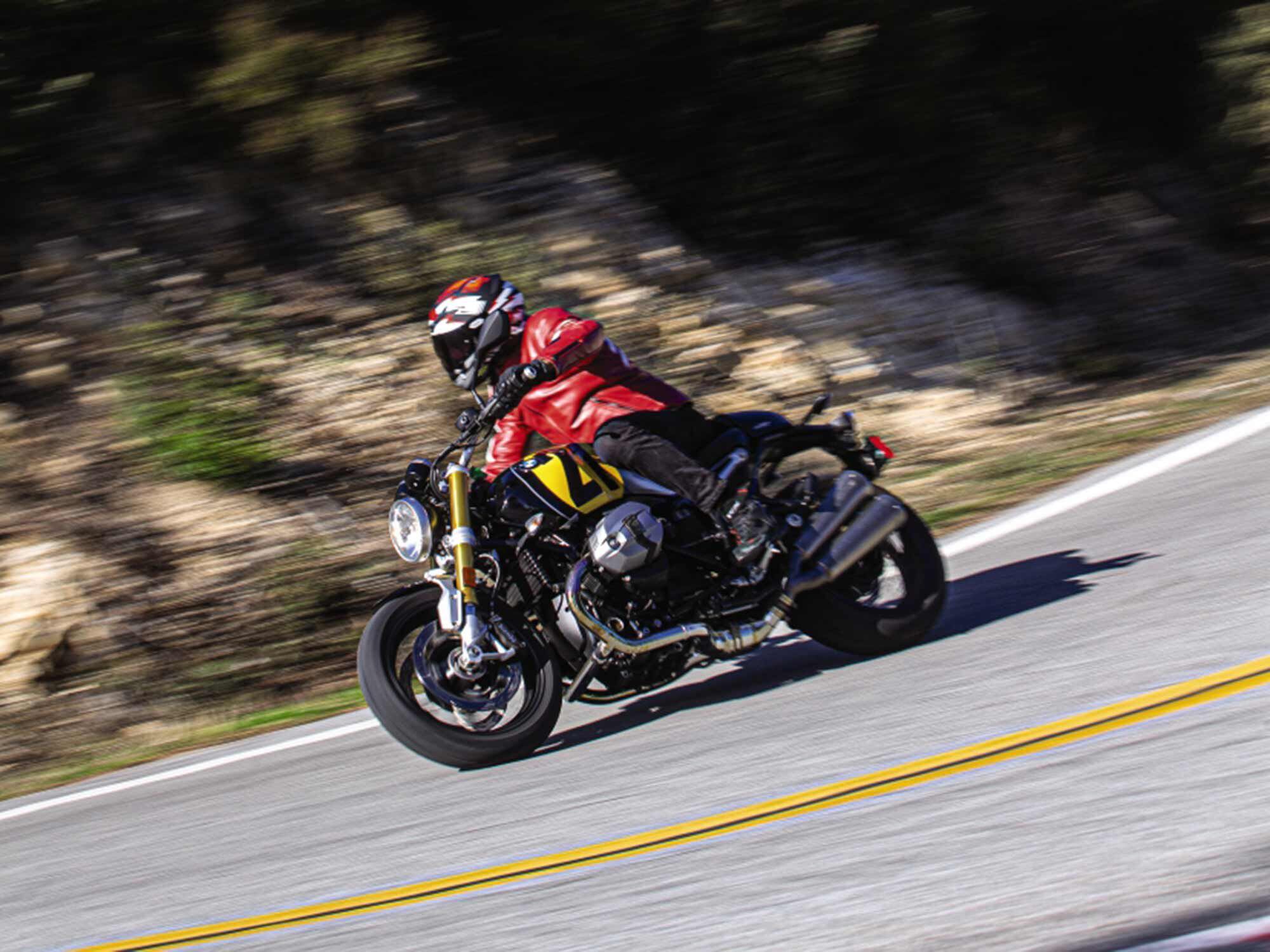 The R nineT feels low and tight on the road. (Jeff Allen /)
As we swapped bikes while exploring around Los Olivos and at sunset in the mountains above Santa Barbara, there was a certain Zen that came with getting on the Monster. Riders felt very much a part of the bike, connected to the point where it sort of disappeared. That can be great in many ways, and also strangely dissatisfying in others as it relates to this group. If you want to win the World Supernaked Championship, there is no other choice.
Racing inspiration can be tricky on streetbikes. ­Flat-track-racing inspiration is even trickier. But Indian crushed it with the FTR 1200, and our S Race Replica is the top of the line, with Akrapovic exhaust, its own paint scheme, and nicely tuned, fully adjustable suspension.
Strangely, this is a "flow" motorcycle on a winding road, yet it is so rowdy that it encourages screwing around. Chunky Dunlop DT3-R tires work with a 19-inch front wheel and 18-inch rear and relatively relaxed rake of 26.3 degrees and long trail of 5.1 inches. Also: 60-inch wheelbase, second longest by 0.2 of an inch versus the Triumph. And it is the heaviest here, weighing in on our scale at 496 pounds without gas, 21 pounds heavier than the Scrambler.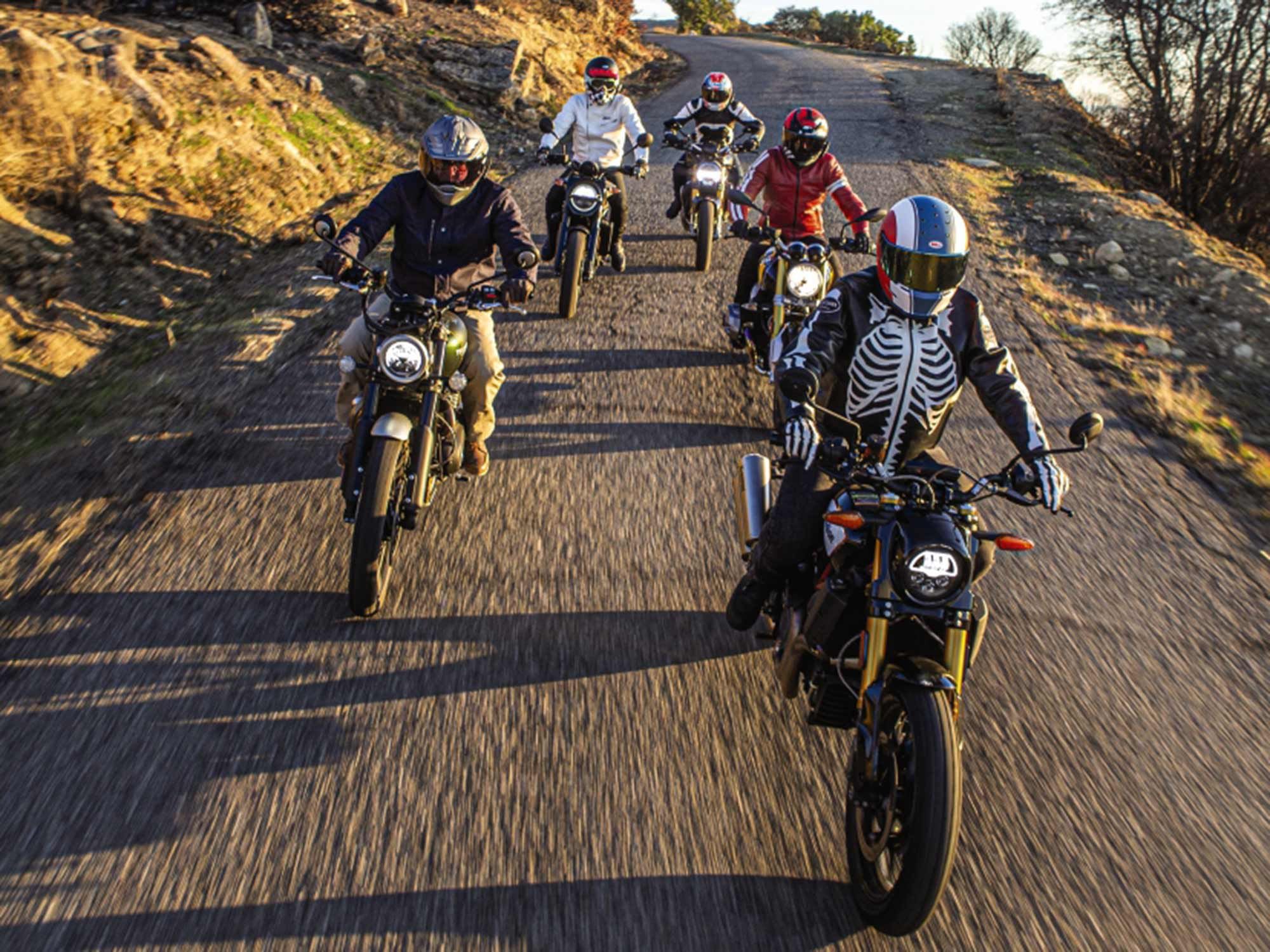 Senior Editor Justin Dawes—decked out in his Vanson "Bones" leathers—leads the pack. (Jeff Allen /)
So when you grab the wide ProTaper handlebar and ask the bike to do something, those big wheels and tires, steering geometry, and general mass offer some resistance, yet the big-block, 1,203cc 60-degree V-twin power with right-now torque and the sort of squirmy, loose feeling from the tires begs you to hammer it. It is remarkably fun to ride because (or in spite?) of all this. It should be noted that its 37 mpg average drops fast (our low was 28!) when you hammer it. With its 3.4-gallon fuel tank, it can struggle to make it 100 miles between fill-ups.
The FTR 1200 S has the strongest spirit and personality of any bike in this comparison, like a college buddy who just wants to party all the time and is a good, but sloppy, guitar player. Perfectly fine as a daily bike, but the engine vibration (felt mostly through the seat) at highway cruise speed was a big complaint by some on the crew, except for one guy, who said he was not in "too much pain" after three hours in the saddle.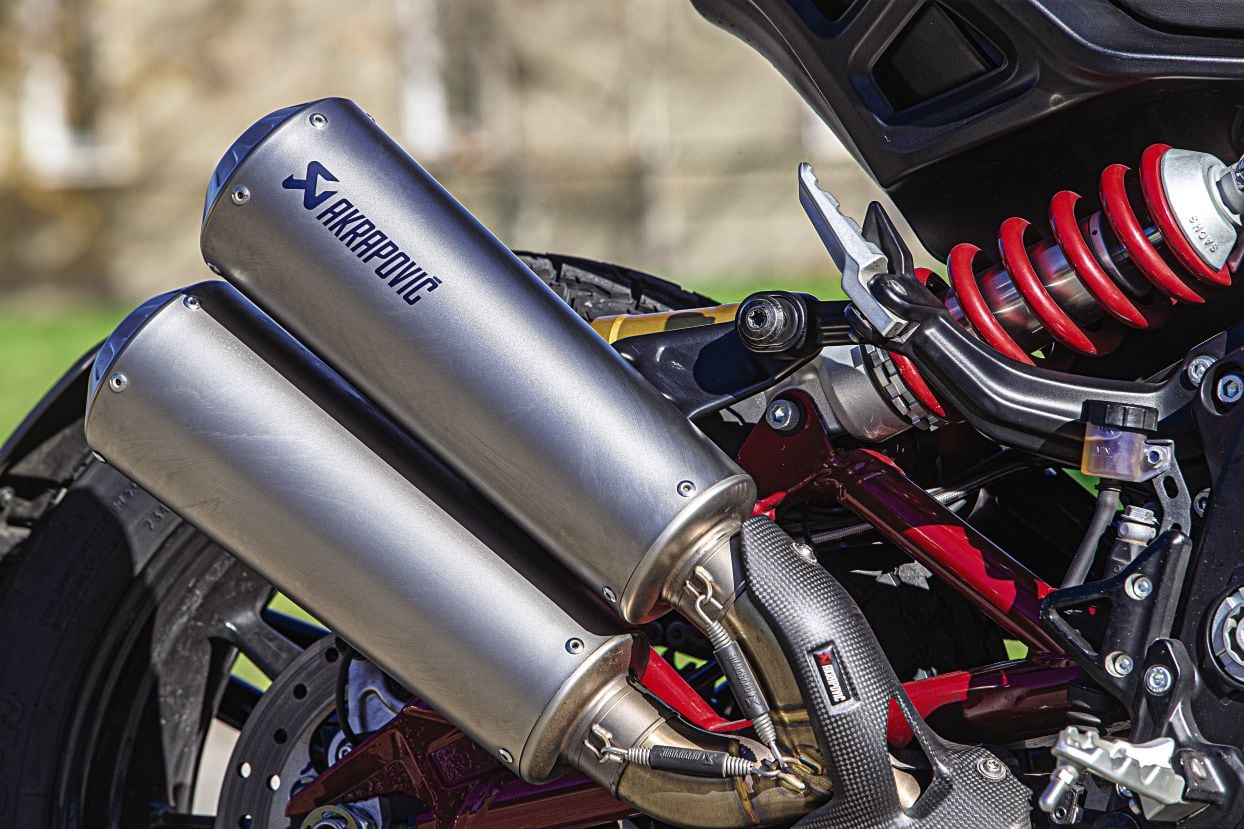 Akrapovič exhaust adorns our FTR 1200 S Race Replica. (Jeff Allen /)
No surprise it was Senior Editor Justin Dawes—decked out in his Vanson "Bones" leathers—who was a fan. "It's rough-and-tumble, likes a good street fight, and wants to get wild," he enthused. "The looseness of Dunlop DT3-R tires mixed with gobs of torque make for a rodeo ride if you want it. But then it was also comfortable enough to spend three hours at a time on the freeway without too much pain. Each time I returned to the Indian, after one corner and a crack of the throttle, I thought, Yeah, this is the one."
Gilbert had similar feelings, though lamented the lack of a quickshifter, but nonetheless shared his favorite moment: "The most entertaining and drawing factor of the Indian is accelerating hard in fourth or fifth gear, then slamming two backshifts, and applying the brakes as the rear end steps out into the corner." That's our staff MotoAmerica racer for you, all the way down to saying "backshifts" instead of "downshifts."'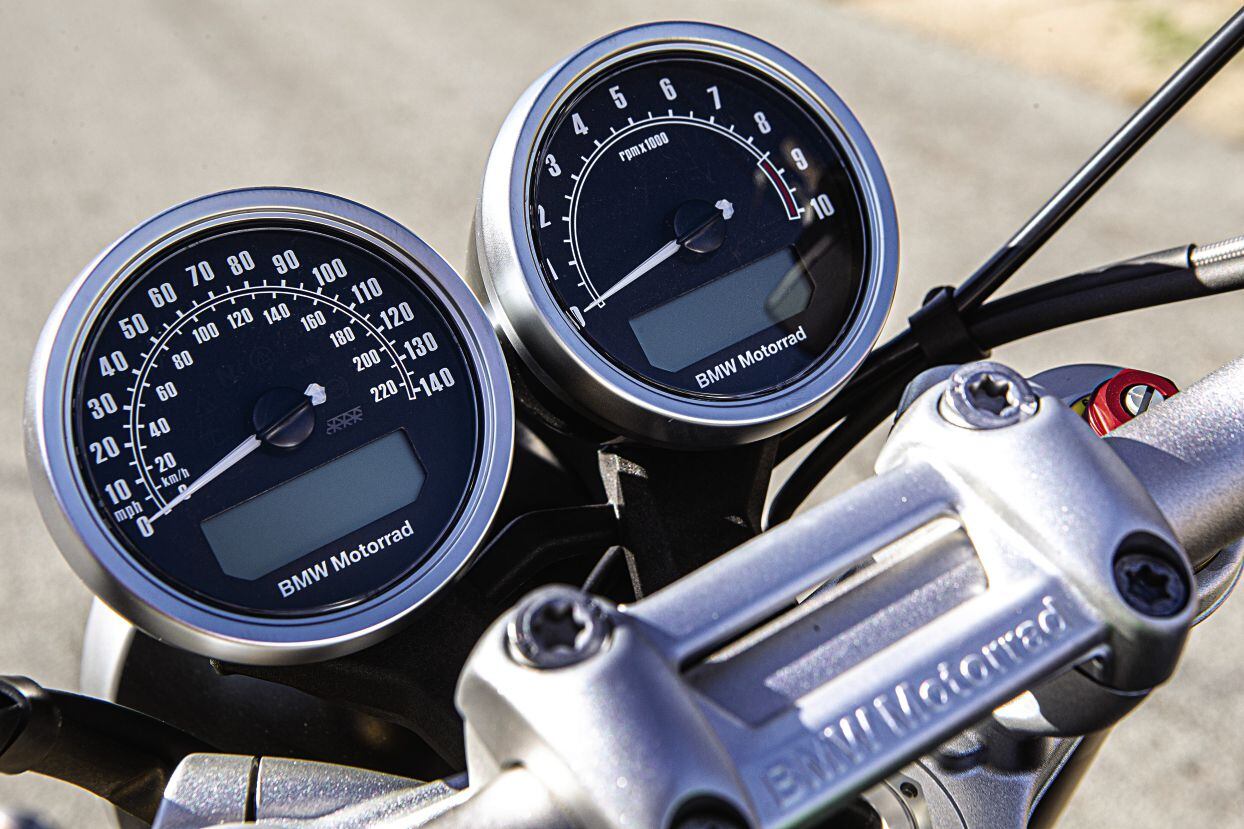 BMW R nineT gauges (Jeff Allen /)
The FTR's strength is its successful evocation of ­Indian's dominant, scratch-built FTR 750 flat-track racebike, and how well the company translated that into a ripping liter-plus street tracker. It's very limitations from a pure technical perspective and truth-to-trackerness are what make it so great.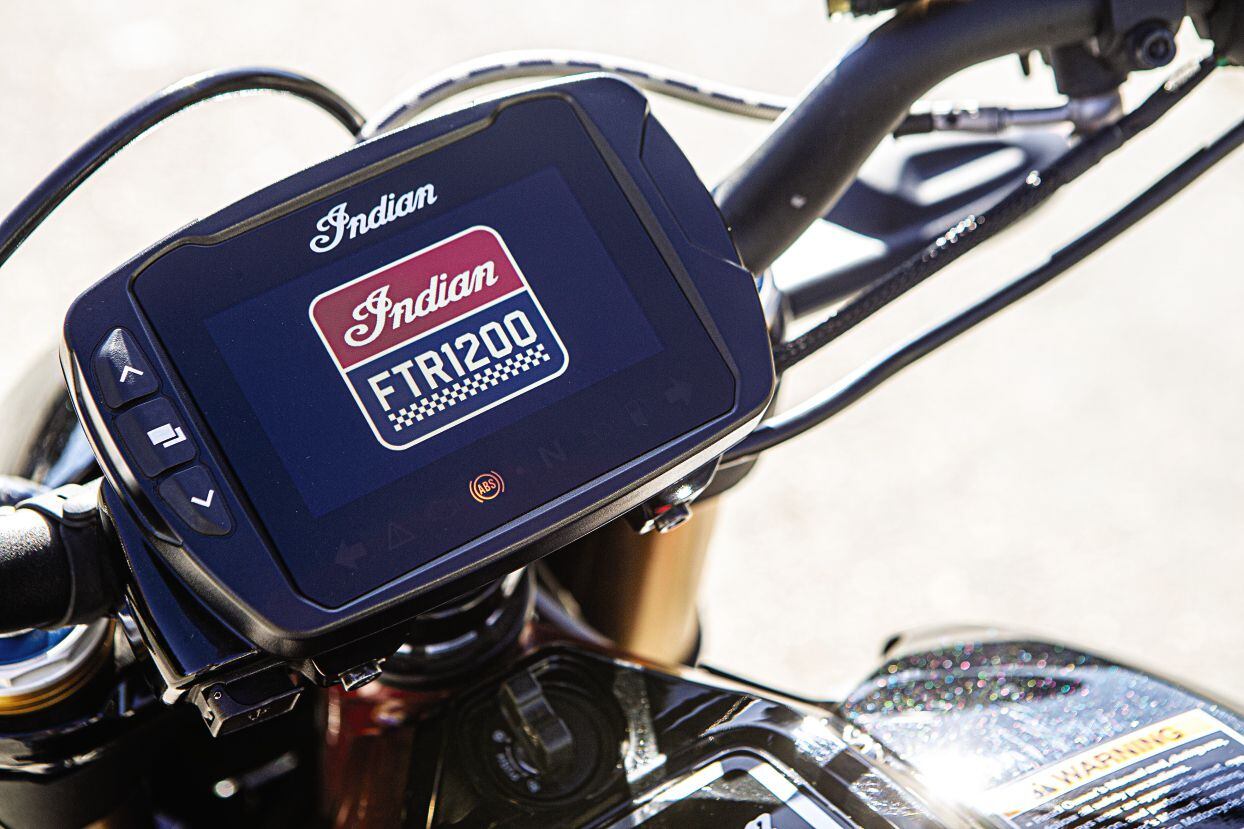 Analog pointers or TFT touchscreen? (Jeff Allen /)
The Husqvarna Svartpilen 701 is the oddball in this group, yet a perfect fit. It's like it was designed for a movie made in the past about the future. That's a way of saying it nails a modern, stylish aesthetic and seems completely new, yet somehow classic at the same time.
What sets it apart here, of course, is its high-performance 693cc single-cylinder engine and very light 353-pound dry weight. Its under-$10,000 price also makes it attractive, particularly in light of its up-and-down quickshifter, though there is no gleaming TFT, and you get "TC" and "ABS" but no ride modes, etc. It seemed plenty adequate given the bike's mission.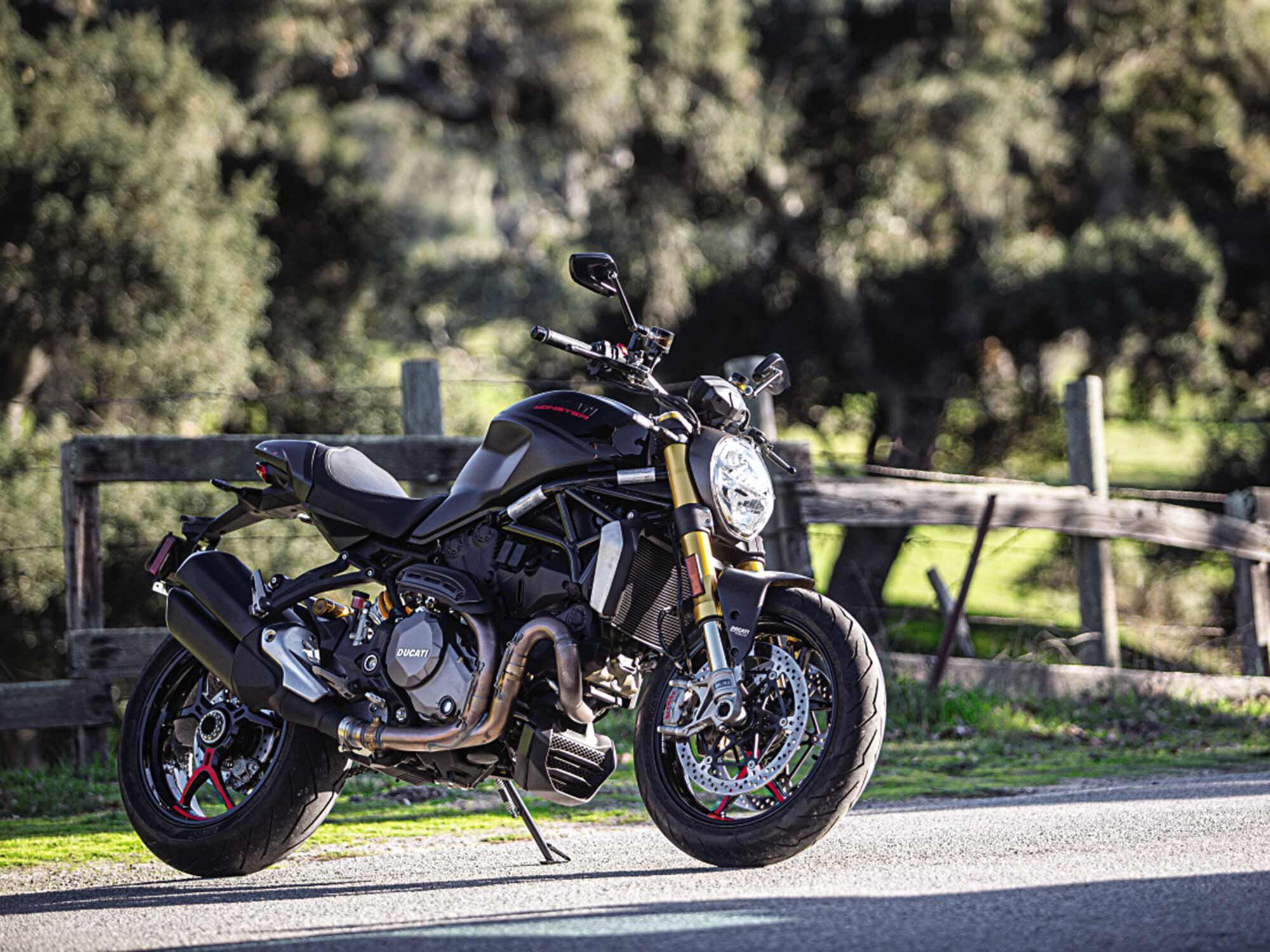 Ducati Monster 1200 S (Jeff Allen /)
And what a surprise to get on the Svartpilen and ­suddenly fly among the oaks. It is light, compact, and agile. Gilbert was in love. "It's nimble through tight twisties, and yearns to tackle side-to-side transitions, even more so than the Ducati," he enthused. "Oh, and it weighs 100 pounds less than the next lightest in the bunch. So fun! My only gripe is that the stylish but less-sporty Pirelli MT 60 RS tires hinder it from having the same midcorner carving prowess and confidence as the Monster."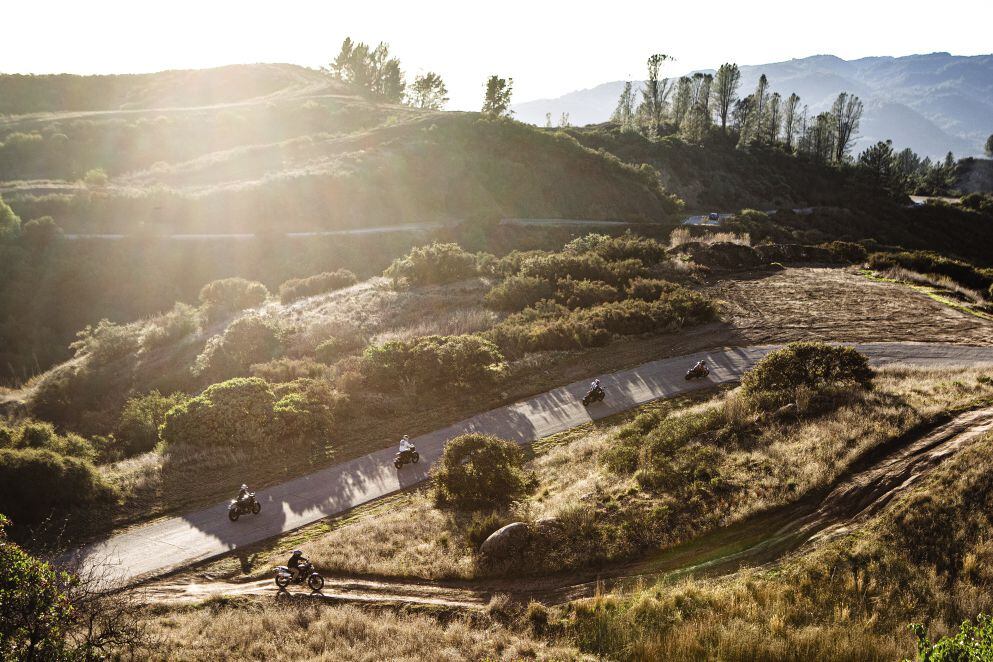 Magic times on the road with five of the coolest bikes on the market. (Jeff Allen /)
It was really pretty sublime. And even though it is sort of half the engine displacement of the rest of the bikes, it did an 11.93-second run in the quarter-mile, which is not only in the running for the group but slightly quicker than the Triumph. Slower top-gear roll-on reveals its lower engine torque numbers, but downshift a few clicks and this moto/tracker is in the running.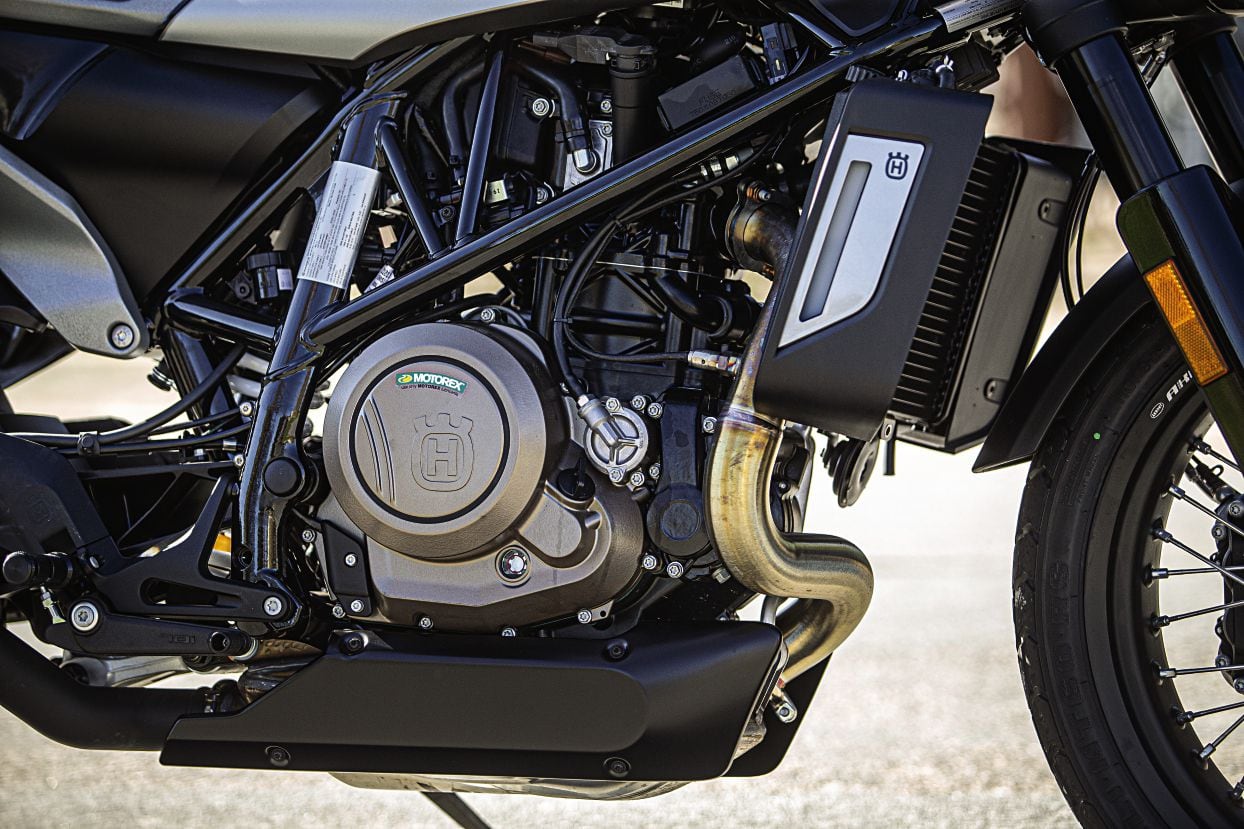 Husky Svartpilen (means "black arrow") runs a counterbalanced 693cc single that helps the light bike perform like its bigger competitors here. (Jeff Allen /)
Paint finish, color tones, and overall aesthetic ­presentation, particularly with the wire-spoke wheels, is highly refined. Even though we are aware it is essentially a massaged KTM, it really engages in a way that makes the Husky feel like the only genuinely "new" motorcycle here. Perhaps this is partly influenced by my love of a big single-cylinder engine (this bike is dying for a barkier silencer) and, as the legendary Malcolm Smith says, "Weight is the enemy." That would make this bike your friend.
But while I may love a big single-cylinder streetbike, I am in the minority in America, which has generally resisted buying them for many decades. Cylinder count is no grounds for this, as the Svartpilen's performance shows, but the money in streetbikes has always flowed toward two or more cylinders.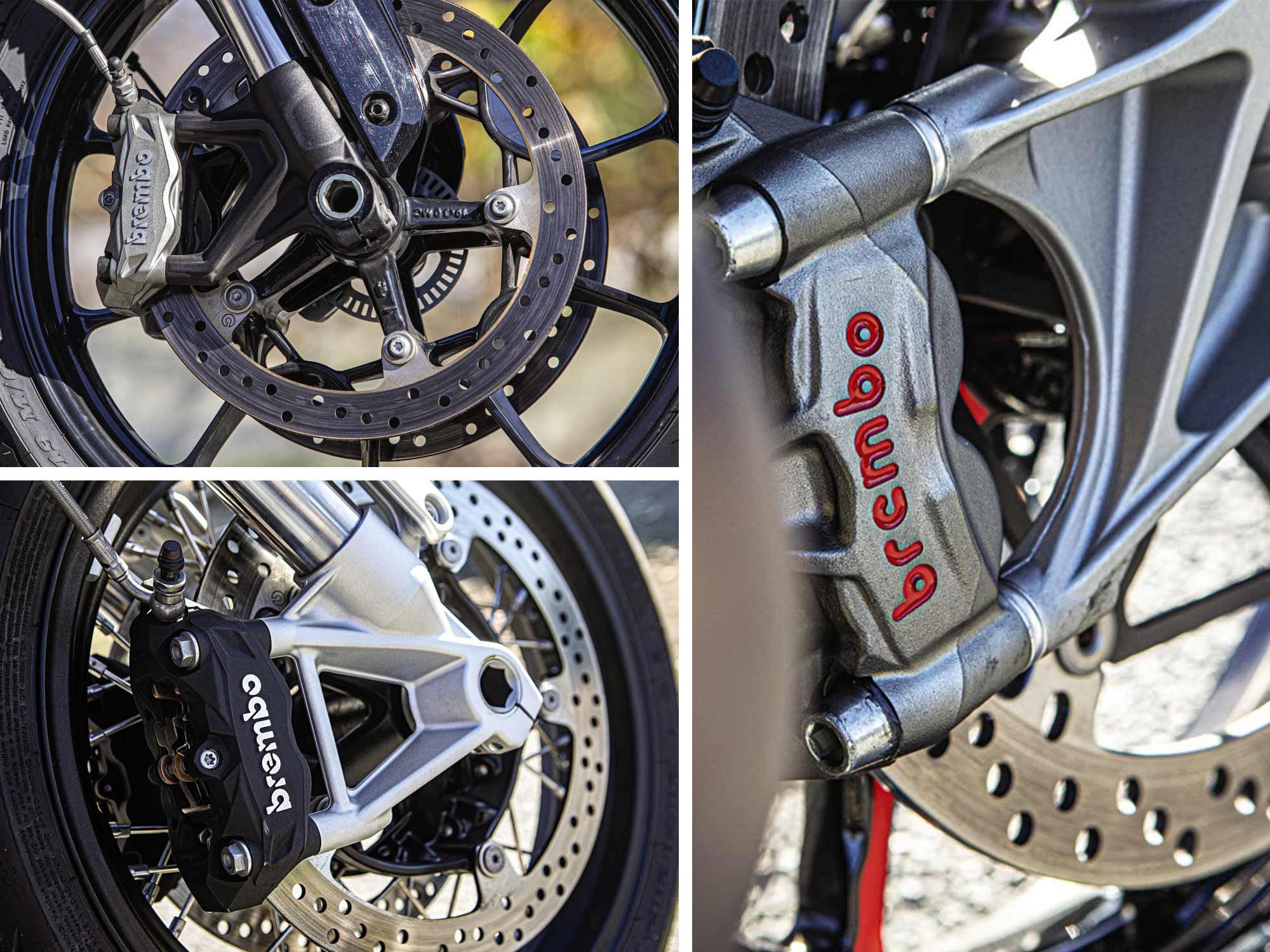 Radial-mount calipers all over. (Jeff Allen /)
Still, Waheed said, "wring out the engine, and it's astounding how hard it pulls for its relatively small displacement, at least in this comparison. Though, like the FTR, you feel considerable engine vibration. But the vibes feel more visceral—in a good way—as compared with the cruder buzz present in Indian's V-twin. However, the sound coming out of the Svartpilen's exhaust pipe is as dull as could be. It sounds like the boring drone of a lawn mower."
Apparently he is seconding the motion to pipe it up a bit.
Good, upright ergonomics are tempered by a "­narrow, rigid seat that feels as if you're riding an FC 450 ­motocrosser," Waheed added. Aside from that, this is a comfortable, smooth-on-the-highway motorcycle that would be easy to live with.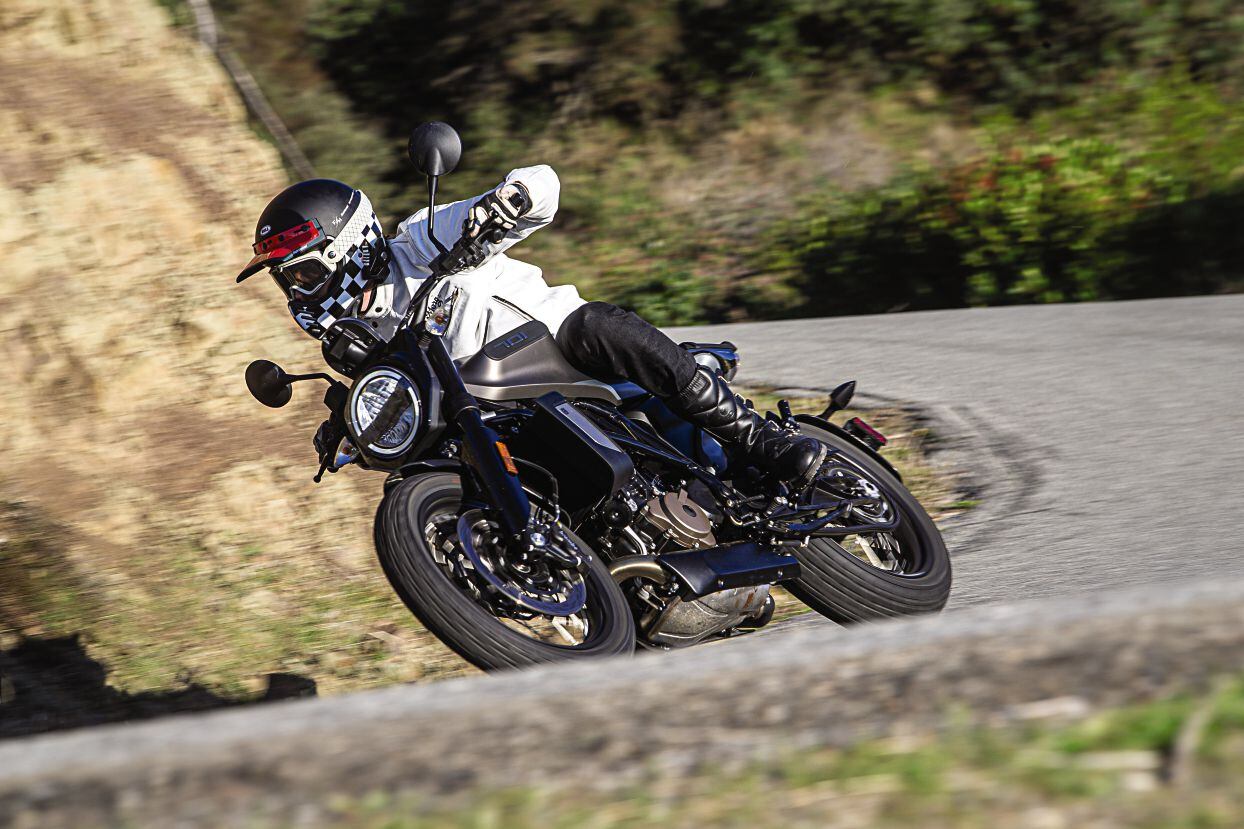 2020 Husky Svartpilen 701 (Jeff Allen /)
As crisp, stylish, and modern as the Husky strives to be, the BMW R nineT sits far in the other direction. It is a clear nostalgia play, perhaps more than any other bike except the Triumph. Our test bike came with Black Storm Metallic/Vintage paint, which adds numbered roundels with "distressed" paint that shouldn't work for us but really did. What didn't was the rear seat hump, which our three larger testers found confining—one even found it painful for digging into his (OK, my) lower back. We have no comfort qualms with the humpless longer flat seat of the other models, and that would be our choice, even if it's less retro cool. Easy swap.
It was remarkable how tight and compact the R nineT felt, like a low-flying aircraft, and if you think about it, the flat-twin is just a two-cylinder radial. Everyone in the test loved the engine, particularly the sound. "BMW struck gold with the R nineT's exhaust note," Gilbert said. "Rolling on the throttle lets out a deep, emotion-evoking pitch that, paired with a relatively quick roll-on speed and strong power delivery, meant I couldn't stop rolling on and off the throttle, with ­childlike giggles each time."
Sign up here to receive our newsletters. Get the latest in motorcycle reviews, tests, and industry news, subscribe here for our YouTube channel.
The chassis was generally well-composed and fun to roll from side to side in corners on strafing runs, but clunky manual shifting, plus the minor flywheel/torque effect of the longitudinal crank, upset the attitude of the bike if you didn't coordinate clutch and throttle perfectly. The tractable power made it easy to avoid shifts, and if you worked really hard to be precise, you could make clean gear changes, but damn, it was annoying. At full charge the BMW was a lot of work, but backing it down to more-mellow touring-type riding brought a lot of joy, with nice feeling steering, lovely boxer engine personality, and good flow. But all was not smiles in Boxerland.
"The BMW is the only one of these bikes that actually feels old rather than nostalgic," Gales said. We were struck by the analog gauges with tiny LCD info screen. On one hand, it's easy to see why the design team would choose these. On the other hand, we are getting used to TFT touchscreens with multiple gauge-layout options, Bluetooth integration that shows your songs, who's calling, and graphical interfaces to monitor and adjust rider-aid options. These are good-looking (recently redesigned) analog gauges, and if you're riding to get away from screen time, you'll be happy.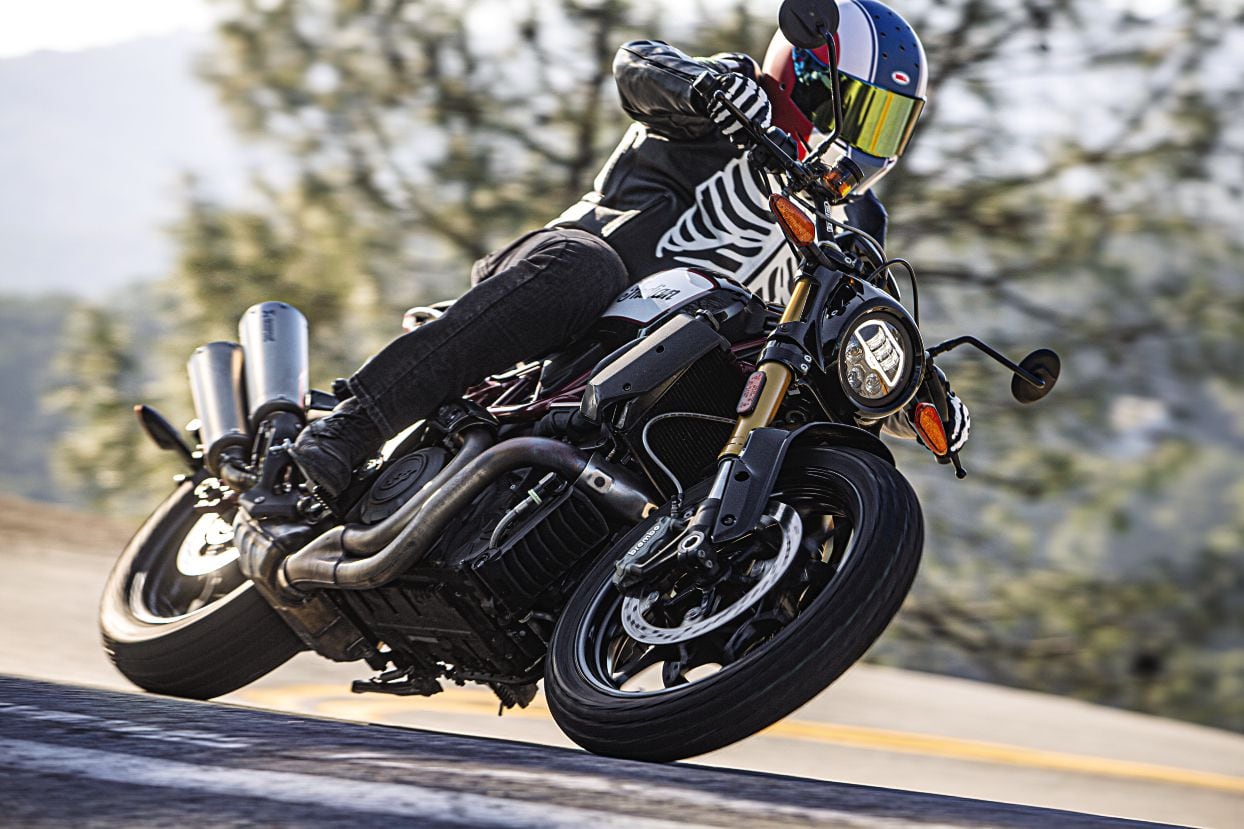 The FTR 1200 S is rowdy and unapologetic. Bones ­leathers are a perfect match. (Jeff Allen /)
It's pretty common on multiday comparison test rides that end a few hundred miles from HQ that there is at least one bike nobody wants to ride. This is not one of those comparisons. Even as we found the ergonomic or vibratory flaws, there were no crushing deal-breakers here. A lot of what would make these bikes right for you comes down to what you like about riding and styling. For total performance and ­refinement, the Monster 1200 S is absolutely stunning. For Swedish style channeled via Austria and its ­lightness, the Svartpilen it is The Approachable One. The R nineT's quirks, charms, and engine sounds make it the closest you will come to flying a vintage aircraft on the ground. There was much to like here, but these bikes didn't unify testers' joy.
It really came down to two bikes, the Triumph and the Indian, in a 3-to-2 split decision. Everybody loved the rowdy, bare-knuckled nature of the Indian and—I don't know how else to put it—it's Americanism: It would flout the rules of etiquette and polite society, if it even knew them. That's its charm, and its slight drawback. The Triumph brings most of the same fun and frolic, but with a bit more all-around flexibility, comfort, and refinement, if a less fervent sizzle. Price, style, features, and flexibility give it the edge.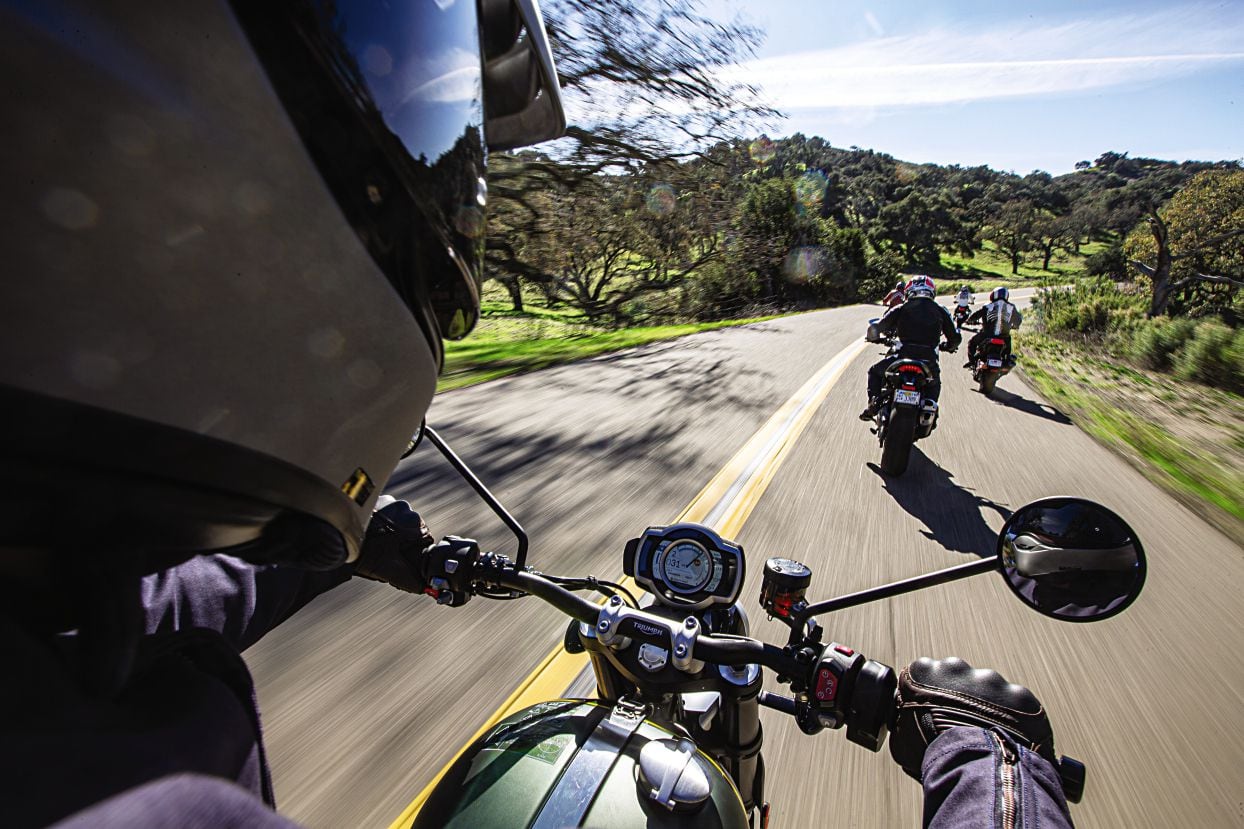 From the pilot's seat of the Triumph, an in-command big-dirt-bike riding position. So much spirit in all these bikes. (Jeff Allen /)
All up, these motorcycles remind us of the simplicity and joy of riding, the essential experience of fun and freedom. We stopped in the late afternoon one day for photos and video work. It was a little winding road that headed over the mountains toward the Pacific. Gnarled oaks, glistening grass, and weathered fencing somehow perfectly suited these "natural"-feeling motorcycles that, through their honesty and relative simplicity, brought us closer to experiencing and appreciating the world. Especially now, since that world has shut down and made long group rides with friends seem so far away.
We will be free again, and these motorcycles will be waiting for us.
Claimed Specifications
.tg border-collapse:collapse;border-spacing:0;
.tg tdborder-color:black;border-style:solid;border-width:1px;font-family:Arial, sans-serif;font-size:14px;
overflow:hidden;padding:10px 5px;word-break:normal;
.tg thborder-color:black;border-style:solid;border-width:1px;font-family:Arial, sans-serif;font-size:14px;
font-weight:normal;overflow:hidden;padding:10px 5px;word-break:normal;
.tg .tg-0laxtext-align:left;vertical-align:top
2020 BMW R nineT

2020 Ducati Monster 1200 S

2020 Husqvarna Svartpilen 701

2020 Indian FTR 1200 S Race Replica

2020 Triumph Scrambler 1200 XC
Type
air-/oil-cooled flat-twin
Liquid-cooled V-twin
Liquid-cooled single
Liquid-cooled V-twin
Liquid-cooled
parallel-twin
Displacement
1,170cc
1,198cc
693cc
1,203cc
1,200cc
Bore x Stroke
101.0 x 73.0mm
106.0 x 67.9mm
105.0 x 80.0mm
102.0 x 73.6mm
97.6mm x 80.0mm
Compression Ratio
12.0:1
13.0:1
12.8:1
12.5:1
11:0:1
Valvetrain
DOHC, 4 valves/cylinder
DOHC, 4 valves/cylinder
SOHC, 4 valves/cylinder
DOHC, 4 valves/cylinder
SOHC, 4 valves/cylinder
Induction
(2) 50MM THROTTLE BODIES
(2) 56MM THROTTLE BODIES
50mm throttle body
(2) 60mm throttle bodies
(2) 45mm throttle bodies
Transmission
6-speed/shaft
6-speed/chain
6-speed/chain
6-speed/chain
6-speed/chain
Front
Suspension
46mm telescopic fork, fully adjustable; 4.7-in. travel
Öhlins 48mm fork, fully adjustable; 5.1-in. travel
WP APEX 43mm fork, fully adjustable; 5.9-in. travel
43mm telescopic fork, fully adjustable; 5.9-in. travel
Showa 45mm fork, fully adjustable; 7.9-in. travel
Rear
Suspension
BMW Paralever
w/ monoshock, adjustable rebound, spring pre-load;
4.7-in. travel
Öhlins monoshock,
fully adjustable;
5.9-in. travel
WP APEX monoshock,
fully adjustable;
5.9-in. travel
Monoshock,
fully adjustable;
5.9-in. travel
Öhlins twin shocks,
fully adjustable;
7.9-in. travel
Front Tire
Metzeler Roadtec
Z8 120/70-17
Pirelli Diablo Rosso III 120/70-17
Pirelli MT 60 RS
110/80-18
Dunlop DT3R
120/70-19
Metzeler Tourance
90/90-21
Rear Tire
Metzeler Roadtec
Z8 180/55-17
Pirelli Diablo Rosso III 190/55-17
Pirelli MT 60 RS
160/60-17
Dunlop DT3R
150/70-18
Metzeler Tourance
150/70-17
Rake / Trail
25.5°/4.2 in.
23.3°/3.4 in.
25°/4.7 in.
26.3°/5.1 in.
25.8°/4.8 in.
Wheelbase
58.5 in.
58.5 in.
56.5 in.
60.0 in.
60.2 in.
Seat Height
31.6 in.
31.6 in.
33.3 in.
33.5 in.
33.3 in.
Fuel Capacity
4.8 gal.
4.4 gal.
3.2 gal.
3.4 gal.
4.2 gal.
Dry Weight
461 lb.
446 lb.
353 lb.
496 lb.
475 lb.
Horsepower
94.6 hp @ 7,500 rpm
131.4 hp @ 9,200 rpm
69.5 hp @ 8,300 rpm
111.8 hp @ 8,200 rpm
76.2 hp @ 6,900 rpm
Torque
72.9 lb.-ft. @ 6,000 rpm
81.6 lb.-ft. @ 7,600 rpm
49.7 lb.-ft. @ 6,700 rpm
80.5 lb.-ft. @ 5,800 rpm
71.6 lb.-ft. @ 4,000 rpm
Fuel Consumption
35 mpg
38.1 mpg
48.9 mpg
36.7 mpg
44 mpg
Quarter-Mile
11.58 sec. @ 118.5 mph
10.70 sec. @ 133.0 mph
11.93 sec. @ 111.4 mph
11.23 sec. @ 119.7 mph
12.05 sec. @ 110.7 mph
0–30
1.48 sec.
1.22 sec.
1.42 sec.
1.35 sec.
1.33 sec.
0–60
3.69 sec.
3.27 sec.
3.74 sec.
3.38 sec.
3.81 sec.
0–100
8.00 sec.
6.23 sec.
8.89 sec.
7.17 sec.
9.24 sec.
Top-gear roll-on 40–60
2.93 sec.
2.90 sec.
3.94 sec.
2.43 sec.
2.92 sec.
Top-gear roll-on 60–80
2.93 sec.
2.82 sec.
4.05 sec.
2.63 sec.
3.08 sec.
Braking 30–0 mph
31.4 ft.
31.3 ft.
36.7 ft.
39.0 ft.
35.2 ft.
Braking 60–0 mph
131.9 ft.
129.4 ft.
143.6 ft.
143.3 ft.
141.8 ft.
MSRP
$15,495 ($16,940 as tested)
$17,595 ($19,721 as tested)
$9,499
$15,499
$14,000
Checkout latest world news below links :
World News Era Top News
||
Health Updates
||
Food Options
||
Technology
||
Lifestyle
||
Automobile Industry
||
Cars & Trucks Updates
Source link